From atop the Gog Magog Hills on one of those glorious East Anglian big sky days, you can just about spot the cranes going up on a daily basis in the city of Cambridge below.
They are poking through everywhere: by the railway station, where smart new apartment blocks are being sold off-plan to rich Chinese for their student offspring, and at the new 70-acre Cambridge Bio-Medical Campus next to Addenbrooke's hospital, where new buildings are rising by the month. With the drugs giant Astra Zeneca about to build a new £330m ­global research HQ here, this campus is now the biggest medical research metropolis of its kind in the world.
There's more to come. To the north-west of the city, the University of Cambridge is working on a whopping £1bn development including new research facilities, 3,000 new homes, space for 2,000 post-graduate students, new schools and a nursery, shops and surgeries.
Known as the North West Development, it's the single biggest investment by any university in the UK. Together with another £1bn being pumped into the city by the Government for a new railway station, new houses and roads, more money is going into Cambridge than at any time since the Victorian age.
Cambridge: it's all in the DNA
Cambridge: it's all in the DNA
1/4 Cambridge

James Watson and Francis Crick among the winners receiving their Nobel Prizes in Stockholm on 12 December 1962

Keystone/Getty Images

2/4 Cambridge

An engine for growth: there is now more money being pumped into Cambridge than at any time since the Victorian era

Alamy

3/4 Cambridge

Biotech boom: Cambridge Science Park

Alamy

4/4 Cambridge

Designs for new-build homes in the city

Alamy
No wonder there's such a Wild West feel to Silicon Fen. Even the airport has renamed itself Cambridge International and has launched daily flights to Paris and Geneva so the local whizz kids and wheeler-dealers can get to Europe's hotspots at speed for their deals.
There is talk, too, of a bus tunnel or an underground commuter railway being built beneath these chalk hills to ease commuting pressures. Back in the 16th century, university students were forbidden – on pain of a fine – from ­visiting the hills under which Gog and Magog are said to slumber, for fear of disturbing the ­mythological giants.
There's hardly a soul around today to disturb their sleep and it takes only minutes to drive to the central brain of all this activity: Cambridge University's headquarters at the Old Schools house, hidden on the backs behind the Senate House. Across a tiny cobbled yard and up past a zigzag of rooms, I find the 345th Vice-Chancellor, Professor Sir Leszek Borysiewicz. He is tall, with the imposing build of a former schoolboy rugby player and utterly charming. He introduces himself with a "call me Boris" before I have a chance to trip over his name, proffers one of the big comfy leather chairs and begins to tell the extraordinary story of how his Polish immigrant parents escaped after two years in a Siberian prisoner of war camp and fled on foot via Tehran, Baghdad and Jerusalem.
Eventually, they found sanctuary in Cardiff, where he was born and raised.
His office, now wood-panelled and book-lined, is semi-dark, even though it is still early morning: the building bonanza may as well be light years away. Yet it's precisely because of the strong ties between the ancient and the modern that what he refers to as "the Cambridge ­Phenomenon" is so stunning. "We have the most extraordinary ecosystem here between the academics, entrepreneurs and angels [as the local investors are called]. But it's a ­bottoms-up ecosystem that has developed over time and keeps feeding on itself.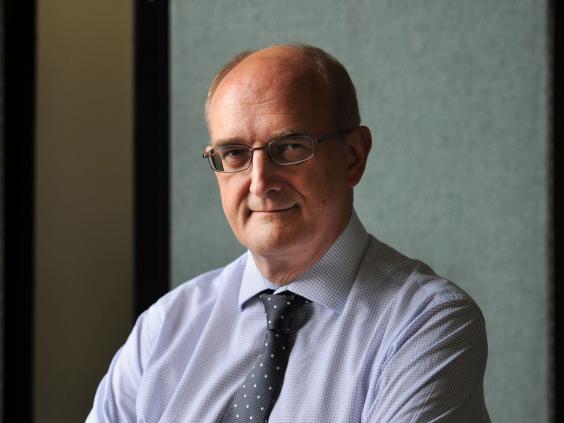 "Astra Zeneca's decision to come here shows perfectly how this works so well. It began in the late 1960s, when the university saw what was happening in the laboratories and moved quickly to help academics commercialise their ideas and back their spin-outs."
Behind those spin-outs is Cambridge's prowess in research, particularly in the sciences. The vice-chancellor knows better than most how research breeds innovation – he's a ­brilliant immunologist who created the vaccine to ­protect against cervical cancer and used to run the Medical Research Council.
"This focus on fundamental research is why we have seen so many discoveries here, from the double-helix structure of DNA to ­sequencing of the human genome," he says.
Think of the university as a giant, gilded incubator. As the richest academic institution in the country, it has £4bn in long-term investments. During the past few decades, more than 1,500 technology companies have emerged from the so-called Cambridge Cluster. Of those, Prof Borysiewicz says the university has backed 300 hi-tech and 200-computer based companies (which earn £250m between them) with more than a £1bn of funding and it also owns the IP on more than 1,000 patents.
What is more, he says, these companies have a fantastic survival rate: 80 per cent of start-ups are viable after three years, compared with 58 per cent nationally. "Another important reason for success is the way the local angels invested in local companies time and time again. Once the angels and entrepreneurs made some money, most of them reinvested back into other start-ups and so the eco-system flourishes. Our Entrepreneurs Society at the university is now the most popular of all the societies, with ­students from all disciplines – from the arts to science – being members."
Today, 12 of these cluster companies are worth $1bn or more and two more than $10bn each. Arm, which designed the chips that power more than 90 per cent of the world's mobile phones, is worth $22bn, while Hewlett-Packard paid $11bn for Autonomy, the software maker. Most of the companies have grown out of the university that now counts 12 billionaires among its alumni, more than any other outside the US. Less well known, it was here that ­Concorde's "droop" nose was designed, the Clear Blue pregnancy test was devised, ­Bluetooth was put on a chip, Pipex became the first commercial internet and Wonderbra ­Ultimate Strapless bra was designed.
To find out why so many innovations convert from bench to business, I caught up with Professor Alan Barrell at the Judge Business School a few minutes away, just as he finishes lecturing a group of Finns on entrepreneurship. Prof Barrell carbon dates the Cambridge spirit back at least a couple of hundred years, maybe even to those first scholars fleeing Oxford. "Innovation by itself is nothing," he says. "It's extraordinary people that make this place: Francis Bacon, Isaac Newton, Charles Darwin, Francis Crick and James Watson to name a few. Cambridge ideas really have changed the world.
"Sadly, what used to happen is that these ideas would go off elsewhere but then, in the late 1970s to early 1980s, Cambridge people got smart, they got organised and they got the desire to achieve. Professors are company directors and vice-versa. Cambridge is ­booming because we have a real community of ­enterprise and social inclusion. Everyone shares with each other and it's cosmopolitan; a global village."
But the city wasn't always so cosy. Until the 1970s, the divide between town and gown was poisonous. Nicholas Chrimes, a local tourist guide and the author of Cambridge: Treasure Island in the Fens, says that much of the city's success comes from the transformation of the university into a good neighbour which now shares its valuables, lectures and museums – as well as its funds – with the locals.
This togetherness has paid off: Cambridge workers are rated the most highly-skilled in the country and average earnings of £40,000-a-year are higher than elsewhere. Unemployment is a low 3 per cent and there are fewer people on Jobseeker's Allowance than elsewhere in the UK. More than a quarter of the locals work in knowledge-intensive industries – double the national average – and some £13bn of revenue is earned by the Cluster, which equals the annual sales of Rolls-Royce.
The Cambridge Phenomenon dates back to the 1960s when two graduates – Tim Eiloart and David Southward – decided "to put the brains of Cambridge University at the disposal of the problems of British industry", and set up Cambridge Consultants to do just this. At first, the academics were a bit sniffy. It was a local Barclays bank manager who broke cover, investing in start-ups such as Herman Hauser's Acorn Computers. By 1970, the academics woke up: Trinity College opened the ­Cambridge Science Park followed by the St John's ­Innovation Centre in 1988. Today, there are 19 science and business parks.
One of those early "micro-men" was Charles Cotton, who came to work in Cambridge in the early 1980s with Clive Sinclair and then Hauser. Cotton, the author of The Cambridge Phenomenon: 50 Years Of Innovation and Enterprise, says it is the intensity that makes Cambridge tick. "Ideas are cheap," he says. "But the collegiate system means academics work closely together, whether it's in the faculties or the dining rooms, so ideas get put into practice."
He calls this cosiness the impact of Brownian motion – the random jiggling around of ­particles suspended in a fluid or a gas. It was at the historic Eagle pub that Francis Crick in 1953 burst in to declare that he and James Watson had discovered the secret of life and over a pint at the Panton Arms that scientists cracked gene sequencing.
Yet this brilliance does not come without cost: Cambridge's transport system is creaking and house prices have risen 25 per cent in the past few years. Toby Greenhow, of Savill's estate agents, says prices will keep rising because of an acute housing shortage. One semi-detached house set a record last August when it sold for £3.5m. Greenhow adds that having the future king, Prince William, and Kate as the Duke and Duchess of Cambridge has brought some glamour to the academic city and tourism has already spiked as a result. As you might expect, it is not an overly flashy glamour – only a few royal mugs with Kate and Wills' faces on them give the game away in the bric-a-brac shops along Kings Parade.
What you do see outside King's College is that half the faces are those of Chinese visitors. The Cambridge brand, as with Burberry or Ralph Lauren, is somewhat of an obsession in China and 1,000 of the country's students at the university are now the biggest ethnic group. It is a two-way love affair – 137 of the ­university's departments have links to Chinese peer groups and there is a now a chain of University of ­Cambridge shops in China.
Indeed, Chrimes has ordered another print run of his book in Mandarin because the first 8,000 copies sold out in three months. Just back from a lecture tour about Cambridge in ­Chinese universities, he says that the obsession derives from Xu Zhimo, the great Chinese romantic poet whose "Farewell to Cambridge" poem is read by every school child; he is their ­Wordsworth. After London, visiting ­Cambridge is the second stop on the overseas pilgrimage of Chinese tourists.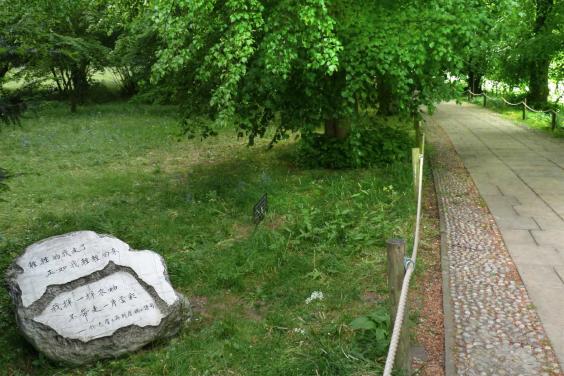 With more than four million tourists visiting each year, the locals fear that the city is turning into a theme park, locking out small shop-­keepers and ruining the idyllic streets. Keeping Cambridge intimate yet sustainable is the ­challenge for Julian Huppert, the local Liberal Democrat MP and Cambridge scholar. It is why he has brought together the local councils, ­businesses and the university to lobby government for new infrastructure, including the new Cambridge Science Park railway station and housing in the north.
"Money is usually only available after cities get too stretched, when it's too late," Huppert says. "But we have persuaded the Treasury to invest £1bn now and get back £9bn in revenue in the future. Cambridge works because ­everyone meets each other cycling around or taking the children to school. We mustn't lose this intimacy."
Locals were bemused when during a visit a few weeks ago, David Cameron said the city lies at the heart of Britain's economic recovery. They say that the Prime Minister is behind the curve by a few decades; that Cambridge has been leading the way. As Chrimes cheekily remarks, Cambridge may have educated fewer Prime Ministers than has Oxford – 14 versus 27 – but the next Bill Gates is more likely to come out of Cambridge which lays claim to 91 affiliated Nobel prize winners (to Oxford's 51) than anywhere else in the country. Don't even mention the boat race.
So are there lessons for politicians and policy makers as they look to Cambridge for inspiration? Trying to replicate the city's DNA, says the vice-chancellor, would be dangerous because the ecosystem, however successful, is fragile and unique.
Prof Barrell agrees, arguing that each of the great high-growth centres – Oxford, York, TechCity, Silicon Valley or Leuven University – has its own characteristics. "Whenever I get asked by the Chinese or Finnish how they can learn from us, I say look to your own strengths and natural resources first," he says. "See what you have to offer. Then study Cambridge." And the secret to Cambridge's own double-helix? "Everyone you need is only two phone calls away."
It may well be partly down to the fact that the Fenlanders eat differently, too. My tour ends with a visit to the revamped Waitrose, whose new drinks section makes those in airport lounges look dull. The store manager reports fish sales are 20 per cent higher than at comparable stores in the country. Maine lobster tails are favourites, while exotic fruits fly off the shelves and 14 per cent more rosé wine is sold here than at any other branch.
No wonder ­Cambridge is blooming as well as booming.
Reuse content