It was during his company's failed $35.5bn (£23.5bn) bid for AIA that Tidjane Thiam struck up a close relationship with Brady Dougan. 
Having employed Credit Suisse as an adviser, Prudential's boss recalled yesterday how his counterpart helped him through a "difficult time" as shareholders rebelled against the takeover – putting his job on the line.
"We went through a pretty rough experience together five years ago," he said. "Since then we've been friends. [Brady] is an exceptional person and a courageous man."
The fact that Mr Thiam is now set to succeed Dougan at the helm of the Swiss banking giant should come as no surprise to anyone who has charted his extraordinary rise in recent years.
The 52-year-old French national was born into one of the leading political dynasties in the Cote d'Ivoire and was the first Ivorian to be accepted into the elite Ecole Polytechnique in Paris.
Although his political ambitions were thwarted when the Ivorian military toppled the government in a coup, he eventually found himself in London after a headhunter called him about a job in London at the insurance giant Aviva.
"I am happy to interview. But you need to tell them you found someone who is black, African, Francophone and 6ft 4in," Mr Thiam famously told him. He got the job and was promoted to the main board before being hired by the Pru in 2007 as finance chief, and two years later promoted to chief executive.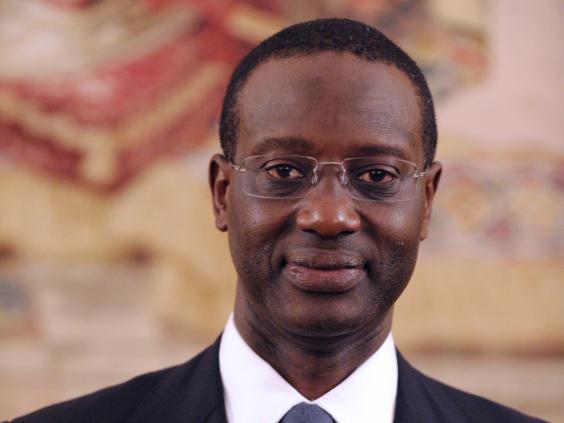 Within months of getting the top job, Mr Thiam dusted off an old deal started by his predecessor Mark Tucker and made a move for AIA. However, executive mis-management and disagreements over price thwarted the deal and Mr Thiam's decision to take a non-executive directorship at Société Générale at the climax of the process led some people to question whether he really had what it takes to run a FTSE 100 company.
Yet five years on and Mr Thiam is one of the most celebrated chief executives in the City, having doubled the Pru's profits in Asia and boosted its share price to record highs.
For analysts and investors, yesterday's news is very much Prudential's loss and Credit Suisse's gain with Dougan (top) coming under renewed fire last year when the Swiss bank pleaded guilty and paid $2.6bn to US regulators for allowing American citizens to avoid tax through secret Swiss bank accounts.
Jeremy Whitley, the head of pan-European equities, at Aberdeen Asset Management, said: "Tidjane is an impressive leader and has done a great job at Prudential. Credit Suisse has got a good man and we'll await with interest who will replace him and build on the strong foundations he's laid at the Pru."
However, for all the plaudits, Mr Thiam will always be associated with the failed AIA deal, a shadow that has never really gone away, as demonstrated by the £30m fine handed to the company by the Financial Services Authority in 2013. 
Critics will also argue that his path to success was made easier by Mr Tucker who built up Prudential's Asian empire, before stepping aside for Mr Thiam to reap the benefits.
Brilliant or simply just lucky?
The challenge of running one of the world's largest banks will surely give us the definitive answer.
Reuse content