Should we be fretting about the UK's first bout of deflation since Lonnie Donegan was Number 1 in the singles charts?
There are good reasons to think it will be a temporary bout.
The oil price has bounced back in recent months. The price of a barrel of Brent crude is now trading at $65, up from just $52 in January. Petrol prices at the pump are correspondingly heading higher. And that should feed through to the annual comparison of UK consumer prices over the coming months.
Yes, there is a theoretical danger that consumers, seeing the price of white goods and furniture in decline, will postpone purchases in the hope of picking up bargains later.
But there is no sign of that happening yet.
Retail sales have been ticking along decently this year. Yet we should heed those who warn against any complacency about deflation or even "lowflation".
Core inflation, which strips out volatile food and energy prices, fell to just 0.8 per cent in April. A sharp dip in air fares and the timing of the Easter holiday explains some of this. But core inflation still remains well below the Bank of England's 2 per cent target.
That should concern policymakers at Threadneedle Street. A country like the UK with relatively high levels of private and public debt needs to be especially on guard over entrenched deflation, which could easily push up the effective cost of servicing that debt.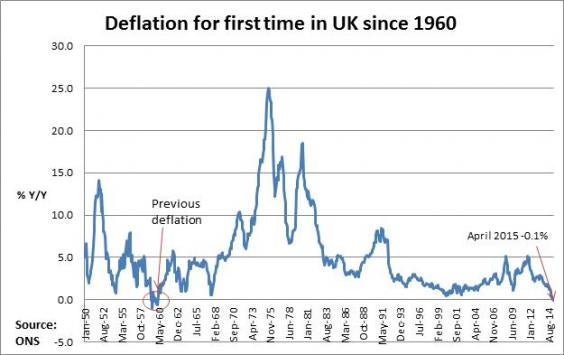 The key metric will be how wages behave in the coming months. Average wages are now rising both in cash and inflation-adjusted terms. But the growth remains well below historic trend rates. We are not home and dry yet.
Reuse content