BlackBerry executives can breathe a sigh of relief. Kim Kardashian is coming to the rescue.
The reality TV star turned business mogul made a shock confession at the Recode mobile conference last night: she still uses a BlackBerry Bold and keeps three replacements in her bedroom in case one breaks.
"BlackBerry is my heart and soul," she said. "I use an older one, though. They don't have them in stores anymore. I buy them on eBay. I have three lined up in my room... If one breaks and I'm down to two, I search on eBay until I have my third. I have anxiety I'll run out."
For a company like BlackBerry, any publicity is good publicity. And, after years of disappointing sales and failed revamps, the smartphone-maker is beginning to show signs of improvement. Add Kim's expertise at making headlines and you may have a winner.
The world according to Kim Kardashian
The world according to Kim Kardashian
1/16 On body confidence:

"If I don't feel confident about my body, I'm not going to sit at home and feel sorry for myself and not do something about it. It's all about taking action and not being lazy."

2/16 On designer clothing:

"You can't really have like high-end designers for everything."

Getty Images

3/16 On sisterhood:

"Having lots of siblings is like having built-in best friends."

4/16 On business:

"I'm an entrepreneur. 'Ambitious' is my middle name."

GETTY

5/16 On family holidays:

"Holidays are the best. I couldn't imagine being from a small family."

6/16 On haters:

"When there's so many haters and negative things, I really don't care."

AP

7/16 On relationships:

"It's fun to have a partner who understands your life and lets you be you."

8/16 On beauty:

"I just feel my best when I'm all glammed up."

Getty

9/16 On beauty:

"People don't understand the pressure on me to look perfect."

10/16 On her physique:

"Personally, I've always loved the curvy look."

Getty Images

11/16 On plastic surgery:

"I'm totally not against plastic surgery. I've tried Botox before. That's the only thing that I've done."

Getty Images

12/16 On mother-daughter love:

"My mother has always been the social glue holding the family together."

getty

13/16 On divorce:

"My decision to end my marriage was such a risk to lose ratings and lose my fan base. I had to take that risk for my inner peace and to be happy with myself."

14/16 On being mature:

"I'm totally growing up."

Getty Images

15/16 On tanning:

"I love the sun but don't have the time to get a good tan and keep it year-round, so I am a huge fan of tanning products."

Getty

16/16 On ideal body:

"I have cellulite, just like almost every other woman on the planet."

Getty Images
The company is no stranger to celebrity endorsements. It hired singer Alicia Keys as its global creative director- but the move was a disaster. Keys did little to lift sales of the BlackBerry Z10 and ultimately left the job a year into the contract.
But Kim Kardashian is an expert at fame: she turned her sex tape notoriety into a successful platform to launch a reality TV series (now in its ninth season) and a range of successful products from perfumes (Kim Kardashian Eau de Parfum) to clothes (Kardashian Kollection).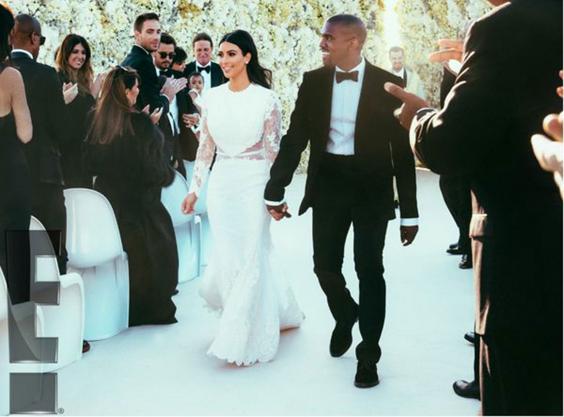 What sets Kim apart from the less of D-list celebrities famous for being famous is her cult-like following on social media and her army of devoted fans.
She has 24.8 million followers on Twitter. Her wedding photograph became the most liked photo on Instagram with 1.92 million likes. She has a blog on Celebuzz which is regularly updated and has more than 20 million friends on Facebook.
In June, she put her celebrity to work and launched her first videogame with developer Glu Mobile. The game - Kim Kardashian Hollywood- aims to turn an ingénue into an A-list celebrity by meeting the right people, going to the right parties and buying the right clothes. Of course, Kim guides you along the way and voices her opinion: "So cute!"
All this from a home movie.