Since the launch of the new 12-sided £1 coins British consumers have been going through their wallets to sort out the coins that are worth far more than the value stamped on them.
Now money specialist website Change Checker is advising customers to check their 50p coins carefully as well.
Change Checker's "Scarcity Index" uses a combination of mintage, collecting and swap data to track which 50p coins currently in circulation are the most valuable.
A special 50p piece featuring Kew Gardens is worth between £70 and £100 on eBay.
This is because the Royal Mint issued just 210,000 of the commemorative 50p coins to mark the 250th anniversary of the Royal Botanical Gardens in 2011, which makes it the rarest, least owned and most requested swap.
Other 50p coins at the top of the index could also achieve a premium of roughly 10 to 12 times their face value or the equivalent of £5 to £6.
The next four rarest coins are all from the 2012 Olympics – Football, Triathlon, Judo and Wrestling.
The recent Beatrix Potter 50p coins capturing the hand-painted style of Ms Potter's original illustrations also rank highly.
Jemima Puddle-Duck and Squirrel Nutkin rank sixth and seventh respectively – based largely on high demand and their low level of ownership, although official mintages figures by the Royal Mint have not yet been released.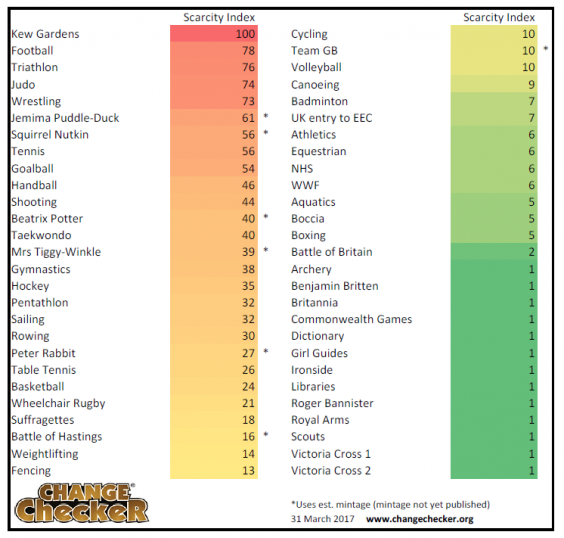 Earlier this year, Change Checker identified 24 of the rarest £1 coins to have ever circulated the UK with some of them worth as much as £50 each.
Last year, a 2p coin sold for almost £1,400 at auction because it was silver instead of the more conventional copper.
The 2016 banknote beauty pageant
Meanwhile, the Bank of England's first ever polymer notes were selling for up to £800 each on eBay or more than 160 times their face value.
Reuse content