It was the virtual currency set to transform global trading and turn those who could understand it into millionaires almost overnight.
However, people who invested in bitcoin – a software-based monetary unit – made one of the worst investment decisions of 2014, according to business news service Bloomberg.
The "crypto-currency" has lost more than half of its value against the dollar over the last 12 months, performing even worse than the Russian rouble, which has fallen more than 40 per cent against the dollar amid the plunging price of oil and tightening international sanctions.
"A bitcoin has lost 58 per cent of its value in US dollars this year and 72 per cent since last November. If you'd invested $10,000 in bitcoin at the beginning of 2014, it would be worth $4,202 today," Bloomberg said.
Kevin Dowd, professor of finance and economics at Durham University, said supporters had far too much faith in the digital currency, introduced in 2009.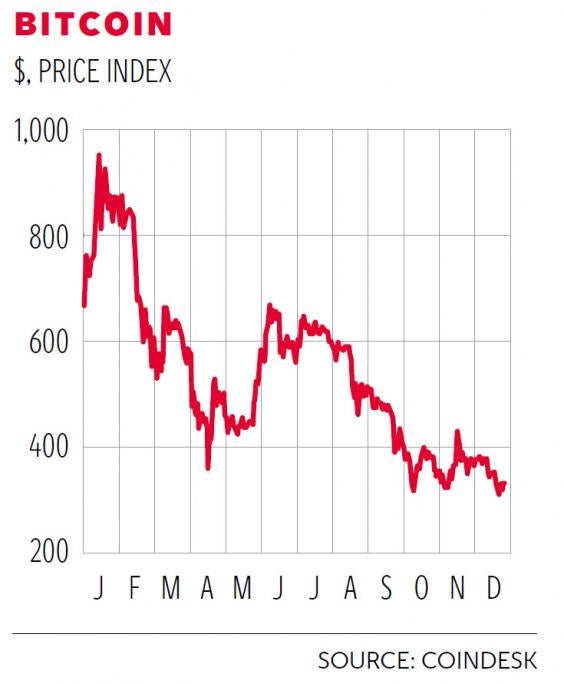 "It's become the subject of a religion and if you don't agree with it, you must be a lunatic," he said. "I think many of the 'crypto-currencies' are disastrous investments. I would advise people just to get out.
Others were more hopeful of bitcoin's long-term prospects, however. Professor Philip Booth, editorial and programme director at the Institute of Economic Affairs, described bitcoin as a "marvellous innovation".
He said: "Like many great innovations, it is likely that bitcoin's successors will learn from its mistakes and the trial-and-error process of the market will produce something that is more appropriate for use as a widespread medium of exchange."
Last year bitcoin enjoyed an extraordinary surge in value from about £8.50 on 1 January to a peak of £730 on 4 December. But in 2014, it declined rapidly and was trading at about £213 yesterday.
Tom Robinson, chief operating officer of Elliptic, a digital currency "custodian", which acts like a bank, said bitcoin had been affected by a "hype cycle" effect.
"You have a peak of hype and maybe unrealistic expectations, followed by a trough of disillusionment and eventually you reach a plateau. I think we're in the trough of disillusionment," he said.