The latest survey snapshot of the UK's dominant services sector showed an unexpected drop in growth in February, stoking fears that British consumer spending might be running out of steam after a strong six months that has powered overall GDP in the wake of the Brexit vote.
The Markit / CIPS Purchasing Managers' Index fell to 53.3, down from 54.5 in January.
Any reading above 50 signals growth, but the data was the weakest since last September.
City of London economists had expected a reading of 54.1.
Services account for almost 80 per cent of UK output and have been responsible for the vast majority of the UK's growth since last June's Brexit vote.
The services PMI covers hotels, restaurants, and firms providing businesses services and IT among other sectors.
It does not include UK retailers, but data from the Office for National Statistics suggests that retail sales – which account for approximately 30 per cent of household consumption – fell in each of the three months to January.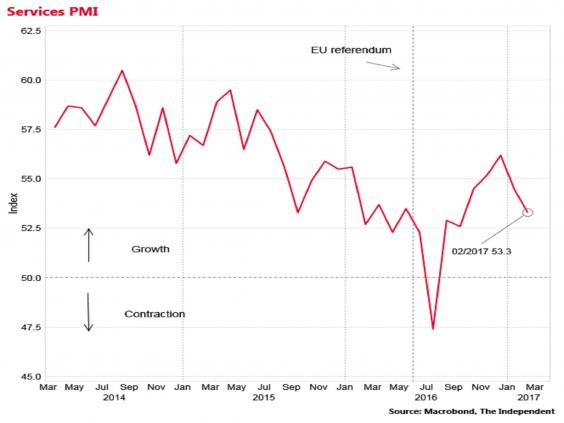 The release sent sterling instantly down about a quarter of a cent against the dollar to $1.2227, a seven-week low.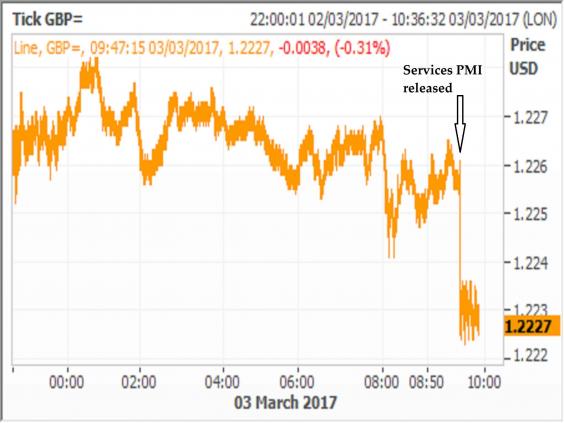 Paul Hollingsworth, an economist at Capital Economics, said the PMI survey data so far this year was consistent with a slowdown in growth in the first quarter of 2017 to 0.4 per cent, down from 0.7 per cent in the final quarter of 2016.
Alan Clarke, an economist at Scotiabank, said that the data suggested consumer spending was being dampened by higher consumer price inflation.
"At this early stage of the year, in the tug of war between very accommodative financial conditions vs slowing real incomes, the latter is winning," he said.
The latest services PMI showed the fastest rate of cost inflation in eight and a half years thanks to the 12 per cent plunge in the trade-weighted value of the pound since last June's referendum.
Manufacturing and construction PMIs for February were released earlier this week and both showed a modest slowdown in growth.
The composite PMI, which reflects the value of all three indicators, is now 53.8, down from 55.4 in January, also the lowest since last September.
The Office for Budget Responsibility will publish its updated GDP forecasts for the UK next week alongside the Budget.
In November it pencilled in GDP growth of 1.4 per cent for 2017.
Reuse content