Donald Trump becoming US president poses a greater risk to global economy than an armed conflict in the South China Sea or Britain leaving the European Union.
That's according to a report by the Economist Intelligence Unit (EIU), which has included his possible victory in November's presidential election among its top 10 global risks.
The billionaire businessman has emerged as the clear frontrunner for the Republican party's nomination after winning the primary polls in Florida, North Carolina and Illinois on Tuesday.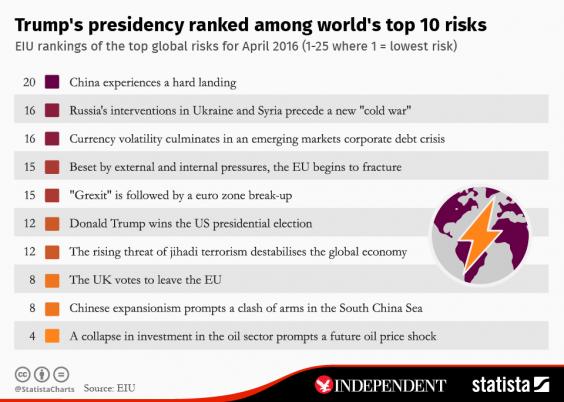 The EIU said it does not expect the 69-year-old to beat his "most likely Democratic contender, Hillary Clinton," but a terrorist attack on US soil or sudden economic downturn could make his entry to the White House more likely.
Should that happen, Trump's "hostile attitude to free trade, and alienation of Mexico and China in particular, could escalate rapidly into a trade war", the EIU said.
Donald Trump's most controversial quotes
Donald Trump's most controversial quotes
1/14 On Isis:

"Some of the candidates, they went in and didn't know the air conditioner didn't work and sweated like dogs, and they didn't know the room was too big because they didn't have anybody there. How are they going to beat ISIS?"

Getty

2/14 On immigration:

"I will build a great wall — and nobody builds walls better than me, believe me —and I'll build them very inexpensively. I will build a great, great wall on our southern border, and I will make Mexico pay for that wall. Mark my words."

Reuters

3/14 On Free Trade:

"Free trade is terrible. Free trade can be wonderful if you have smart people. But we have stupid people."

PAUL J. RICHARDS | AFP | Getty Images

4/14 On Mexicans:

"When Mexico sends its people, they're not sending their best. They're sending people that have lots of problems. They're bringing drugs. They're bringing crime. They're rapists."

Getty

5/14 On China:

"I just sold an apartment for $15 million to somebody from China. Am I supposed to dislike them?... I love China. The biggest bank in the world is from China. You know where their United States headquarters is located? In this building, in Trump Tower."

Getty Images

6/14 On work:

"If you're interested in 'balancing' work and pleasure, stop trying to balance them. Instead make your work more pleasurable."

AP

7/14 On success:

"What separates the winners from the losers is how a person reacts to each new twist of fate."

8/14 On life:

"Everything in life is luck."

AFP

9/14 On ambition:

"You have to think anyway, so why not think big?"

Getty Images

10/14 On his opponents:

"Bush is totally in favour of Common Core. I don't see how he can possibly get the nomination. He's weak on immigration. He's in favour of Common Core. How the hell can you vote for this guy? You just can't do it."

Reuters

11/14 On Obamacare:

"You have to be hit by a tractor, literally, a tractor, to use it, because the deductibles are so high. It's virtually useless. And remember the $5 billion web site?... I have so many web sites, I have them all over the place. I hire people, they do a web site. It costs me $3."

Getty Images

12/14 On Barack Obama:

"Obama is going to be out playing golf. He might be on one of my courses. I would invite him. I have the best courses in the world. I have one right next to the White House."

PA

13/14 On himself:

"Love him or hate him, Trump is a man who is certain about what he wants and sets out to get it, no holds barred. Women find his power almost as much of a turn-on as his money."

Getty Images

14/14 On America:

"The American Dream is dead. But if I get elected president I will bring it back bigger and better and stronger than ever before and we will make America great again."

GETTY
"His militaristic tendencies towards the Middle East (and ban on all Muslim travel to the US) would be a potent recruitment tool for jihadi groups, increasing their threat both within the region and beyond," it added.
Even if his more radical policies were block by Democrats and innately hostile Republicans in Congress, the "internal bickering will also undermine the coherence of domestic and foreign policymaking", the EIU warned.
Overall a Trump victory was rated 12 on the EIU's one to 25 scale and labelled a "moderate probability, high impact" event.
It ranked sixth in the top 10, which was topped by a "hard landing" for China's economy. Russia's interventions in Ukraine and Syria precede a new "cold war" was second, with an emerging markets corporate debt crisis in third.
A so-called Brexit came eighth with a risk rating of 8.
The EIU said: "If Britain did leave the EU it would have negative ramifications for the UK - still the fifth biggest economy in the world, and whose exporters would struggle in the face of regulatory and tariff uncertainty, and whose position as a leading global financial services hub would be imperilled. 
"It would also harm the EU itself, given that the UK is one of the few relatively fast-growing economies in Europe, and has also been a leading proponent of trade and services liberalisation."
Reuse content