It was an announcement that sent shares soaring – conjuring up visions of a "new Dallas" of oil barons and billionaires in the countryside around Gatwick Airport.
But claims that the site in the Weald Basin on the Surrey-Sussex border could contain up to 100 billion barrels of oil met with substantial scepticism – as experts warned that much more research was required before talk of a new oil rush in the Home Counties could be taken seriously.
Shares in UK Oil & Gas (UKOG), the company at the centre of the potential oil bonanza, more than quadrupled at one point on 9 April after its chief executive Stephen Sanderson said he had "discovered a possible world- class potential resource".
Mr Sanderson estimated that it could be commercially and practically viable to extract as many as 15 billion barrels of the oil thought to be contained in the 55 square-mile area of the Weald Basin. That is a third of the total amount extracted from the North Sea in its four-decade history. The company also held out the prospect of creating "many thousands of jobs" to service the new industry.
Mr Sanderson stressed that these were only precautionary estimates which "should not be considered as either contingent or prospective resources or reserves" – meaning that the area may never yield a single drop. But this standard caveat did not stop a share price surge that would have delighted UKOG executives, as investors bought into the dream of a Texas-style oil boom in the heart of the South-east.
However, geological experts warned that the figures should be treated with more than a pinch of salt – especially since the 100 billion barrel estimate is so much higher than the 20 million estimate the company announced for the same licence area last October.
Mr Sanderson said the latest result was based on data taken from a much deeper test well and new technology and analysis techniques.
The latest prediction about the scale of the potential in the area also dwarfs an estimate made by the British Geological Survey last May that the entire 3,500 square-mile Weald Basin – taking in Kent, Sussex and Hampshire and including UKOG's "Horse Hill" licence – only contains as much as  8.5 billion barrels of oil.
"These figures should be treated with caution. They may be perfectly accurate but no one will know for 20 to 30 years," said Professor Richard Selley, of Imperial College London, who was one of the academics to peer-review the British Geological Survey's assessment of the Weald Basin.
He added that the figures nonetheless justified further testing in the licence area.
Dr Doug Parr, chief scientist of Greenpeace UK, said: "Energy analysts are right to take these claims with a pinch of salt. The Horse Hill site estimates are based on findings from only one well and contradict the UK's leading geological experts."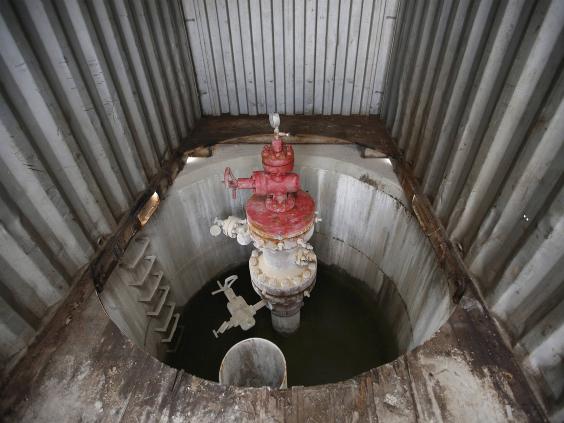 UKOG is chaired by David Lenigas, an Australian "serial entrepreneur" and Monaco resident. He was keen to emphasise the scale of the opportunity for jobs and oil production in the south of England as a result of this find, while playing down the environmental impact.
The oil find is in woodland on the border of Surrey and Sussex. The nearest commercial centre is the small commuter town of Horley, which is two miles down the road.
But Mr Lenigas said the discovery would not turn the area into a UK version of Dallas.
"The technology is different now, you basically drill a number of wells from the same pad – oil extraction these days is far less intrusive than it used to be," he said.
But it could resemble Dallas in terms of the high level of oil production. "In reality it depends how quickly the British government wants this. At the moment there's legislation that makes it really difficult once you've made a discovery like this to fast-track anything. I can only operate at the speed that they allow and right now that is a snail's pace.
"I'm calling on the Government to start looking at what they've got in their own country here, sitting not far out from the M25," Mr Lenigas said.
Friends of the Earth South East campaigner Brenda Pollack said: "The prospect of dirty oil extraction in southern England will alarm local communities and put fracking firmly on the election agenda.
"Any firm proposing to drill for oil in the region knows it will face huge opposition – as happened at Balcombe, Fernhurst and Wisborough Green," she added.
"Drilling proposals in Sussex have already been turned down. The next government must end our reliance on climate-changing fossil fuels and invest in real solutions to the energy challenges we face, such as renewable power and energy efficiency."
Profile: a serial entrepreneur
David Lenigas, a straight-talking Australian citizen and Monaco resident, is no stranger to controversy.
Dubbed a serial  entrepreneur, he made his made his mark at the late  Tiny Rowland's Lonrho  conglomerate, where he worked in a number of roles including a two-year stint  as chief executive between 2005 and 2007.
In recent years he has specialised in chairing numerous small companies, many of them listed on London's junior AIM stock market.
At one point he was on the board of no fewer than 147 companies. Although he has slimmed down his commitments he is thought to have 16 directorships in the UK alone and is chairman of three companies involved in the Horse Hill development – UK Oil and Gas Investments, Solo Oil Plc and Stellar Resources Plc.
Shares in all three soared yesterday.
TOM BAWDEN
Environmental impact: 'No fracking'
UK Oil and Gas categorically ruled out the use of fracking yesterday in the event that oil is produced from around Gatwick Airport. The group said the rock in the area is naturally fractured, so the oil will be extracted oil using conventional techniques.
Conventional onshore extraction has three phases: exploration, in which an operator seeks consent to drill a vertical well, from which samples of rock are taken to a make an assessment of the reserves; appraisal, in which the operator will "test-flow" the well to establish whether the oil moves easily; and production, in which diesel-powered oil rigs are moved onto the land and drill into the earth. The oil is then piped to processing firms to be turned into petrol or, in its pure form, shipped for export or domestic consumption.
Reuse content