Financial markets gave a muted reaction to the Autumn Statement.
The most salient response came from the UK Government debt market, where the yield (or interest rate) on the 10-year benchmark gilt rose around 8 basis points to 1.479 per cent in the wake of the Chancellor's announcement that the Government will borrow £122bn more than expected in March over the five years to 2021.
10-year Gilt yield rises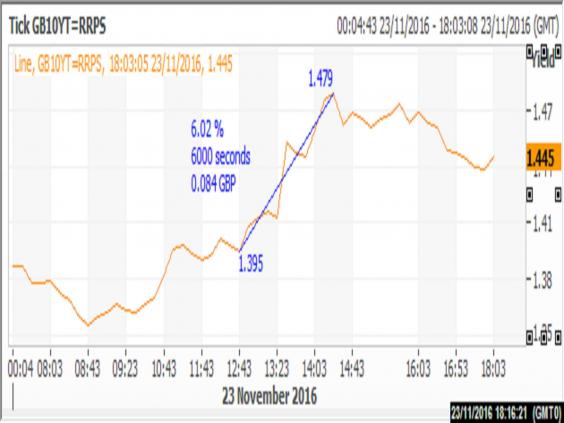 Analysts pointed to a surge in expected supply as being behind the selling.
"The key move in gilt yields was largely a reaction to the Debt Management Office remit that was published immediately after the chancellor sat down," said Craig Inches of the asset manager Royal London.
"The large surprise was that of the additional £20.6bn issuance [for 2016-17], £15bn of this would be funded by gilt sales as opposed to treasury bill issuance…The market will now need to digest two index-linked and one nominal syndication within the next 12 weeks. This is a mammoth amount of supply to consume over the festive period."
"Financing this debt may become more troublesome if we struggle with Brexit," said Neil Williams of Hermes. 
"Conventional gilts may benefit initially from the perceived hit to growth, but this could be shortlived, given about one-third of gilts outstanding is backed by international investors who will care about currency and ratings risk."
The 10-year gilt yield later eased back to 1.44 per cent.
Sterling yo-yoed against the dollar, ending the day up around half a cent at $1.2565. 
It strengthened against the euro, rising 1 cent to €1.1796.
However, those movements were more likely to have been driven by economic data from the US on durable goods orders for October and expectations of additional monetary stimulus from the European Central Bank.
The FTSE All-share Index was flat on the day, but Foxtons was heavily marked down due to the Chancellor's announcement of a ban on letting agents charging fees to tenants.
The estate agent closed down 14.26 per cent at 105.25p.
Shares in Belvoir Letting (down 3.6 per cent), Countrywide (down 5.23 per cent) and LSL Property Services (down 5.05 per cent) were also hit for the same reason.
Reuse content