Alexis Tsipras has said that Greece will accept all bailout conditions proposed by the country's creditors with only a handful of minor changes.
In a letter sent to the European Commission, the International Monetary Fund and the European Central Bank and seen by the Financial Times, Tsipras expanded his idea for a new, third €29.1 billion rescue package.
The second bailout package expired last night when Greece failed to meet a €1.6 billion IMF debt repayment. Tsipras then prosposed a third package and a new set of 11 conditions - along with a note saying Greece was prepared to accept the troika's proposals from Sunday.
"The Hellenic Republic is prepared to accept this Staff Level Agreement subject to the following amendments, additions or clarifications," the letter read.
Got my hands on new @atsipras letter conceding on almost all points. QUick story here: http://t.co/VsdKLnWw8M pic.twitter.com/kHIVrvpOBi

— Peter Spiegel (@SpiegelPeter) July 1, 2015
Greece will accept all the VAT proposals, Tsipras said, as long as there is a 30 per cent discount for Greek islands.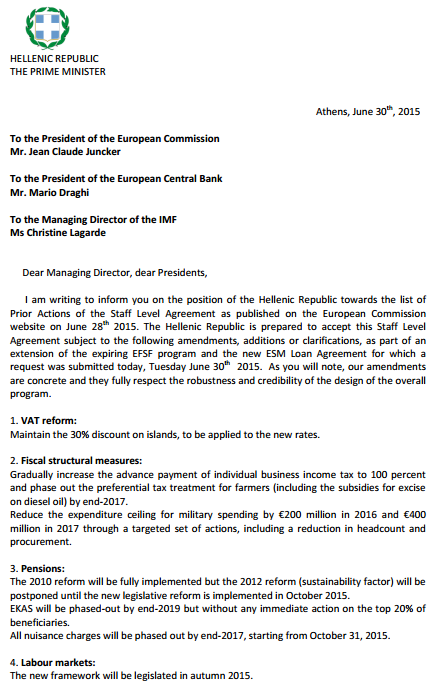 The pension age will change to 67, Tsipras agreed, starting in October rather than immediately as the troika had proposed. He also asked that a 'solidarity grant' for poorer pensioners is phased out more slowly than the troika requested.
Eurozone finance ministers are scheduled to discuss Tsipras's latest proposals in a conference call at 5.30pm Brussels time.
However there is already some pushback from ministers, according to reports.
Getting sig pushback from creditors on new @atsipras letter. #Greece still holding out on items amounting to "hundreds of millions" at least

— Peter Spiegel (@SpiegelPeter) July 1, 2015
Markets reacted positively to the news.
Dax after FT report of Tspiras's letter to EC/ECB/IMF accepting conditions with minor changes for extension/bailout 3 pic.twitter.com/HLAu5fzwcZ

— Vonnie Quinn (@VonnieQuinn) July 1, 2015
Meanwhile a referendum on whether or not the Greek people accept the lenders' program for austerity is still planned to take place on Sunday. Some commenters have said that if Greece was taking these negotiations seriously, it would cancel the referendum.
German VC Gabriel: if #Greece wants to negotiate "it would make sense to cancel his referendum", "talks could then take place immediately"

— Maxime Sbaihi (@MxSba) July 1, 2015
Reuse content