The deadlock has been broken in the Greek crisis after the Greek government submitted a detailed set of proposals for reform.
But it didn't take long for those reading the new proposals to notice that they were strikingly similar to the ones Greece's European lenders had proposed - the same ones that 61 per cent of the Greek people rejected in the referendum last Sunday.
German lawmakers confused as to why Tsipras is now submitting a proposal he once slammed. http://t.co/bOKgGEjZdk pic.twitter.com/LAQ22Zr8uU

— Joseph Weisenthal (@TheStalwart) July 10, 2015
How similar?
The Greek proposals commit to savings of €12bn over two years by:
• Scrapping discounted rates of VAT for Greek islands, designed to offset the higher cost of living there
• Increasing income tax from 11 per cent to 15 per cent
• Increasing the retirement age to 67
• Increasing corporation tax to 28 per cent
See the full Greek proposals here.
A week earlier, the lenders had asked that:
• Greece scrap discounts on the islands and apply a standard 23 per cent VAT
• Introduce reforms on income tax
• Increase the retirement age to 67 years
• Increase corporate tax to 28 per cent
See the full EU proposals here.
That's a pretty significant u-turn on the part of Tsipras.
Along with the document, both the Greek finance minister Euclid Tsakalotos and the Greek prime minister Alexis Tsipras submitted letters reiterating Greece's commitment to staying in the Eurozone.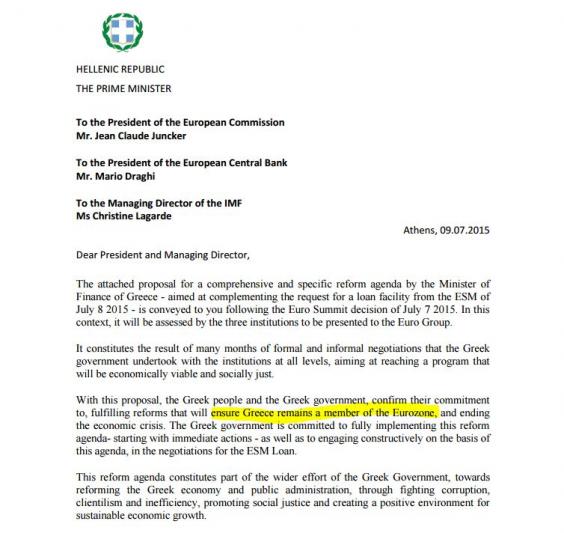 Up to this point the Greek government had repeatedly walked away from negotiations, even going so far as to call a referendum on Sunday.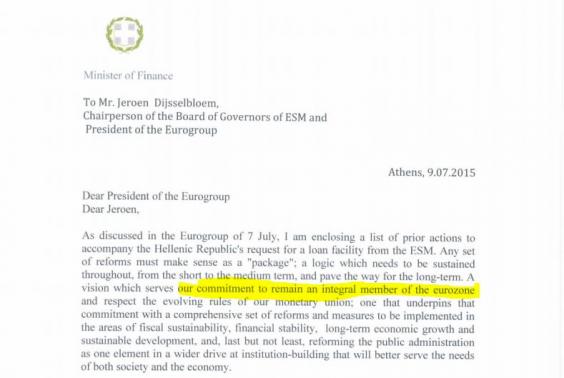 Sony Kapoor, managing director of the economics and finance think tank Re-Define, says the Greek government is doing everything it can to try and repair its relationship with the eurozone.
"In an environment of close to zero trust, Greece has to demonstrate that it will take measures it has previously opposed. The resignation of [Yanis Varoufakis, Greek finance minister] was a clear signal to the lenders that Greece wanted to co-operate," he said.
Even if these reforms get rubber stamped in the European Parliament this weekend, Tsipras is going to have a huge job on his hands to implement them.
Reuse content