Sweden is fabled as the land of economic equality and work-life balance but new official figures could put a dent in that fairytale. 
While it is true some do clock off at 3pm after a mere six hours at the office, it will come as comfort (and no little surprise) to envious overworked souls in other countries that this is far from the norm. In fact the Swedes can expect to work for more of their lives than any other nation in the EU - a full 41.2 years.
That's according to the EU's official number crunching body, Eurostat, which has revealed the length of working life for each country in the continent.
The figures reveal that Italians work for just 30.7 years - a decade less over their lifetimes than their Nordic counterparts. By comparison, the EU average is 35.4 years. Those who wish to break free from a life at their desk should pause for thought before moving to Scandinavia, the numbers suggest.
Brits, often seen as hard-workers, following the "Anglo-Saxon" model of capitalism, toil for 38.6 years - more than the average, yes, but close to three years less than our Swedish friends.
Things may change after Brexit, however. The three countries outside the EU that have access to the single market are some of the hardest workers of all.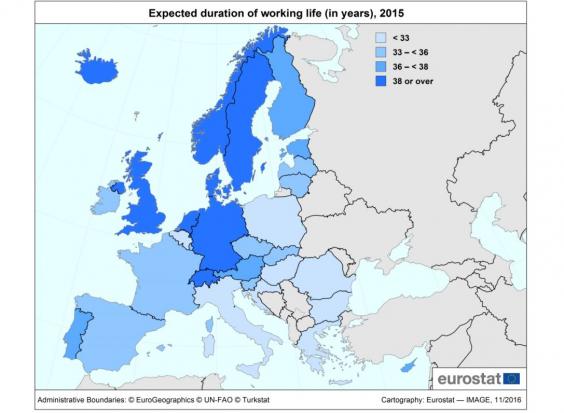 The Swiss and Norwegians both work for more years than those in the UK while the hardest workers of all by some distance are Icelandic men, who spend an astonishing 48.6 years going about their daily grind. 
Across the whole of the EU, we are slogging away for two more years on average than we did in 2005, much of it down to increasing participation of women in the labour market. The fact we are living longer has also helped. 
The full list is below:
| | |
| --- | --- |
| Iceland | 46.6 |
| Switzerland | 42.5 |
| Sweden | 41.2 |
| Netherlands | 39.9 |
| Norway | 39.8 |
| Denmark | 39.2 |
| United Kingdom | 38.6 |
| Germany (until 1990 former territory of the FRG) | 38 |
| Finland | 37.6 |
| Estonia | 37 |
| Portugal | 36.8 |
| Austria | 36.7 |
| Cyprus | 36.4 |
| European Union (28 countries) | 35.4 |
| Euro area (19 countries) | 35.2 |
| Latvia | 35.2 |
| Czech Republic | 35.1 |
| Ireland | 35 |
| Spain | 34.9 |
| France | 34.9 |
| Lithuania | 34.8 |
| Slovenia | 34.3 |
| Luxembourg | 33.5 |
| Slovakia | 33.5 |
| Malta | 33.4 |
| Romania | 32.8 |
| Belgium | 32.6 |
| Croatia | 32.6 |
| Hungary | 32.6 |
| Poland | 32.6 |
| Greece | 32.3 |
| Bulgaria | 32.1 |
| Italy | 30.7 |
Reuse content