The first person to be convicted by a jury of fixing Libor, the rate that sets the price of trillions of pounds in global loans, was beginning a 14-year prison sentence last night – with banks and regulators still blocking reforms of the system he rigged.
Tom Hayes, an "extremely intelligent" but "greedy" trader, earned millions working for UBS and Citigroup while twisting the arms of colleagues and counterparts to fix the London Interbank Offered Rate in order to boost his pay.
The 35-year-old, from Fleet in Hampshire, had claimed he was being made a scapegoat for actions that involved many others and had the approval of his superiors. But he was found guilty on eight counts for his part as the "ringleader" in the massive and widespread fraud, blamed on pure greed.
As the judge at Southwark Crown Court handed down his sentence to Hayes, Mr Justice Cooke also hinted at the vulnerabilities that allowed such a crime to take place. "What this case has shown is the absence of that integrity which ought to characterise banking," he told the former trader. "You, as a regulated banker, succumbed to temptation in an unregulated activity because you could." One other person, whose name and bank cannot be reported, has pleaded guilty to their role in the fraud, which led to Lloyds Banking Group, Barclays, Royal Bank of Scotland and Deutsche Bank among others being told to hand over billions of pounds for their part in the scandal.
However, critics of the industry will argue that the Libor scandal is indicative of wider problems that have not been fixed following the financial crash of 2008 and subsequent bailouts of several leading banks – pointing to how Hayes was allowed to keep a £2.2m "signing on" bonus after being sacked from Citigroup for misconduct.
Betraying no emotion, the Asperger's sufferer stared straight ahead when he was told of the jury's guilty verdicts yesterday. His wife and parents, meanwhile, sat with their heads bowed as they heard the decisions.
The trader in yen Libor derivatives effectively placed bets on whether the daily rate – at which banks across the world lend to each other – would go up or down, and conspired to fix the submissions used to calculate that rate.
Ruling that Hayes had played a "leading role" in the manipulation of Libor, Mr Justice Cooke said: "You exerted pressure on others, essentially trained those junior to you in the activity, made corrupt payments to brokers for their assistance.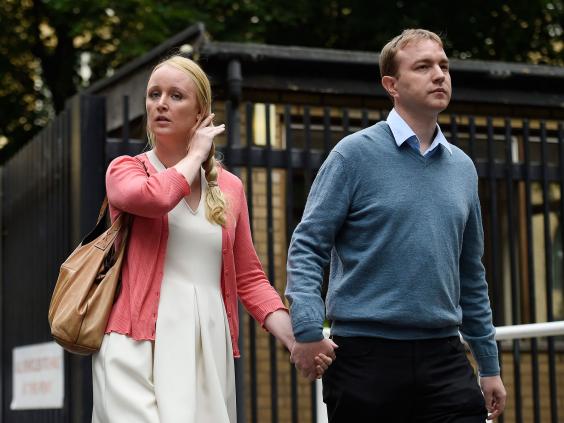 "The conduct involved here is to be marked out as dishonest and wrong, and a message sent to the world of banking accordingly.
"The reputation of Libor is important to the City, as a financial sector, and the banking institutions of this City. Probity and honesty is essential, as is trust. The Libor activity, in which you played a leading role, put all that in jeopardy."
Despite the judge's words, however, UK and US regulators are resisting reforms which would enable the benchmark rate – dubbed the world's most important number – to be set more accurately.
But there are fears that reluctance among banks to embrace vital reforms and greater transparency in the setting of Libor is because they don't want to surrender the enormous commercial advantages it can bring them.
Banks are meant to submit rates, based on "honest assessment", at which they can lend or borrow money "without reference to [their] own commercial position". However, measures to reform the setting of the rate to stop further abuse have "not gone far enough", according to the Financial Conduct Authority and the Serious Fraud Office.
Martin Wheatley, who served as head of the FCA before he was forced out by Chancellor George Osborne, had said reform of the rate-setting was "crucial".
But banks are reluctant to reveal key data which would permit a more accurate rate.
They claim that honest assessments are essential because sometimes there is insufficient data to do otherwise. They also claim reforms will introduce bureaucracy and push up costs.
Hayes was at UBS from August 2006 to December 2009, and at Citigroup from December 2009 to September 2010.
UBS said of Hayes's prosecution last night: "UBS was not a party to this case. It was a matter between the SFO and Mr Hayes and UBS has no comment. The bank has resolved this legacy matter with most authorities and is committed to reducing operational risks and upholding a culture of doing the right thing."
Citigroup said in a statement: "Tom Hayes was terminated in September 2010 following an incident that was reported to compliance. Citi also reported the matter to the appropriate regulators at the time."
The director of the Serious Fraud Office, David Green, said: "The verdicts underline the point that bankers are subject to the same standards of honesty as the rest of us."
A harsh sentence? Other jailed bankers
Nick Leeson
The derivatives broker ran  up losses of £827m at  Barings bank which led to its collapse and served three years and seven months of a six-and-a-half-year sentence in Singapore.
Kweku Adoboli
The former UBS trader was convicted in 2011 of the UK's biggest banking fraud, which resulted in losses of £1.4bn. He was released from jail this year after serving half of his seven-year sentence.
Jerome Kerviel
The rogue trader almost destroyed one of France's major banks after he lost €4.9bn in 2008, but only served five months of a three-year term.
Reuse content