Savvy sellers are offering soon-to-be-coveted jars of Marmite for up to £100,000 on auction site eBay amid fears that the stocks may run low due to a price dispute between Tesco and Unilever.
Tesco has pulled Marmite and other product brands from its website after Unilever attempted to increase its wholesale prices. The products are still being sold in stores but Tesco said shelves were running short of several brands.
Following the news, people announced they would be selling the items on eBay
One "used" jar of Marmite has appeared on eBay for £100,000.
While, another seller listed his "Rare 2016 genuine retail Marmite jar" for £5,000.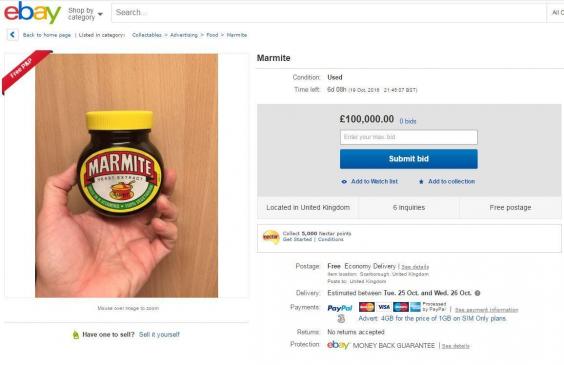 The listing reads: "One of the last remaining examples of this fabled product in private hands.  Unsealed, it is in the same condition it was when it was plucked from the supermarket shelf. 
"Little did I know it would be the last Marmite I ever bought - and now, you, too, can buy your last ever Marmite."
But jars of Marmite were also sold at more conservative prices with some adverts starting the bidding at 50p.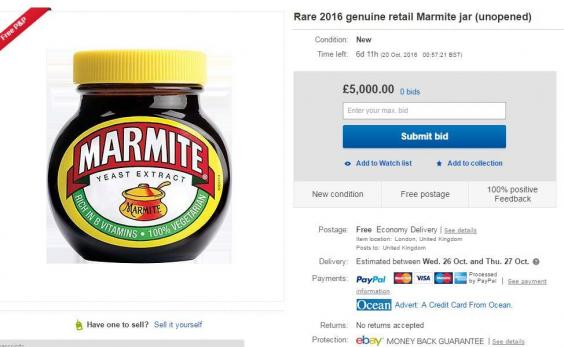 Unilever is understood to have asked the supermarket to increase prices by 10 per cent due to the falling pound, halting deliveries when Tesco refused.
Other well-known brands such as Ben & Jerry's ice cream, Pot Noodle and PG Tips, have also been affected.
Shares in both Tesco and Unilever were down about 2 per cent in early trading.
Other supermarkets have also taken a hit - with Sainsbury's down 1.7 per cent and Morrisons 1.2 per cent lower - reflecting investor nerves about cost pressures from the pound slump.
The pound has fallen in value by around 17 per cent since the UK voted to leave the EU in June.
A Tesco spokesman said: "We are currently experiencing availability issues on a number of Unilever products. We always work to ensure customers get the best possible prices and we hope to have this issue resolved soon."
Graeme Pitkethly, chief financial officer of Unilever, said the company is confident the situation with Tesco "will be resolved pretty quickly".
Reuse content