What's happened to the price of oil?
The price of a barrel of brent crude oil rose as much as 6 per cent on Tuesday ahead of a meeting between oil producing nations.
Investors anticipated that Saudi Arabia and Russia might cut oil production at the meeting in Doha, to try and stop the oil price from falling further.
Brent crude rose to $35.55 ahead of the meeting as investors were hopeful that oil producers might turn the taps off, pushing prices higher.
But they slipped back as soon as a deal to freeze production at January levels was announced.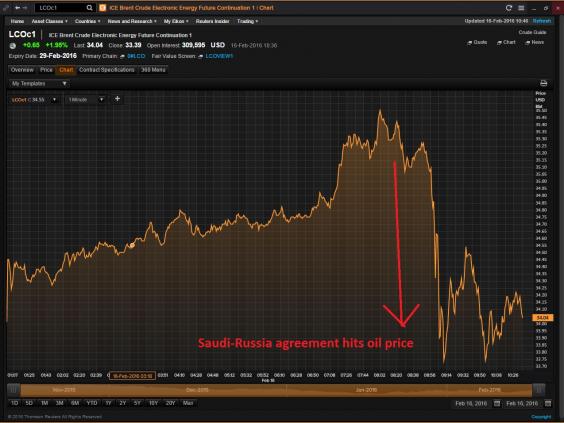 Why did it fall when the deal was announced?
The oil price slid around 3 per cent on the announcement. 
That's because the agreement stopped short of cutting production. 
Many countries are already pumping at maximum capacity – so freezing production at these levels may have little effect on prices.
Iran said not to join #oil producer accord. Looking to boost output on sanctions relief. Won't help #oilprice. #OPEC pic.twitter.com/TDfVKv1bnf

— Danske Bank Research (@Danske_Research) February 16, 2016
Why are Saudi Arabia and Russia looking at cutting oil production?
Oil producing countries are under pressure to turn off supply to stop the oil price from continuing its dramatic fall of over 70 per cent in the last 18 months.
Low oil prices are considered to be a good thing for the global economy, because they lower the price of producing and exporting goods. But they can put considerable pressure on countries with oil-reliant economies.
Saudi Arabia has been forced to introduce sweeping reforms to welfare including hiking domestic fuel prices 40 per cent and taxing cigarettes and sugary drinks in order to combat a growing budget deficit.
The agreement with Russia is considered a desperate measure to address the situation after months of the two sides refusing outright to discuss cutting production.
Biggest oil producers (IEA figures)
Biggest oil producers (IEA figures)
1/10 1. USA (12.35 million barrels per day)

Getty

2/10 2. Russia (10.95 million barrels per day)

Getty

3/10 3. Saudi Arabia (9.51 million barrels per day)

Getty

4/10 4. (4.21 million barrels per day)

Rex

5/10 5. China (4.13 million barrels per day)

Getty

6/10 6. Iraq (3.38 million barrels per day)

Getty

7/10 7. Iran (2.76 million barrels per day)

Getty

8/10 8. UAE (2.71 million barrels per day)

Getty

9/10 9. Kuwait (2.66 million barrels per day)

Getty

10/10 10. Mexico (2.64 million barrels per day)

Getty
What will happen next?
The deal is not approved until Iran and Iraq give their consent at a meeting with Venezuela on Wednesday.
Analysts are sceptical that Iran will agree to production cuts because it has only just rejoined the market following the lifting of sanctions.
Saudi Arabia is suspected by some analysts to be executing an elaborate bluff to try and get the oil price off the floor.
"With OPEC kingpin Saudi Arabia adding that it's absolutely comfortable with current prices, it looks like yet another attempt to buoy the oil price with mere rhetoric," Mike van Dulken, head of research at Accendo Markets, said.
But others say Saudi Arabia is serious and would go so far as to cut production to raise prices.