Winning an Oscar looks nice on an actor's resume. 
But does it mean extra cash for the actor or the film?
Hard numbers, such as actors' salaries, are difficult to come by, but various studies over the years have proved the existence of a so-called Oscar bump, which can boost a film's profits and an actor's paycheck.
1. An actor's salary
Male actors experience an 81 per cent bump in salary after a win, according to an economics honors thesis from a masters student at Colgate University, which looked at the earning power of actors in the years before and after their Oscar wins.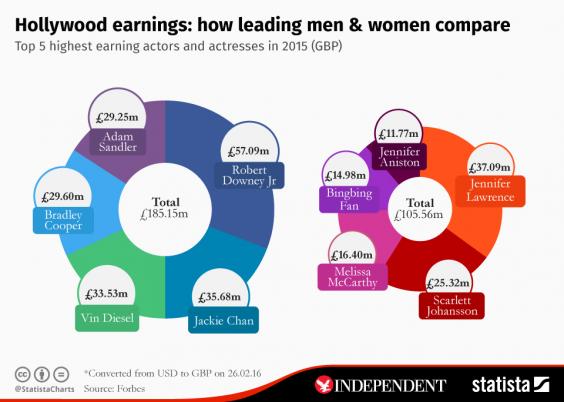 The thesis also revealed a dramatic pay gap between men and women, long before Jennifer Lawrence brought attention to the issue last year. 
Female winners do not experience the same clear boost in their salaries. 
A male actor's salary can increase up to $3.9 million after taking home the statuette, while a Best Actress win is worth a $500,000 salary increase, the data showed.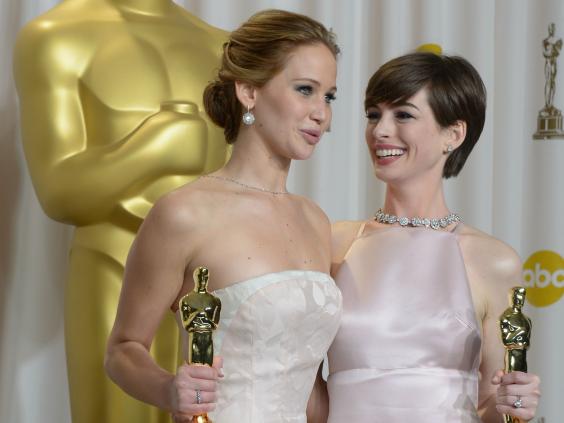 "Everybody gets more money; the question is how much," Emmanuel Levy, film critic and author of All About Oscar: The History and Politics of the Academy Awards, told Bankrate, a web aggregator of financial ratings information.
"A lot depends on who they were before they got the Oscar," he added
The film critic suggested an Oscar win might be more profitable if it comes early in an actor's career.
Anna Paquin, the second youngest actress who won an Oscar for Best Supporting actress at just 11 years old for her role in the Piano, now takes in around $75,000 for her leading role in HBO's vampire drama True Blood.
2. For films, a nomination can be enough
Nine films collectively earned a further $145.7 million (£104 million) at the box office after being nominated for an Oscar in 2014 ceremony, according to analysis of box office data from Box Office Mojo.
American Hustle, starring Jennifer Lawrence and Bradley Cooper, took a further $42 million after being nominated in 2014, representing around 30 per cent of the film's total revenues.
Spike Jonze's Her, starring Joaquin Phoenix, benefited the most, taking in around 60 per cent of its overall earnings after the nomination.
Overall eight out of ten films earned more of their total revenues before being put forward for an Oscar in 2014, according to the data.
Movies that secured a Best Picture nomination from the 2008 to 2012 award seasons had an average budget of $56.9 million and box office sales of $127.7 million, a 55.7 per cent profit from box office sales alone, according to a 2014 analysis by IBISWorld.
3. Payoff for winning 
Best Picture Oscar winners earn about $13.8 million more post-Oscar win than their nominated counterparts, according to IBISWorld analysis.
Films who left with the coveted golden statuette between 2008 and 2012 made 50.2 per cent of box office revenue before the Oscar nominees were announced, 31.8 per cent once they were nominated and 18.1 per cent of box office revenue after winning the Oscar.
Oscars 2016: the red carpet in pictures
Oscars 2016: the red carpet in pictures
1/29

Saoirse Ronan in a green sequined dress by Calvin Klein Collection.

2016 Getty Images

2/29

Brie Larson in a blue Gucci dress.

2016 Getty Images

3/29

Charlize Theron in bold red Dior number

2016 Getty Images

4/29

Lady Gaga in Brandon Maxwell

Getty Images

5/29

Leonardo DiCaprio in Armani.

Getty Images

6/29

Jennifer Lawrence in a black and nude Dior dress.

Getty Images

7/29

Jared Leto in Gucci by Alessandro Michele.

Getty Images

8/29

Reese Witherspoon in a purple, strapless gown by Oscar de la Renta and Tiffany & Co jewellery.

Getty Images

9/29

Kate Winslet in a shiny black number by Ralph Lauren.

Getty Images

10/29

Tom Hardy in Gucci, with Charlotte Riley.

2016 Getty Images

11/29

Jenifer Garner in a black gown from Atelier Versace.

2016 Getty Images

12/29

Sacha Baron Cohen in Dolce & Gabbana and Isla Fisher in Marquesa.

2016 Getty Images

13/29

Tina Fey in purple gown by Atelier Versace.

2016 Getty Images

14/29

Roony Mara in Givenchy Haute Couture by Riccardo Tisci.

2016 Getty Images

15/29

Heidi Klum in Maquesa.

2016 Getty Images

16/29

Sofia Vergara in Marquesa, teamed up with a sleek pony tail.

17/29

Alicia Vikander in a dusty yellow by Louis Vuitton.

18/29

Priyanka Chopra in an embellished fitted gown by Zuhair Murad.

Getty Images

19/29

Amy Poehler in Andrew Gn.

Getty Images

20/29

Daisy Ridley in Chanel haute couture.

Getty Images

21/29

Olivia Wilde in Maison Valentino.

Getty Images

22/29

Olivia Munn in a bright and bold Stella McCartney gown.

Getty Images

23/29

Sophie Turner in Galvan.

24/29

Whoopi Goldberg in a black dress by Bette Davis wore in All About Eve, combined with a statement intricate hand bracelet.

Getty Images

25/29

Eddie Redmayne in a velvet tuxedo jacket and wool trouser with wife Hannah, both in Alexander McQueen.

26/29

Naomi Watts in Armani Prive, teamed up with a sparkly statement necklace for the modern and classic combo.

27/29

Cate Blanchett in a feathered Armani gown and Tiffany & Co jewellery.

Getty Images

28/29

Sylvester Stallone and Jennifer Flavin.

Getty Images

29/29

Margot Robbie in a Tom Ford gold gown.
4. Low budget movies are the bigger winners
Lower budget movies tend to experience a larger monetary boost for the Academy Award nomination. 
"Big risks have led to high rewards during as less-traditional movies, like the black and white silent movie The Artist, have claimed the top prize, " said Agata Kaczanowska, IBISWorld entertainment industry analyst.
The movie Silver Linings Playbook, nominated for the 85th award ceremony tripled the number of its theatre screening after its nomination. Over half of the movie's, directed by David O. Russell, ticket sales were made in the six weeks between its nomination and the Academy Awards ceremony, despite the fact the film was in theatre for already more than six month in the US.
Actors you think have won Oscars but haven't
Actors you think have won Oscars but haven't
1/14 Joaquin Phoenix

With three previous nominations under his belt - for films including Gladiator and The Master - it was his performance as Johnny Cash in 2005 biopic Walk the Line that was expected to see him win an Oscar (he lost to the late Philip Seymour Hoffman's for Capote).

2015 Getty Images

2/14 Bill Murray

With only one Oscar nomination to his name (2003's Lost in Translation), Bill Murray is one oversight that - in many people's eyes - could easily throw the Academy Awards into disrepute.

3/14 Brad Pitt

The ever-present fixture he remains in Hollywood today, you'd think Brad Pitt would have won an Oscar by now; while serving as producer of 2014 Best Picture winner 12 Years a Slave, he currently has zero acting wins to his name despite three nominations (Twelve Monkeys, The Curious Case of Benjamin Button and Moneyball).

2015 Getty Images

4/14 Samuel L. Jackson

Considering he's one of the most bankable film stars in the world, it's a surprise that - with over 160 credits to his name - Samuel L. Jackson has only received a mere one nomination (Pulp Fiction in 1994).

2016 Getty Images

5/14 Tom Cruise

Still one of the biggest movie stars on the planet, Tom Cruise seemed like a sure awards bet back in the Nineties with films Born on the Fourth of July, Jerry Maguire and Magnolia all earning him nominations - and yet, he never once emerged victorious.

2015 Getty Images

6/14 Richard Gere

Would you believe us if we told you Richard Gere has never even been nominated? Well, it's true - and, quite honestly, shocks us quite a bit. Poor guy.

Juan Naharro Gimenez

7/14 Gary Oldman

One of the film industry's finest character actors, Gary Oldman has been nominated just the once for playing George Smiley in Tinker Tailor Soldier Spy.

2014 Getty Images

8/14 Johnny Depp

Despite his recent dip in quality, Johnny Depp has delivered several Oscar-worthy performances in the past. With a total of three nominations to his name - all for post-2000 releases including Pirates of the Caribbean and Finding Neverland - it's more a wonder he didn't receive more recognition for standout films such as Ed Wood and Donnie Brasco in the Nineties.

2015 Getty Images

9/14 Harrison Ford

Harrison Ford may now be the world's highest-grossing actor (sorry, Samuel) but still doesn't have the Academy Award to back up such a feat. In fact, he's now into his third decade of not receiving recognition from the Academy with his sole nomination arriving back in 1985 for Witness.

10/14 Edward Norton

Edward Norton is just the kind of actor you'd assume would've scooped a statuette at some stage or another, but no - Norton just has three nominations to speak of; his first in 1996 (Primal Fear), his second in 1999 (American History X) and his third just last year (Best Picture winner, Birdman).

11/14 John Malkovich

American actor John Malkovich was nominated once in 1984 (Places in the Heart) and again in 1993 (In the Line of Fire) but hasn't posed much of a threat since.

2013 Getty Images

12/14 Annette Bening

Poor Annette Bening, who has come close to victory four times (The Grifters, American Beauty, Being Julia and The Kids Are All Right) but is yet to clinch one.

2015 Getty Images

13/14 Glenn Close

...well, it could be worse; she could be Glenn Close who has been on the shortlist six times for films including Fatal Attraction, Dangerous Liaisons and, most recently, Albert Nobbs.

14/14 Helena Bonham Carter

Helena Bonham Carter may have received a Best Actress nomination for Wings of a Dove (1997), but it was her Best Supporting Actress nomination for 2012's Best Picture winner The King's Speech that seemed a sure bet; Melissa Leo's role in The Fighter won that round.

2015 Getty Images
5. The golden statuette 
The coveted 24-karat gold statuette is worth around $400, according to CBS estimates in 2011, when gold prices were higher.
But its value can increase greatly if sold at a later date due to history associated with it.
The highest sum ever paid for an Oscar was $1,542,500 by Michael Jackson in 1999 for the Best Picture award David O. Selznick won for Gone With the Wind, according to Vanity Fair.
Vivien Leigh's Best Actress Oscar for that same film went for more than half a million in 1993, the report says.
Nearly 3,000 statuettes have been presented since the first Oscar ceremony in 1929.
Reuse content