Britain's financial watchdog is looking into claims that hedge funds made millions of pounds at the taxpayer's expense by using inside information to short-sell shares in Royal Bank of Scotland (RBS).
An analysis of RBS share trading reveals there was a sharp rise in the number of shares being shorted – a technique that involves borrowing a stock and then betting it will fall in value – between the bank's interim results last Thursday and the Government's £2.1bn share sale on Monday night.
It has been alleged that the increase in trading could be a sign that some investors got wind that the Government was about to start selling part of its 78 per cent stake in the bank – betting this would drive the share price down.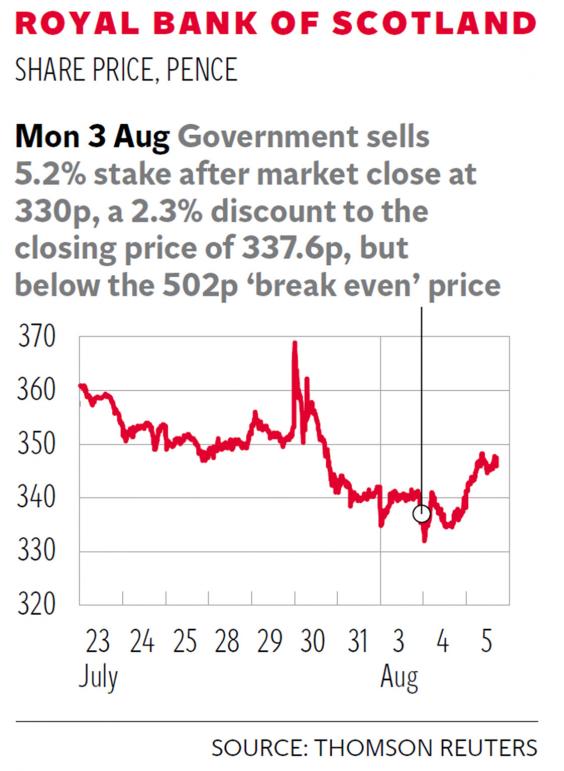 In the event, RBS shares fell 8 per cent between Thursday and Monday evening. If this resulted in the Government getting a lower price for the shares it sold – as would be expected – that would mean hedge-fund traders benefited at the taxpayer's expense. The Financial Conduct Authority confirmed that the case would come under its jurisdiction to assess whether there was any evidence of insider trading. However, a spokesman said they would never directly comment on individual cases.
The Treasury Select Committee is also expected to investigate the claims. A spokesman said MPs were expected to take evidence for UK Financial Investments, which was responsible for the sale later this year. He added that the issue of short-selling would be addressed.
According to data from the financial information company Markit, quoted by the Financial Times, RBS shares used for short selling almost doubled to 1.8 per cent at the end of last week, their highest level for several months.
The total amount of shares being used to sell RBS short peaked at about 68 million, worth some £230m. If the short sellers got out of the market on Monday they would have made around £20m.
However, Treasury sources said that the companies that handled the Government's share placement, including Citigroup, Goldman Sachs and UBS, were only appointed on Monday, hours before the sale started.
The sources added that it would have been possible for informed traders to speculate that the Government was about to start off-loading its stake in the company following its annual results.
Hedge funds have in the past run into trouble with regulators over "wall crossing" during shares sales. This is the process when an investor is judged to possess inside information when they are being marketed a deal by bankers.
Reuse content