Rent is rising fastest in the East of England, according to a survey.
The study by Your Move showed that the average rent in the East of England was £843 a month in August, a massive 11.5 per cent jump on last year.
While rent is still most expensive in London, the data suggests that people are having to look further outside of the capital for housing they can afford to buy or rent. Prices in the East are rising fastest as a result.
Figures from the Office for National Statistics showed that homes in the East of England increased in cost by 8.3 per cent to the end of July. 
Rent growth across the country as a whole was slower in August than in July, according to the Your Move survey, down 0.1 per cent at an average of £803 a month.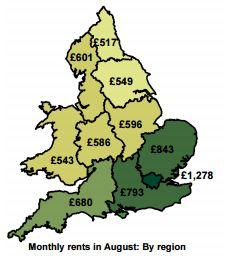 Five out of ten regions have seen rents fall on a monthly basis. Rent in Wales dropped 3.1 per cent, while the South East saw a decline of 1.4 per cent than in July. In the North East rent dropped 1.1 per cent.
In London rent dropped 0.3 per cent, following a 3.3 per cent increase over the previous month.
Rent grew by 4.6 per cent and 5.9 per cent in the West and the East of England respectively. South Western rents rose 3.2 per cent between July and August, while the East Midlands saw 2.1 per cent monthly rental growth.
Adrian Gill, director of estate agents at Reeds Rains and Your Move, said that it was a simple question of supply and demand. "There is also no major change to the fundamentals of supply and demand. This means that in the longer-term, faster rent rises may become a semi-permanent feature of the British property market. Alongside purchase prices, rents will continue to rise rapidly until something happens to address a drastic shortage of homes in the UK," Gill said.
Reuse content