A council funding controversy which campaigners claim has left taxpayers up to £30m out of pocket has blown up again after auditors were asked to investigate the legality of the deals. 
A London Assembly candidate, Rachel Collinson, has written to PwC asking the firm to apply to the courts to get a plethora of bank loans known as "Lobos" taken out by the London Borough of Newham between 2002 and 2010 declared illegal. PwC is analysing the merits of the application under the Audit Commission Act. It will examine whether Lobos were "irrational" items of expenditure and therefore illegal.
It is the latest twist in the ongoing controversy over Lobos, which account for an estimated £15bn of council borrowing and which campaigners says were foolishly bought by councils.
Newham has made big strides since the 2012 Olympics, but parts of the borough still rank among the most deprived in the UK.
The borough was thrown into the spotlight last year when Russell Brand lent his weight to a Newham campaign group called Focus E15 Mothers, which was calling for more affordable housing.
Like councils across the country, Labour-controlled Newham has suffered swingeing budget cuts at the hands of central government since 2010, with its funding grant slashed by more than £110m. But some are asking whether the borough's financial exposure has also suffered due to the Lobos sold by banks sitting just a few miles south of Newham in Canary Wharf.
An acronym for "lender option borrower option", Lobos became a popular source of funds for many local authorities between 2002 and 2012. The loans were sold as instruments that would protect the borrower from the risk of rising rates, rather like a fixed-rate mortgage on a house. In the early 2000s, the protection they offered seemed extremely attractive to risk-averse councils at a time of volatile interest rates. 
But the gamble was that when interest rates fell (as they did in 2008) some borrowers suddenly risked finding their bills growing.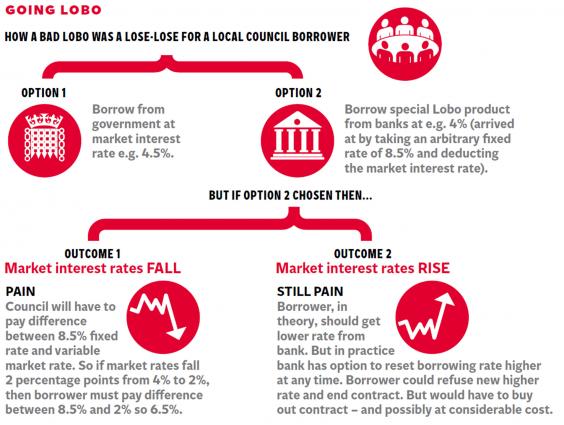 Councils which bought the loans could potentially have to make sky-high payments compared to current rates. Experts say they also face exorbitant exit fees to break out of the contracts. Newham has said it has not been asked for higher payments since interest rates dropped.
"They are incredibly complex. It's a loan which includes a derivative but whatever happens, the council loses out because the bank can also demand an increase in the rate," says derivative expert Abhishek Sachdev, founder of consultancy Vedanta Hedging, who has been studying Lobos for years.
"It's like you've been given an umbrella to carry around by the bank and then when it starts to rain, the bank takes the umbrella away from you."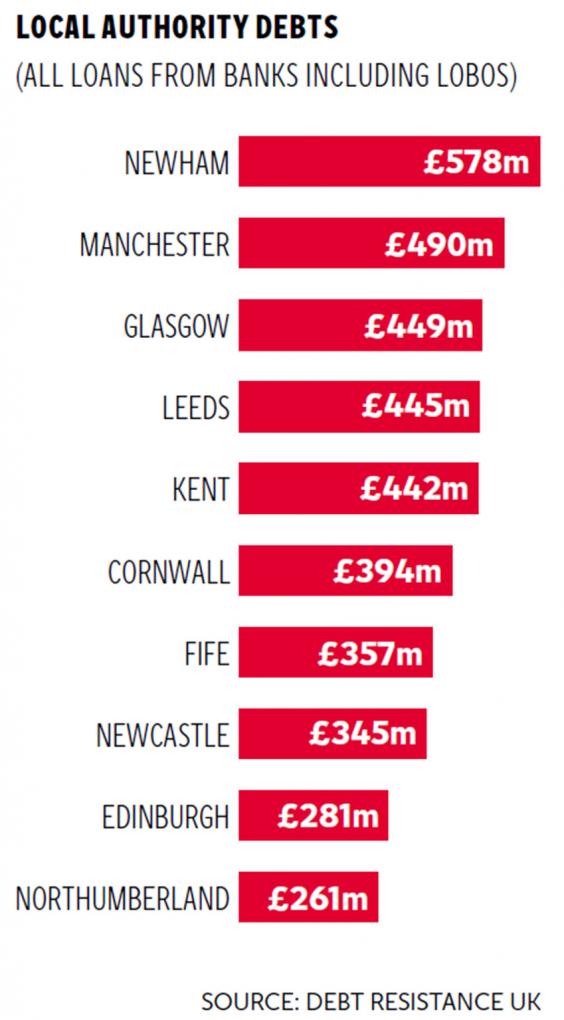 Such derivative-based loans have traditionally been the preserve of high financiers rather than local government officials. Yet councils bought Lobos on a truly industrial scale between 2002 and 2012.
There is around £18bn worth of private sector loans on councils' books, according to figures from the Department for Communities and Local Government. Mr Sachdev estimates around £15bn of these are Lobos.
Annual sales to local authorities regularly topped £1bn in the run-up to the financial crisis and peaked at £1.5bn in 2007, before crashing to £600m a year later and then dwindling to nothing in 2012.
Councils could have borrowed from central government through a body called the Public Works Loan Board (PWLB), which lends at preferential rates and collects repayments. But they started to pick Lobos instead.
Financial analyst Nick Dunbar claims that 48 councils across the UK which took out Lobo loans have had to pay £28.2m in excess interest costs so far compared to the PWLB rate. Newham, considered the ground-zero for Lobo campaigners, took out 27 Lobos worth £564m, according to figures obtained by campaign group Move Your Money. Mr Dunbar claims Newham has so far paid at least £10m more than it would have if it had borrowed directly from the Government.
Newham council disputes these figures, saying government funding would have worked out more expensive. Indeed, the borough's leadership insists it has saved £64m since 2002 by using Lobos.
But some members of Newham council are kicking up a fuss. John Gray and John Whitworth, members of Newham's accounts committee, and audit board member Rokhsana Fiaz have complained to a parliamentary committee, declaring the loans could be "one-way" bets in favour of the banks which could leave the council millions of pounds out of pocket. They say Newham's audit board has recommended that the council should examine whether to take legal action.
The latest twist is likely to stoke calls for further scrutiny of Lobo sales – and the banks, brokers and consultants who sold them to councillors.
Reuse content