The UK's services firms continued to grow in September, according to the latest survey snapshot of the dominant sector.
The Markit/CIPS Purchasing Managers' Index came in at 52.6 in the month, with any reading above 50 signalling expansion.
The reading was higher than the 52 that City of London analysts had pencilled in, although it was slightly down on the 52.9 seen in the previous month.
Still growing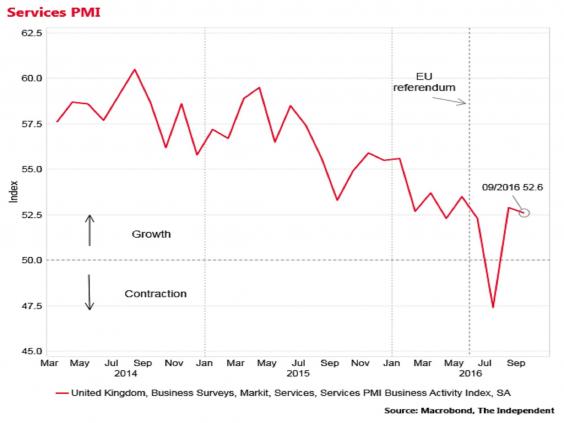 Chris Williamson of IHS Markit said the decent reading confirmed that the economy has not been adversely affected so far by the 23 June referendum vote, despite an ominously big plunge in survey indicators in July.
He added that the strong services reading was likely to "cast doubt" on the likelihood of another Bank of England rate cut next month.
The Bank had signalled that it would cut rates below 0.25 if the economy seemed to be deteriorating on the path it expected.
However, Ben Broadbent, a deputy governor of the Bank of England this morning said that it was not wise to "over interpret" the incoming survey data.
"The wiser course is to wait for the November Inflation Report, which gives us a good opportunity to reflect more systematically on the news since August, and what it implies – if anything – for the medium-term outlook," he said in speech in London.
The strong services print for September follows much better than expected survey readings for manufacturing and construction earlier this week.
Analysts said the PMI surveys for the third quarter of the year, based on past relationships, were consistent with GDP expanding by 0.1-0.2 per cent, down from the 0.7 per cent output growth in the second quarter.
But Samuel Tombs of Pantheon said third-quarter growth could be as high as 0.5 per cent, since the correlation between the PMIs and the official data had weakened recently.
The Bank of England in August expected GDP growth to slow to 0.1 per cent, but is now anticipating 0.3 per cent growth.
Receding recession risk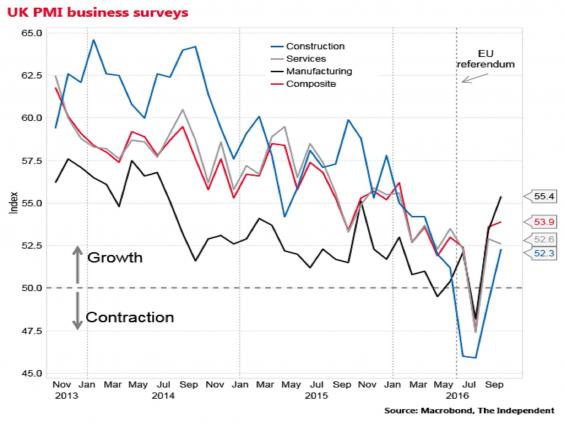 "In aggregate the UK has lost some momentum and this will be increasingly evident in coming quarters," said James Knightley of ING.
"The uncertainty Brexit is generating will likely lead to slower employment growth and a decline in investment, while rising inflation will eat into household spending power as we move through 2017."
Howard Archer of IHS Global Insight also said that a slowdown was still likely.
"While the economy is currently holding up well, we still suspect that it will lose momentum over the coming months as uncertainty is fuelled by Article 50 being triggered by the end of March 2017 and likely very difficult negotiations with the EU increasingly come to the forefront," he said.
The IMF yesterday reduced its 2017 UK growth forecast to 1.1 per cent due to Brexit, although it revised up its 2016 expectation to 1.8 per cent on the back of stronger than expected growth earlier this year.
What experts have said about Brexit
What experts have said about Brexit
1/11 Chancellor of the Exchequer Philip Hammond

The Chancellor claims London can still be a world financial hub despite Brexit "One of Britain's great strengths is the ability to offer and aggregate all of the services the global financial services industry needs" "This has not changed as a result of the EU referendum and I will do everything I can to ensure the City of London retains its position as the world's leading international financial centre."

Reuters

2/11 Yanis Varoufakis

Greece's former finance minister compared the UK relations with the EU bloc with a well-known song by the Eagles: "You can check out any time you like, as the Hotel California song says, but you can't really leave. The proof is Theresa May has not even dared to trigger Article 50. It's like Harrison Ford going into Indiana Jones' castle and the path behind him fragmenting. You can get in, but getting out is not at all clear"

Getty Images

3/11 Michael O'Leary

Ryanair boss says UK will be 'screwed' by EU in Brexit trade deals: "I have no faith in the politicians in London going on about how 'the world will want to trade with us'. The world will want to screw you – that's what happens in trade talks," he said. "They have no interest in giving the UK a deal on trade"

Getty

4/11 Tim Martin

JD Wetherspoon's chairman has said claims that the UK would see serious economic consequences from a Brexit vote were "lurid" and wrong: "We were told it would be Armageddon from the OECD, from the IMF, David Cameron, the chancellor and President Obama who were predicting locusts in the fields and tidal waves in the North Sea"

PA

5/11 Mark Carney

Governor of Bank of England is 'serene' about Bank of England's Brexit stance: "I am absolutely serene about the … judgments made both by the MPC and the FPC"

Reuters

6/11 Christine Lagarde

IMF chief urges quick Brexit to reduce economic uncertainty: "We want to see clarity sooner rather than later because we think that a lack of clarity feeds uncertainty, which itself undermines investment appetites and decision making"

Getty Images

7/11 Inga Beale

Lloyd's chief executive says Brexit is a major issue: "Clearly the UK's referendum on its EU membership is a major issue for us to deal with and we are now focusing our attention on having in place the plans that will ensure Lloyd's continues trading across Europe"

EPA

8/11 Colm Kelleher

President of US bank Morgan Stanley says City of London 'will suffer' as result of the EU referendum: "I do believe, and I said prior to the referendum, that the City of London will suffer as result of Brexit. The issue is how much"

9/11 Richard Branson

Virgin founder believes we've lost a THIRD of our value because of Brexit and cancelled a deal worth 3,000 jobs: We're not any worse than anybody else, but I suspect we've lost a third of our value which is dreadful for people in the workplace.' He continued: "We were about to do a very big deal, we cancelled that deal, that would have involved 3,000 jobs, and that's happening all over the country"

Getty Images

10/11 Barack Obama

US President believes Britain was wrong to vote to leave the EU: "It is absolutely true that I believed pre-Brexit vote and continue to believe post-Brexit vote that the world benefited enormously from the United Kingdom's participation in the EU. We are fully supportive of a process that is as little disruptive as possible so that people around the world can continue to benefit from economic growth"

Getty Images

11/11 Kristin Forbes

American economist and an external member of the Monetary Policy Committee of the Bank of England argues that the economy had been "less stormy than many expected" following the shock referendum result: "For now…the economy is experiencing some chop, but no tsunami. The adverse winds could quickly pick up – and merit a stronger policy response. But recently they have shifted to a more favourable direction"

Getty
Markit/CIPS said that new services business rose at the fastest pace since February and that the rate of job creation also picked up. But it added that future expectations remained "very low" by historical standards.
The PMI for September also showed the sharpest increase in service sector input prices in more than three and half years, reflecting the plunge in sterling since the 23 June referendum vote.
The pound this morning sank to a new 31-year low against the dollar as fears mount among currency traders that the UK is heading out of the single market by 2019.
Services account for just under 80 per cent of UK GDP so surveys of the sector are very closely watched by analysts.
The PMI survey covers transport, communication, finance, computing as well as hotels and restaurants.
It does not, however, cover retailers.
Reuse content