The UK Labour Party is considering universal basic income as part of its new economic policy.
John McDonnell, the shadow chancellor, said the Labour Party would not rule out unconditional pay for all members of society during a talk at the London School of Economics on Tuesday night.
"It's an idea we want to look at. Child benefit was a form of basic income so it's not something that I would rule out," he said.
Changes to child benefit made during the coalition years reduced the amount paid to a family of two children by more than £9 a week– the equivalent  of £470 a year.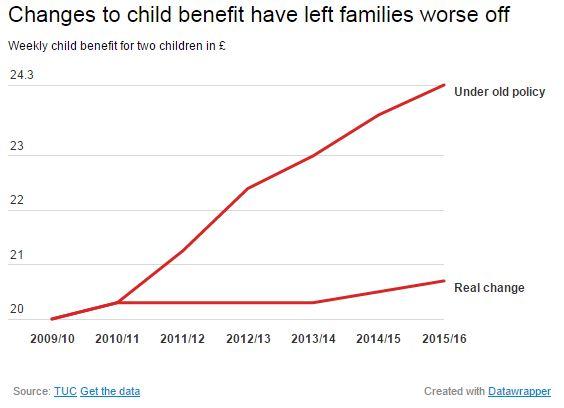 In what he called a "progress report" on Labour's economic policy, McDonnell said that economists were "close to consensus" that the Conservative Party's austerity policies had failed.
"Austerity is a political choice and it's politically easy because it benefits the elite. It's a short term choice," he said. 
"Some thoughts on John McDonnell's New Economics seminars" by @AlexWhiteUK https://t.co/XjFAWQXasV #basicincome pic.twitter.com/pusSLeEV4B

— Scott Santens (@2noame) February 5, 2016
His comments follow a motion by the UK Green Party to table a discussion on universal basic income. 
In January, Caroline Lucas MP called on the Government to commission research into the idea of paying all citizens a flat, unconditional income, which would likely come in place of existing social security measures like means tested benefits.
"The basic income offers genuine social security to everyone and sweeps away most of the bureaucracy of the current welfare system," Lucas told the Independent in January.
UK think tank the Royal Society for the encouragement of Arts, Manufactures and Commerce has proposed a system of universal income in the UK that would give a basic amount to fit, working-age people that it believes would still give a strong incentive to these people to work. 
The think tank has published a detailed report proposing basic income of £3,692 for all qualifying citizens between 25 and 65, or £308 per month.
Anthony Painter and Chris Thoung, authors of the report, said that basic income would give people a sense of security so that they could pursue their own ambitions.
"The major concern is ultimately people: the lives we are able to lead, our ability to have a sense of security so we can pursue our ambition, and our ability to contribute to supporting one another, innovating, and developing the creative potential of society," they said.
In pictures: Jeremy Corbyn reshuffle
In pictures: Jeremy Corbyn reshuffle
1/11 Jonathan Reynolds,Shadow Railways Minister: RESIGNED

He resigned as shadow railways minister in protest at the reasons for sacking Pat McFadden

2/11 Kevan Jones, Shadow Defence Minister: RESIGNED

He resigned as a shadow defence minister who strongly supports renewal of Trident. Has spoken out against Jeremy Corbyn's leadership before and was also the centre of a row with Ken Livingstone after he said Jones "might need some psychiatric help" (Jones has previously spoken about his struggle with depression)

3/11 Stephen Doughty, Shadow Foreign Minister: RESIGNED

He quit as a shadow foreign minister in protest at the sacking of his colleague Pat McFadden as shadow Europe minister. He said he had "looked at his own conscience" and decided to step down

4/11 Pat McFadden, Shadow Europe Minister: SACKED

He was sacked as shadow Europe minister for "disloyalty" to leader Jeremy Corbyn

5/11 Pat Glass, Shadow Europe Minister: SAFE

Former junior shadow education minister Pat Glass replaced Pat McFadden as shadow Europe minister

6/11 Emily Thornberry, Shadow Defence Secretary: SAFE

She was promoted to shadow defence secretary. She is anti-Trident and therefore more in tune with Corbyn's stance and replaces Maria Eagle, who was pro-Trident

Getty

7/11 Emma Lewell-Buck, Shadow Minister for Devolution and Local Government: SAFE

Emma Lewell-Buck was promoted to shadow minister for devolution and local government

8/11 Michael Dugher, Shadow Culture Secretary: SACKED

Outspoken critic of Jeremy Corbyn's leadership, has been sacked as shadow culture secretary for his "incompetence and disloyalty"

9/11 Hilary Benn, Shadow Foreign Secretary: SAFE

Hilary Benn remains as shadow foreign secretary, but Corbyn's team has insisted his role now comes with 'new conditions' that he must agree with Corbyn over foreign policy. Benn insists there are no 'new conditions' attached to his job and insisted: "I haven't been muzzled. I'm going to be carrying on doing my job exactly as before"

10/11 Maria Eagle, Shadow Culture Secretary: SAFE

Maria Eagle, moved from shadow defence to shadow culture secretary as part of Corbyn's move to make his defence team match his anti-Trident views

11/11 Andy Burnham, Shadow Home Secretary: SAFE

Reports linked him to foreign secretary brief, but Corbyn appears to have backed down on sacking Hilary Benn. He does not see eye-to-eye with Corbyn on home affairs such as the Snooper's charter, but removing your shadow home secretary so soon after starting would have been a dangerous move by Corbyn
"That is where basic income has the potential to be so much stronger than our current welfare state."
Opponents of the plan argue that it removes the incentive to work and encourages idleness. Some say it would create inflation as landlords, for example, take advantage of the higher income of tenants by forcing up rent.
Jeremy Corbyn, Labour party leader, said during the leadership contest that he was interested in the idea of a "guaranteed social wage" but that he believed there were issues that had to be worked through.
Reuse content