Britain faces a real risk of being ordered to pay vast sums to US multinationals under the controversial TTIP trade deal being negotiated between Washington and the EU, an analysis of similar agreements has revealed.
The Government has repeatedly played down concerns that secret tribunals established by TTIP will lead to large numbers of American corporations suing the UK in trade disputes.
But United Nations figures uncovered by The Independent show that US companies have made billions of dollars by suing other governments nearly 130 times in the past 15 years under similar free-trade agreements.
In one case alone the US oil company Occidental Petroleum successfully sued the government of Ecuador for $1.8bn. A separate case claiming $6bn has also be filed. The tribunals are used to rule on disputes between nation states and aggrieved companies.
Details of these cases are often kept secret, but notorious precedents include the tobacco giant Philip Morris suing Australia and Uruguay for restricting advertising and putting health warnings on packets.
TTIP has provoked storms of protest from European campaign groups and largely left-leaning politicians. On Saturday, protesters will stage a "day of action" against the proposed deal in hundreds of cities across the UK and Europe.

Critics say the tribunals, held under the so-called Investor-State Dispute Settlement (ISDS) system, subvert democratic justice, giving power over foreign citizens to big companies. Hearings are held in private, in international courts at the World Bank in Washington DC, bypassing the legal system of the country being sued, meaning details are often impossible to uncover. In some cases the very existence of the case is not made public.
But the previously unreported figures from the UN reveal that US companies had sued other nations 127 times in ISDS cases in the past 15 years.
Lord Livingston, the trade minister, has said that ISDS has been "misrepresented and misunderstood".  He has said the UK is currently signed up to more than 90 ISDS clauses and has never lost a case.
But Alex Scrivener, policy adviser at the World Development Movement, said: "These UN figures show that we shouldn't be taken in by the Government's empty assurances about how rarely ISDS is used.
"The reality is that corporations have routinely used these mechanisms to aggressively extract billions of pounds from governments around the world for doing things like freezing energy prices, raising the minimum wage or reversing the privatisation of health services."
Most of the US litigation has been brought against poor countries in Latin America and Eastern Europe with which America has bilateral trade relationships.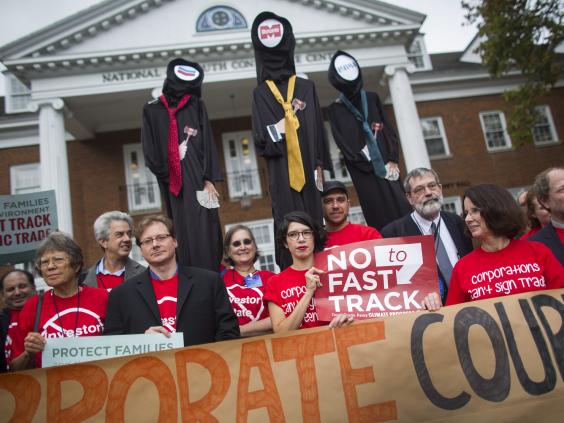 Unions and NGOs have claimed that TTIP will open the floodgates for ISDS cases that will overturn the decisions of democratically elected governments in Western Europe.
The UN document will heighten those concerns, because they show former Soviet countries with relatively recent free trade deals with the US have already been sued nine times by American companies.
Unions such as Unite, as well as patient representative groups, have been particularly concerned that US healthcare giants could sue future British governments if they seek to reverse the privatisations of the NHS that have been gathering pace in recent years.
Unite general secretary Len McCluskey said: "Wall Street financiers like BlackRock and Invesco are already heavily invested in the NHS - over 70 per cent of new contracts are now in private hands. This government has put the NHS up for sale and TTIP finishes the job off by making the sell-off irreversible."
Vince Cable's Department for Business, Innovation and Skills has said such concerns are "misguided". Meanwhile, others in favour of the ISDS element of TTIP point out that it will cut both ways: British companies will be able to sue the US government too.
However, in reality, the UN figures reveal that only 16 cases have ever been filed against Washington DC from companies in any of the 57 countries with which America has free trade deals. None were filed by countries in Europe.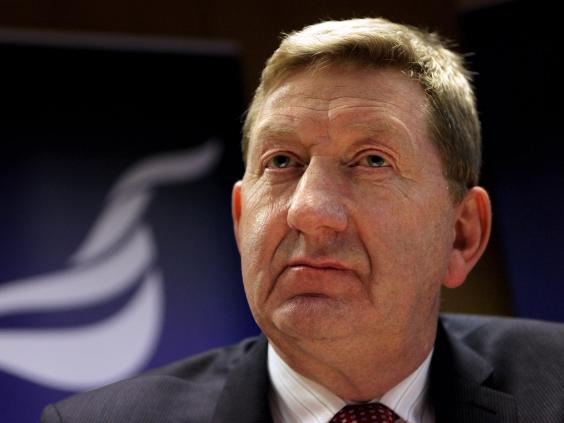 Other pressure groups fear TTIP could result in laxer US regulations on issues such as food standards, and that US labour laws could be forced on European countries - claims that have also been dismissed by the Government.
Proponents of ISDS agreements say they are crucial to give investors the confidence that they will not have their assets expropriated on the whim of future governments. The experience of US investors in countries such as Argentina and Venezuela, where unstable political systems have led to private companies being forcibly nationalised, has highlighted this danger. Investors say local judiciaries may not be impartial in such matters.
ISDS deals are also not new: Britain's first was struck in 1975 when it set up a bilateral trade deal with Egypt. However, the UN figures emphasise that the number of legal actions being taken under them has increased massively in recent years, with 58 and 56 respectively in 2012 and 2013.
Germany, which is being sued under an ISDS by an energy company over its moratorium on nuclear power, has been particularly vociferous in its opposition. This week, Italy's deputy industry minister said there were so many sticking points to the TTIP deal that there should be a "plan B".
"Today it is not possible to reach an agreement that includes ISDS because the Germans will never allow it," said Carlo Calenda.
Today the European Council bowed to calls to be more transparent about the talks by publishing its TTIP negotiating mandate.
ISDS actions: Controversial cases
* US tobacco multinational Philip Morris sued Australia over new rules demanding plain packaging for cigarettes, and Uruguay for printing health warnings on them.
* Ecuador was sued by  US oil giant Occidental  Petroleum after it stripped the company of the rights to explore for oil. Ecuador claimed Occidental was in breach of contract but the World Bank arbitrators ruled in favour of the company.
* Poland and Slovakia were both sued by private health and insurance providers when they attempted to reverse some of the privatisations of their healthcare systems.
* New Zealand withdrew laws on plain packaging after the Philip Morris case, while Canada revoked a ban on hazardous waste exports to the US because of fears it could face an ISDS claim.
Jim Armitage