There is no better time to take the helm of a corporation than in the heat of a crisis. Matthias Müller, who might have ascended to the top of Volkswagen during a feud between shareholders earlier this year, now has a golden opportunity to prove himself and refashion a German industrial giant. The fact that this emissions crisis is not of his making means he has no personal reputation at risk as he effects a clean-up. Staff who might otherwise have been wary of a new man at the top will rally to his cause.
There are five stages of coping with a corporate crisis: show a willingness to co-operate, contain the problem, work out how costly it will be to settle with regulators, criminal investigators and stakeholders, make a deal and move on.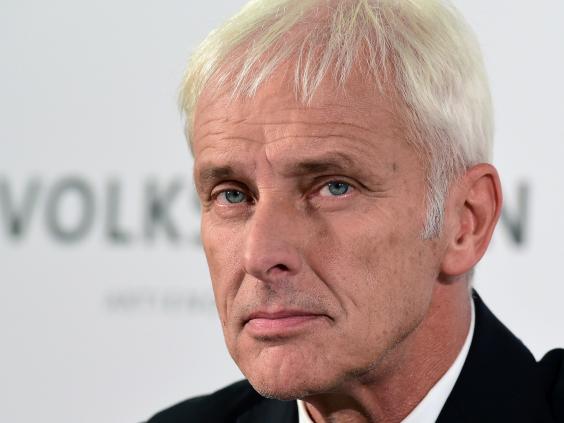 Müller must preach calm and restore some confidence. He must get ahead of events, instead of letting VW be buffeted by them. That means initiating his own top-to-bottom review of the firm. He must also weed out guilty parties who thrived under his predecessor, Martin Winterkorn. Under the bonnet, there is a far harder task. While all this is going on, he must somehow keep VW's eye on the long term by not letting vital research and development projects fall apart. No red-blooded chief executive could fail to be revved up by the scale of this in tray.
The portents are good. Environmental disasters, product failure and accounting scandals are all high on the list of things that keep business leaders awake at night. But it is rare for any of these corporate icebergs to sink a company. What keeps a firm afloat is the value of its brand and the strength of its balance sheet.
It takes a lot to damage a brand. Nestlé for years suffered a boycott of its baby milk formula for aggressively promoting bottle over breastfeeding. But it is still one of the world's largest food groups today, in rude financial health. Negative connotations can be difficult to shake off, however. Dow Chemical acquired Union Carbide 15 years after a gas leak from a pesticide plant in the Indian city of Bhopal that contaminated thousands of people, and a decade after a $470m (£310m) legal settlement was struck with the Indian government. Legal actions still pose a public relations problem.
Müller will know there are benefits to being forced to think the unthinkable. When BP had to sell assets to cover the cost of settling claims and fines from the 2010 Gulf of Mexico oil spill, a leaner energy company emerged. Without the equivalent of a corporate heart attack, its closest rival, Royal Dutch Shell, suffered a gradual furring of the arteries until its boss Ben van Beurden was forced to mount his own slimming down that involved scrapping some of its riskiest projects.
And as soon as a risk is quantifiable it can be managed. For a long time, it was thought that the building materials group Hanson would never succumb to a takeover because of its US asbestos liabilities, the legacy of fibres used for many years in its wall insulation products. By 2007, they had declined sufficiently for its rival Heidelberg Cement to mount a takeover.
Rather than being destroyed by crisis, the big companies that have risen and fallen were outflanked by competition, like the telecoms equipment maker Marconi, gobbled up by Ericsson after it couldn't live with the pricing of Chinese rivals, or broken up by the authorities, like Standard Oil, source of the Rockefeller fortune, which was judged to have an illegal monopoly.
The exception is in accounting scandals, when a balance sheet is revealed to be clad in little more than the emperor's new clothes. It is why the energy trader Enron was quickly declared bankrupt – and why its auditor, Arthur Andersen, collapsed soon afterwards. In financial services, though, the last decade has taught us that banks are "too big to fail". The fear of bringing down the entire banking system transferred corporate risk from the boardroom to the taxpayer.
As Müller settles into the hot seat, it is clear already that this crisis is bigger than VW. Beyond fiddling diesel emissions, the veracity of fuel efficiency and model safety have been called into question. Other car marques are under fire. It is redolent of the Libor interest-rate rigging scandal, in which Barclays was vilified first but its behaviour was later found to be little worse than that of any other bank.
The fallout for the car industry will be seismic. It is easy to predict the introduction of far tougher emissions tests that curb profitability for car makers. In turn, that will force a new round of consolidation and new entrants such as Elon Musk's electric Tesla motors will gain traction with consumers. But however changed, however chastened, expect VW to still be one of the leaders of the pack.
Reuse content