Nicky Morgan may regret asking teachers to tell her if they had any problems with their workload.
Just three months after she made the request, the Education Secretary's department has received 44,000 responses from teachers taking the opportunity to tell her they are working too many hours.
As well as familiar complaints about bureaucracy, target-setting and too many government initiatives, they also raised some more unusual issues: being required to mark different sections of a pupil's work with different coloured pens, having to write detailed feedback notes in the books of pupils who were too young to read them, and being told to make recordings of any verbal feedback they had given to pupils in case of complaints.
Elitist Britain: Run by the privately educated
Elitist Britain: Run by the privately educated
1/7 MPs

Hardly a surprise: One in three (33 per cent) of MPs went to private school, compared to seven per cent of the public. This includes 52 per cent of Conservatives, 41 per cent of Liberal Democrats, and 10 per cent of Labour MPs

PA Wire

2/7 The media

More than half of the top 100 media professionals (54 per cent) are privately educated, compared to 47 per cent in 1986. Half of them went to Oxbridge, while two thirds of new entrants to journalism have managerial and professional family backgrounds

Getty

3/7 Judges

Although the Government is committed to ensuring a more diverse judiciary, seven in 10 senior judges went to independent schools

Rex Features

4/7 The England cricket team

A large percentage of England's cricket team is privately educated: 33 per cent

PA

5/7 BBC executives

26 per cent of BBC executives went to private school.

Getty

6/7 Civil Service

Over half (57 per cent) of Whitehall permanent secretaries are Oxbridge educated, while 11 per cent went to comprehensive schools

Getty

7/7 House of Lords

Although it doesn't seem possible, the House of Lords is even more dominated by the elite than the Commons: two thirds of Conservative peers, half of Labour, and 62 per cent of crossbenchers attended an independent school. A miserable 12 per cent went to a comprehensive

AFP/Getty
Ms Morgan and the Deputy Prime Minister, Nick Clegg, responded to the complaints by promising to give a year's notice in future of any significant changes to the curriculum and qualifications. They also pledged not to make changes mid-course to qualifications.
Education standards watchdog Ofsted – the source of many a grievance over workload – has undertaken to provide a simplified version of the handbook, which sets out what inspectors need to see when they visit a school.
Ofsted also promised to hold a review of teachers' workload every two years from 2016.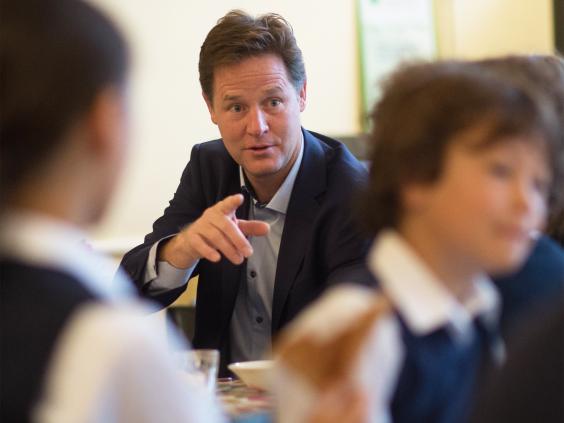 "Thousands have told us that they're simply not able to focus on the job at hand because of the burdensome workloads they're faced with. It's about time we changed that," Mr Clegg said.
But the proposals are not enough, according to teachers' leaders. "What was the point of asking teachers' opinions if the Government was going to ignore their views?" said Mary Bousted, general secretary of the Association of Teachers and Lecturers. "Brushing the views of thousands of teachers under the carpet will not help."
It is claimed that only half of teachers who responded filled out the entire form – suggesting they were too busy.
Reuse content