Superheads will be sent to turn around failing and "coasting" schools under powers to be introduced in the Queen's Speech on 27 May, the Education Secretary Nicky Morgan will announce.
The plans would allow the Government to intervene in any school judged to be "coasting" by sending in experts or forcing it to become an academy.
"Just good enough" is no longer good enough, Ms Morgan says. "It is not OK to be just above the level of failing."
Before the general election, Prime Minister David Cameron promised to "wage all-out war on mediocrity", pledging that any school that was not judged to be "good" or "outstanding" by Ofsted would have to improve.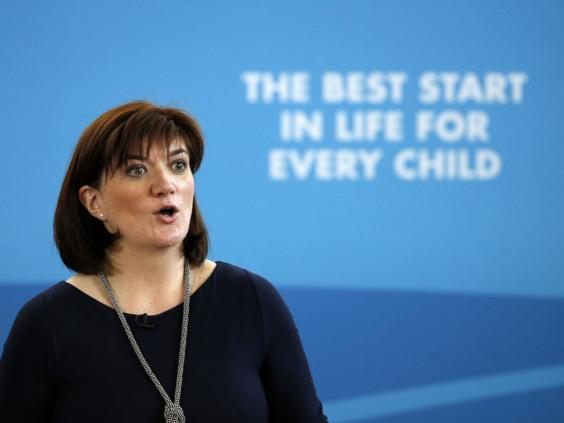 Head teachers' leaders criticised the plans, arguing that schools judged as "requiring improvement" were being targeted for intervention even though they were not judged to be failing.
More than 3,300 schools in England are labelled as "requiring improvement".
But a Department for Education source said that no decision had been taken on how a school would be categorised as coasting but denied that every "requires improvement" school would be targeted. The Government's new definition of coasting is expected to include having been judged as "requires improvement" for some time, and having test or exam results that fall below some new measure. 
Brian Lightman, the general  secretary of the Association of School and College Leaders, cautioned that forcing a school to become an academy was unlikely to provide a quick solution to often complex problems. "Academies or changes of school structure are not necessarily a panacea," he said.
"Nor is automatically changing a school's leadership the solution to bringing about rapid improvement. A carefully targeted programme of school-led support, bringing in the assistance of skilled professionals, can be effective."
Under the current system, secondary schools are considered to be failing, and therefore eligible for intervention, if fewer than 40 per cent of their students score at least five Cs at GCSE, including English and maths, and they do not meet national averages in pupil progress.
In primary schools, the threshold for intervention is if fewer than 65 per cent of pupils get Level 4 in reading, writing and maths and a below-average number of pupils make the expected amount of progress.
What does five more years of the Tories mean for Britain?
What does five more years of the Tories mean for Britain?
1/8 Welfare payments will be slashed

One of the most controversial parts of the Conservative manifesto was to cut benefits for the working age poor by £12 bn over the next three years. But during the campaign they only said where £2 bn of these savings would come from. That leaves £10 bn still to find. Some experts think the only way they can close that gap is by means testing child benefit – with millions of families losing out

Getty

2/8 There will be tax cuts for those in work and those who die

The Tories will increase the threshold at which the 40p rate of tax becomes payable to £50,000 by 2020. They haven't said so but it is also likely that at some point in the next five years they will abolish that 45p rate of tax altogether for the highest earners. They also want to increase the effective inheritance tax threshold for married couples and civil partners to £1m

Getty

3/8 There will be an in/out EU referendum in 2017

The next two years are going to be dominated by the prospect of a referendum on Britain's membership of the EU. First off David Cameron has the daunting task of negotiating a deal with other EU leaders an acceptable deal that he can sell to his party so he can go into the referendum campaigning for a 'yes' vote. This may be unachievable and it is possible that the Tories may end up arguing to leave. Opinion polls show Britain is divided on EU membership, one poll this year showed 51% said they would opt to leave compared to 49% who would vote to stay in

Getty

4/8 There will be more privatisation of the NHS

Having won the election the Tories now have a mandate to go further and faster reforming the NHS. In order to make cost savings there is likely to be greater private involvement in running services, while some smaller hospitals may lose services they currently provide like A&E and maternity units

Getty

5/8 There will be many more free schools – and traditional state schools will become a thing of the past

The Tories plans to create 500 new free schools and make 3,000 state schools become academies. They will also carry on reforming the Department of Education and remove more powers from local authorities over how schools are run

Getty

6/8 On shore wind farms will be a thing of the past and fracking will be the future

Government spending on renewable energy is under real threat now the Lib Dems are no longer in power with the Tories. Subsidies are likely to be slashed for off-shore wind farm and other green energy supplies. Meanwhile there will be generous tax break for fracking as ministers try and incentivise the industry to drill for onshore oil and gas

Getty

7/8 There maybe more free childcare – but not necessarily

In the campaign the Tories pledged to double the amount of free early education for three- and four-year-olds from 15 hours a week to 30. The extra hours would only be offered to working families where parents are employed for at least eight hours a week. However they have not said where the money will come from to fund the pledge

Getty

8/8 Workers' rights could be reduced

The Tories want to slash business regulation, merge regulator and cut costs. The Lib Dems stopped them from reducing the employment rights of workers in power – but these are now under threat

Getty
Under the plans, England's most successful head teachers would be sent into failing schools to help their existing leaders to make swift improvements.
The new powers will allow ministers to order faster action to be taken to improve failing schools. Coasting schools will also be put on immediate notice to improve, and given new leadership if they are unable to demonstrate a clear plan to fulfil the potential of their children.
The measures are designed to spread opportunity and educational excellence to every part of the country so that children from every background get the best possible start in life.
As Ms Morgan will say: "Our big priorities will be to speed up the process for tackling failing schools; extend our academies programme to tackle 'coasting' schools; and deliver on our commitment to open new free schools.
"First, we will take new powers to step in from the moment that a school is found to be failing. From day one, regional schools' commissioners will be able to bring in new leadership and support from other excellent schools and heads, and we will speed up the process of turning schools into academies to make sure that new expert leadership is found for all schools that need it as quickly as possible.
"Second, we'll introduce new powers to intervene not just in failing schools, but in coasting schools – with a clear message that it is not OK to be just above the level of failing. These schools must improve too, and will be put on immediate notice and required to work with our team of expert head teachers.
"Those that aren't able to demonstrate a clear plan for improvement will be given new leadership – we know this works in turning schools around."
Reuse content