Nearly half of all five-year-olds in England have not reached a high enough level of intellectual, emotional and physical development to prepare them for school, new figures reveal today.
Just 52 per cent of children have achieved a "good level of development" by the end of reception, according to updated figures compiled by Professor Sir Michael Marmot, one of the country's leading authorities on public health and social inequalities.
The figures, which Professor Marmot said were a worrying sign for the future health and wellbeing of the country, mean that only little more than half of England's five-year-olds could be called "ready" for school on all measures of development.
Children's early development is measured by their abilities in key areas including reading, numeracy and linguistic skills; social and emotional maturity; and measures of physical development such as coordination and use of pencils and crayons.
Professor Marmot said that children's development was being hindered by a complex combination of poverty and poor parenting, and said that cuts to children's services, including Sure Start centres, were having a damaging impact on early learning.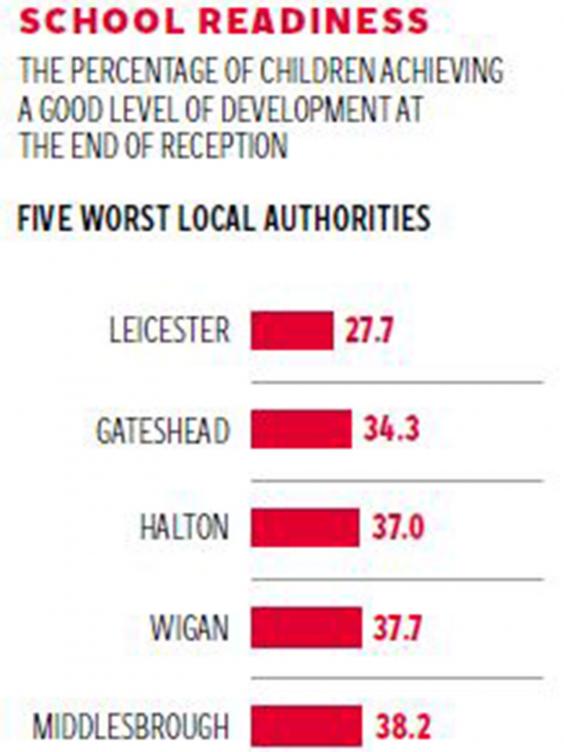 Poorer areas were far more likely to report low numbers of children reaching expected levels of preschool development, the report found.
"In looking at children's development, you've got to look at the parenting, you've got to look at the circumstances in which parenting takes, the conditions of parents' life and the general social context." Professor Marmot said. "There may be some reasons that are in their genes, but we know that the quality of parenting, I'm using that term generally, it could come from parent substitutes, or services, is crucial."
"There's good evidence that input from parents and other carers – talking to children, reading to children, playing with children, singing with children, and warmth, emotion, cuddling, loving are all vital to children's development."
In the years since the last report of its kind, in 2010, cuts to local authority budgets have also seen hundreds of Sure Start children's centres closed down. According to figures compiled by the Labour party earlier this year, more than 600 Sure Start centres have been shut or merged since the Coalition came to power.
In a wide-ranging report on health inequalities across England, Professor Marmot, of University College London's Institute of Health Equity, also uncovered a sharp deterioration in living standards between 2008/09 and 2011/12, as the number of households without a sufficient income to "afford a healthy life" increased from 3.8m to 4.7m – 23 per cent of all households.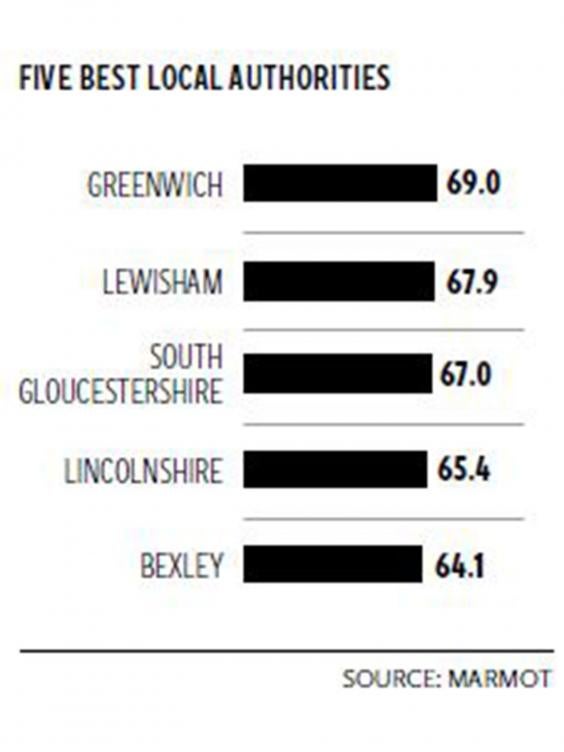 The report comes as a stark reminder of the inequalities that exist within in English society, many of which have been widened by the long-term impact of the economic downturn.
Soaring numbers of households living below the minimum income standard – an income with which it is possible to afford basic things like a nutritious diet, adequate clothing and central heating whenever required – coincide with rising levels of joblessness, which have since recovered slightly. 
Although Professor Marmot avoided openly criticising Coalition policies, he said that any policy which increased deprivation or reduced the quality of children's services would have "an adverse effect" on young people's early development.
"What we see is the more deprived the area the worse the child development," he said. "In fact in England as a whole only 52 per cent of children have a good level of development aged five. When we first looked at these figures we assumed there must be something wrong with them. How can it be the case in England, the sixth richest country in the world, that only 52 per cent of children aged five can have a good level of development?"
Professor Marmot was also critical of a recent Department for Education decision to change the way which early development was measured, which will mean that it is no longer mandatory for local authorities to collect the data used in his report.
For overall educational wellbeing, as defined by Unicef, the UK as a whole sits 24 out of 29 developed nations on measures including preschool participation, numbers of people going on to further education, and the number of young people not in training or employment.
A Department for Education spokesperson said: "No child should start school behind their peers. This is why our plan for education is providing flexible, affordable and good quality childcare. We are raising the status and quality of the early years workforce by introducing rigorous new qualifications so practitioners are highly skilled and can help all children reach the expected level of development. Furthermore, we are investing £50m from April next year to extend the pupil premium to the Early Years."