Pakistani activist and Nobel laureate, Malala Yousafzai, continued with her visit across the US last night by giving a speech on the importance of children's education in Denver, Colorado.
Speaking to a packed-out Bellco Theatre, Malala, 17 – the youngest-ever recipient of the Nobel Peace Prize – riveted the 5,000-strong audience with her 'books, not bullets' mantra.
Sitting comfortably on-stage, in an armchair, she told the crowd: "School, right from the beginning, is an experience of life for children. It allows you to discover your personality, to discover your full potential, to discover your identity."
Strolling into the middle of the stage, she added: "I think of my story, sometimes, like a typical Bollywood or Hollywood movie.
Inspiring talk from @Malala. Glad my kids were there to hear her. #malaladenver pic.twitter.com/D4gwqN5xY6

; Srikant Vasan (@SrikantVasan) June 25, 2015
#MalalaDenver pic.twitter.com/t0HmYGZhNd

; brooke harman (@Brooke_Ranae) June 25, 2015
What an honor to hear @MalalaFund speak in Denver. She is such an amazing and inspirational woman. #malaladenver pic.twitter.com/dfw154fwHo

; Allison B (@AFoodieInEurope) June 25, 2015
"It always begins with a happy scene, but then, suddenly, things change: the bad people come in between and there needs to be a hero to fight against the villain. The same happened in my life as well. The villain came and the villain this time were terrorists, the Taliban, and they were not accepting any kind of civilisation.
"They were not accepting women's freedom, women's right to get education, women's right to speak. I was one of those girls who could not go to school at that time, so I decided that this is the time that I speak up."
Recalling the day the Taliban boarded her school bus in Pakistan and attempted to assassinate her for advocating girls' education in 2012, she told the audience: "I really believed I had two options.
"One was to remain silent and wait to be killed – or speak up and then be killed. I chose the second one."
Since her assassination attempt, Malala and her family have settled in the UK and will not be returning to Pakistan, for the foreseeable future, because of security concerns.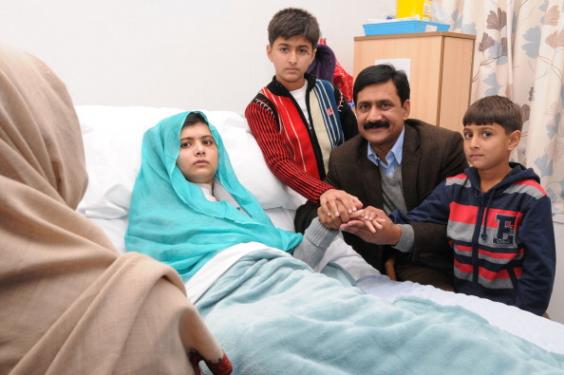 After her speech, she took part in a short question-and-answer session where she discussed her visit to Congress in Capitol Hill the previous day – where she met with lawmakers to speak about funding for education.
She also spoke about what it was like growing up under Taliban rule in Pakistan and the importance of having quality education available worldwide for all young people.
The activist recalled huddling in her house in Pakistan with her parents and two younger brothers as the fighting between the Taliban and Pakistani army kept them awake at night.
"When the situation is that terrible, there is no choice but to speak out," she said. "It was that feeling that we have to fight against the situation.
"If we keep on waiting that things will change, it will never ever happen. I think if you want change, you should bring it."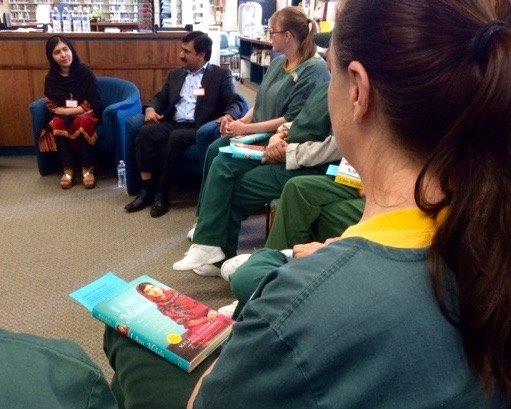 Before giving her speech, Malala made a surprise visit to a high-security Denver women's prison and discussed, with inmates, the importance of education, rehabilitation and forgiveness.
The 12 women sat clutching Malala's 2013 international best-selling autobiography, I Am Malala, at a book club in the library of the Denver Women's Correctional Facility when the teen and her father, Ziauddin Yousafzai, surprised the group for an hour-long discussion which was later described by the inmates as being 'emotional and inspirational'.
Malala will be continuing with her Unique Lives and Experiences lecture series in the US and will be speaking at San Jose State University in California tomorrow in an event which will be hosted by best-selling Afghan-American author, Khaled Hosseini.
Reuse content