The number of students at UK universities who went abroad as part of their studies soared by 50 per cent last year, according to figures released.
The figures have been hailed by academics as a sign that Britain might just be about top shed its image as a "language dunce" because of the drop in the number of young people studying languages.
The figures show 28,640 UK students went abroad last year either to study or take up an internship as part of their course - up from 18,105 on the previous year.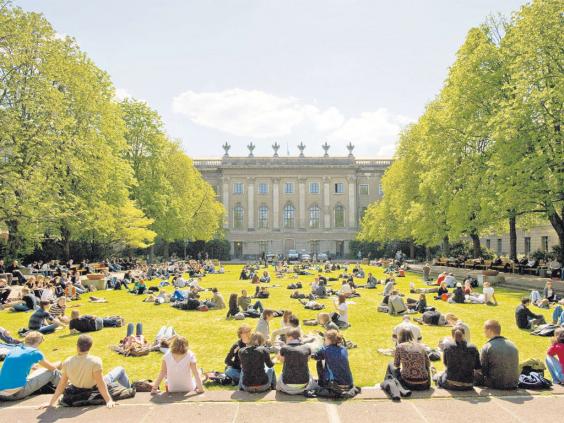 They include 15,566 students on the Erasmus project - where students get to study or work for a year in another European country as part of a deal originally set up by the EU's Lifelong Learning programme.  This in itself was a 6.8 per cent increase on the previous year.
Professor Rebecca Hughes, the British Council's Director of Education, said: "This latest evidence confirms that a growing number of the UK's students are recognising the huge value to be gained from international experience.
"The UK needs graduates who have the skills and confidence to compete globally and can compete against foreign talent that may speak more languages and have wider international experience."
Top 20 universities for teaching in UK
Top 20 universities for teaching in UK
1/21 1. Oxford University (93,3%)

Getty

2/21 2. Coventry University (92,7%)

Creative Commons

3/21 3. Cambridge University (92,4%)

4/21 4. St. Andrews University (92,3%)

Getty

5/21 5. University of Dundee (91,9%)

Creative Commons

6/21 6. University of East Anglia (91,5%)

Creative Commons

7/21 7. University of Bath (91,4%)

Creative Commons

8/21 8. University of Keele (91,1%)

Creative Commons

9/21 9. University of Glasgow (91,0%)

Creative Commons

10/21 10. University of Exeter (90,7%)

Creative Commons

11/21 11. University of Chichester (90,6%)

Creative Commons

12/21 12. University of Surrey (90,5%)

Creative Commons

13/21 13. Durham University (90,2%)

Creative Commons

14/21 15. Bath Spa University (89,9%)

Creative Commons

15/21 16. Newcastle University (89,8%)

Creative Commons

16/21 16. University of Leeds (89,8%)

Creative Commons

17/21 17. University of Hull (89,6%)

Creative Commons

18/21 17. St. Mary's Twickenham (89,6%)

Creative Commons

19/21 18. University of Northampton (89,5%)

University of Northampton

20/21 19. SOAS, University of London (89,4%)

Creative Commons

21/21 20. University of Chester (89,3%)

Creative Commons
One of the most popular destinations abroad is Maastricht University which is now taking on 400 UK students and which also teaches through the medium of English. University bosses have taken part in university open days in the UK to woo more students to their campus.
However, the United States is still the most popular destination - with figures showing an eight per cent rise last year which meant there are now over 10,000 UK students studying in America.  Harvard and Yale are amongst the most popular but the opportunity to win sports scholarships has lured other students to universities like the University of Connecticut.
Coming up on the outside as a favoured institution is the University of Beijing - particularly in the light of China's growing economic world status.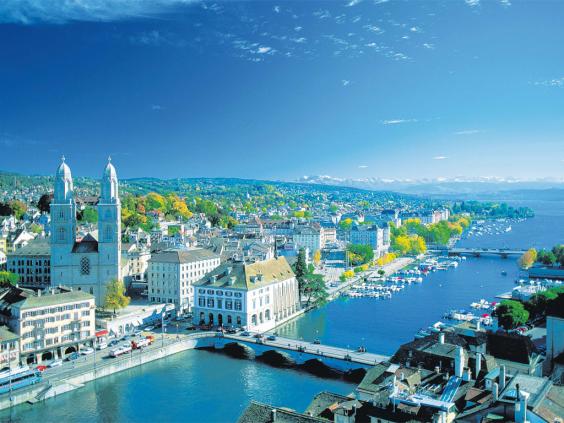 One student, George Harding-Rolls, who won a scholarship to Beijing University , said:  "It opens your eyes. One of the things that I've done since I came out here is climb the Great Wall."
He added:  "The people and the country are trying to cling on to their history and it develops into becoming the number one economic power in the world."
In recognition of the growing trend towards studying abroad, UCAS - the university and colleges admissions service,  has said it will consider requests from institutions on the continent to join the system if they can show they meet the same standards as universities in Britain.
Some universities - like Nottingham - have now set up campuses abroad, Ben Hunte studied for his degree for three year at their Malaysian campus rather than the UK.
"I got an awful lot from studying abroad," he said.  I had the opportunity to do so much out there - I got the opportunity to start a business out there."
He introduced the campus to the idea of a student magazine and then ran an events organisation in addition to chronicling the life of the university in a weekly YouTube show. 
He is now back in the UK on a Sainsbury's graduate scheme - learning management skills - but admits to having "itchy feet" after three years of studying abroad.
A survey by the British Council of almost 3,000 UK students revealed more than a third of UK students were now interested in studying abroad at undergraduate level. The research will be launched at a conference next week.
Study abroad: Some of the most popular destinations
One of the most popular universities for UK students in Maastricht in the Netherlands which has seen a major increase in enrolments.  It now takes about 400 British students and charges fees of around £1,500 a year.  Courses are taught through the medium of English.
The American Ivy League universities are still amongst the most prestigious in the world - their only rivals in international league tables are Oxford and Cambridge.  US universities saw an eight per cent increase in UK enrolments last year - bringing the total attending institutions in the States to just over 10,000.  The five most popular were Harvard, Columbia, New York, University of California Berkeley and Yale
Beijing University in China is fast becoming a popular overseas destination for UK students - particularly for business-related degrees as China's economic success continues unabated and new markets for UK business open up there.  It has done a deal with the Government to waive fees for courses in Mandarin.
If you fancy studying nearer home, though, Trinity College, Dublin, where students pay no fees but have a service charge of £2,500 a year, is ranked as one of the most prestigious in the world.  It has won praise for the quality of its three faculties: (i) arts, humanities and social science,(ii)engineering, maths and science and (iii) health sciences.
The University of Paris or the Sorbonne - as it is often called - is the highest ranking European university outside the UK for arts and humanities courses and a popular destination for UK students.  Fees are just below £2,000 a year.
Reuse content