Teachers face seeing double in one area of Scotland this school year as a record 19 sets of twins prepare to start primary one.
When the bell rings to begin the new term on Monday in Inverclyde, there will be a total of 72 sets of twins in primary schools across the region.
It has left education leaders wondering if there is "something in the water".
Of the new intake, 17 of the 19 sets of twins have met in their school uniforms at Ardgowan Primary School in Greenock.
Terry Loughran, convener of education at Inverclyde Council, said: "It's become a tradition to get the new twins together for a special day before school starts.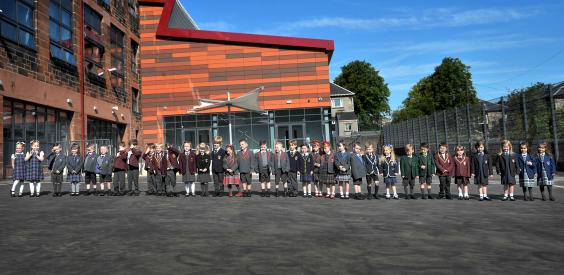 "It started off in small numbers of six or eight sets of twins, then in 2011 the numbers mushroomed to 16 and we thought that would be as high as it got - but here we are with a record 19.
"We now have 72 sets of twins in our primary schools, which can be a wee bit of a challenge for teachers when identical twins are sharing the same classroom, but it's a fun challenge.
"We have been talking about it for years and asking if there's something in the water down here.
"We're really proud of our schools and teachers and I would like to think that the parents are so proud of the education that we offer that they're doing their bit and trying to get twice as much education for half the price."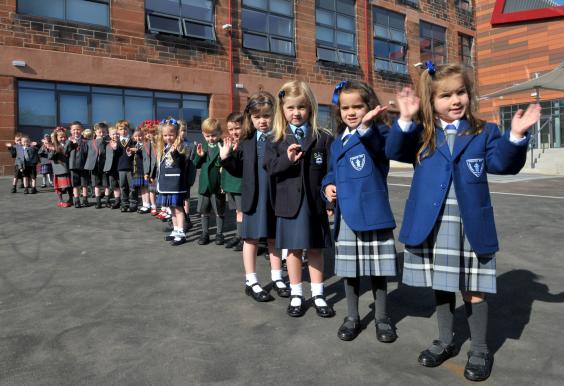 As the twins posed for photographs and played in the school yard, some parents seemed more anxious than the children about the first day of school.
Donna Speirs, mother of James and Ben who are starting in Aileymill Primary School in Greenock, said: "Just putting on their uniforms today for this turned me into an emotional wreck so I don't know what I'll be like next week.
"They're really looking forward to it, it's more me that worries."
James said he is most looking forward to "making new friends" at school.
Graham Hepburn, father to four-year-olds Jack and Alfie, was shocked at the number of twins starting school.
He said: "It's quite unbelievable and I think where the boys are going, Inverkip Primary School, there are already five twins.
"It's nice that we know when they're starting school they already have a friend and they won't be lonely on their first day."
School lunches around the world
School lunches around the world
1/9 Brazil

Rice with black beans, baked plantain, pork with peppers and coriander, green salad and a seeded roll

2/9 USA

Popcorn chicken with ketchup, and mashed potato, green peas, a fruit cup and a chocolate chip cookie

3/9 Ukraine

Borscht (beetroot soup) with pickled cabbage, sausages and mash and a sweet pancake

4/9 UK

Fish cakes, brussels sprouts, cabbage, rice with peas and a yogurt parfait with berries

5/9 Spain

Seeded roll, shrimp with brown rice, gazpacho and tri-colour peppers and an orange

6/9 South Korea

Broccoli and peppers, fried rice with tofu, fermented cabbage and fish soup

7/9 Greece

Baked chicken with orzo, stuffed grape leaves, salad of cucumber and tomatoes, yogurt with pomegranate seeds and clementines

8/9 France

Brie, green beans, carrot, rare steak and fruits - kiwi and apples

9/9 Finland

Pea soup, carrots, beetroot salad, crusty roll and sweet pancake with berries
Three sets of twins will be starting school at Ardgowan Primary, and head teacher Alison McLellan said she is looking forward to it.
"The school has just had a £6 million refurbishment and we now have three primary one classrooms so we can split the twins between them," she said.
"Really they're no trouble at all, mum sends them to school as twins but they are individuals with their own personalities that start to shine through and we treat them like that."
Press Association
Reuse content