Next month, Alex Beddall will travel from his home in Tipton in the West Midlands to St Peter's College, Oxford, to read English.
It's a a relatively short journey in miles, but extremely distant in terms of culture. He is the first person from Sandwell – one of the largest local authorities in the country – to get into Oxford for four years. This, in spite of all the talk about widening participation, and in spite of all the schemes to make Oxbridge more accessible to state school students, particularly to those from more disadvantaged backgrounds.
Alex recalls: "I knew that I wanted to be in a place where I could flourish and Oxford seemed to tick all the boxes for me. I went to a St Peter's College open day and just fell in love with it."
The first person from his family to go to university, how has Alex made the grade? Alex has been a student at the RSA Academy, a community of some 1200 students in Tipton in the West Midlands, since it opened in 2008. The Academy, which is sponsored by the Royal Society of Arts, Manufactures and Commerce, and which is part of the RSA Family of Schools, was established with the aim of transforming lives in one of the most deprived parts of the country, a place where unemployment is high and where there are all the usual indicators associated with hardship. And we set out to do this not by becoming a pressurised exam factory, but by reshaping secondary education to meet the needs of young people.
The focus of the Academy is on educating the whole person and providing young people with the experiences and opportunities that will help them to achieve success wherever their talents and interests might lead. Social and personal skills are highly valued and the Academy sees educating young people in democratic procedures as essential to their future role as citizens. When the Academy opened, our work was based on the RSA's Opening Minds curriculum, which focuses on developing five core competences: learning to learn, managing information, managing situations, building positive relationships, and citizenship. A full range of subjects is taught, often through the medium of these competences and using cross-curricular themes. This innovative approach was developed because the RSA believed that young people needed to be better prepared for contemporary challenges and it is now being used in more than 200 schools across the country.
A range of academic routes are offered to post-16 students, including the International Baccalaureate Diploma programme and also the IB Career-related Certificate, which includes vocational activities. The IB's broad-based curriculum focusing on service, creativity and reflection alongside intellectual rigour blends well with the competence framework. All post-16 students at the Academy participate in volunteering and citizenship activities. Alex left with a range of qualifications.
"In the time leading up to sixth form, I gained three GCSEs (two As and a B) as well as numerous BTEC Level 2 Qualifications, all of which were graded at Distinction," he says. "While in the sixth form, I studied the IB Diploma Programme and finished with 39 Points."
A key part of all students' experiences, are the twice-weekly enrichment sessions, taking up one day out of five each week, which allow them to try new activities and develop different interests. Vegetable growing, community action, theatre, debating, cookery, cycling, dance and film-making are all on the programme, and students have seven years to try out new things. In most schools, such activities take place at lunchtime or at the end of the day. The Academy's commitment to making this an integral part of the timetable ensures that all students have lots of different experiences, regardless of their ability to pay. Alex tried a variety of things: he was part of an ICT enrichment group, receiving training from the ICT team about the latest developments. He was also a member of the student media team and was involved in the production of a podcast about what the future holds for young people growing up in 21st century Britain.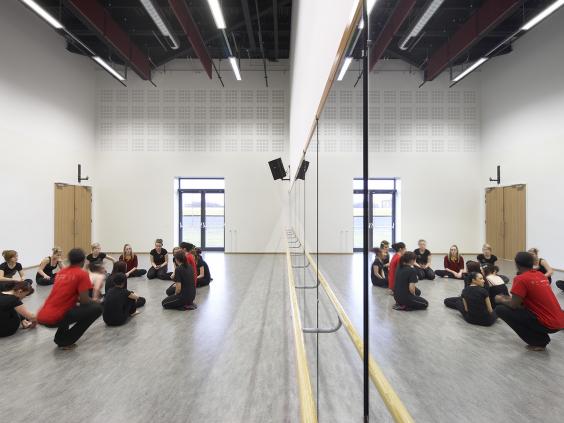 Student voice and student leadership are at the core of the Academy's work. Students are listened to and their views are taken account of, not in a tokenistic way but through genuine dialogue. Alex was a member of the very first student parliament at the Academy when he first joined, and from then on he participated in a range of leadership programmes.
He became a "lead learner" and participated in a programme that we set up to train students to give feedback to teachers about their lessons, thus helping them to become more reflective about the learning process. As a senior student, he gave regular presentations to the Academy leadership team on different issues, and such discussions between staff and students often led to improvements.
In order to encourage and support young people in taking responsibility for their actions, we introduced restorative-justice approaches. Instead of detentions, students are required to reflect on their behaviour and make amends for any harm caused – to fellow students, to staff, or out in the community.
Alex was trained to support younger students who were in difficulty and was, on a number of occasions, called to sit on a panel alongside other student leaders, senior staff and local police when students were at risk of exclusion, in order to agree the conditions for the erring student to remain. The involvement of student leaders in this process was critical and their input often inspirational. The considerable amount of work that the Academy has done internally to create an organisation based on the notion of respect – for oneself as well as for others – is bearing fruit. Visitors generally comment on the calm and purposeful atmosphere around the buildings.
This is not to say that everything is perfect. Building a school is not easy. It takes time to do it properly, sustainably and for the long term – perhaps even a generation. The Academy has clearly made significant strides along that path. We invested in an ambitious staff development programme – for all staff, not only teachers. We have worked with parents in the local community to increase their involvement and raise aspirations, and this has in many ways transformed the community as well as the school.
For a talented student such as Alex, the Academy has worked. But how many other academically gifted students in deprived communities don't get the opportunities that the Academy has provided? Over the last 15 years, millions of pounds have been spent on outreach schemes and bursaries aimed at widening participation to higher education and Alex was part of the futures programme run by Teach First, which arranges trips to universities for less privileged students in order to give insight into university life. He says: "When I heard I had got a place, I  remember a lot of excitement setting in, but also a bit of panic. After the initial shock wore off, I was left feeling elated and relieved that all my hard work had finally got me to where I wanted to be."
Oxford University's website states that the University is engaged in a number of initiatives to raise aspiration for higher education generally, particularly among under-represented groups. But questions have to be asked about how successful the strategy is. Only about 50 pupils on free school meals make it to Oxford or Cambridge each year – fewer than the number admitted from Eton College alone. It has taken four years and a very different kind of education for one student from Sandwell to get there. What more will it take?
Fiona Carnie is an education consultant  and writer. She was director of partnerships at the RSA Academy from 2008-2013. carnie@clara.co.uk
Reuse content