Five Birmingham schools declared failing in the wake of the alleged "Trojan Horse" takeover plot by hardline Muslims have still not improved, Ofsted has warned.
"Very little action" has been taken to address the serious concerns raised about each school's performance, amid slow progress in appointing new governors and senior leaders, the watchdog said.
In the first update since the schools were inspected earlier this year, Ofsted chief Sir Michael Wilshaw said that "too much poor practice remained unchallenged during the summer term".
The action and improvement plans of all five schools are "not fit for purpose", he declared. In one case, at Park View Academy, "little had been done" to tackle segregation between the sexes, and encourage boys and girls to sit together in lessons and share ideas, inspectors warned.
At Golden Hillock school, teenagers studying for a GCSE in Religious Education "have to teach themselves" options other than Islam, Ofsted said, leaving students at a "significant disadvantage". Following the publication of the investigations into the Trojan Horse scandal, ministers announced that in future, all schools will be required to "actively promote" British values such as democracy, tolerance, mutual respect, the rule of law and individual liberty.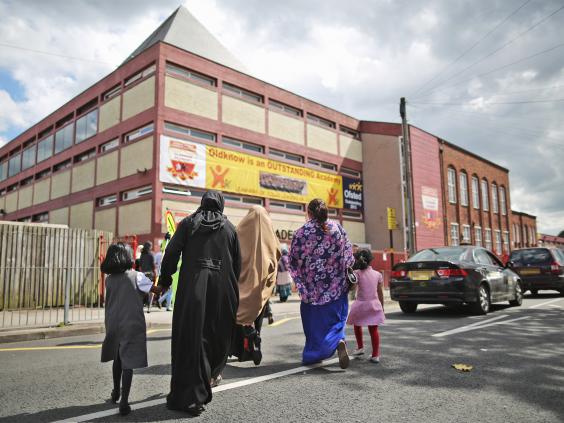 While plans have been drawn up to revamp the curriculum at each of the five schools inspected, these often lack sufficient detail to ensure that action will be taken to actively promote these values and tolerance of different faiths, Ofsted warned.
Inspectors visiting Golden Hillock also found a case of senior leaders challenging a supply teacher who was teaching a lesson that was not part of the school's RE curriculum.
At Oldknow Academy, Ofsted found that trustees had been kept in the dark about a trip to Saudi Arabia involving pupils and staff members. They had been told by senior leaders that the overseas visit had been cancelled.
Shadow Education Secretary Tristram Hunt said: "It is utterly incomprehensible that six months after these serious concerns became public, David Cameron's Government has still not taken action, putting children at risk from radical, hardline agendas and damaging school standards.
"It is gross negligence from the Prime Minister and his Tory-led Government."
A Department for Education spokesman said: "We are confident that the strong leadership teams we have put in place mean that change will be rapid and effective once it has had more than a few weeks to have an impact."
Reuse content