You might wonder why Professor Sir Bob Burgess is still racing to and from London on the train, rather than putting his feet up after retiring last year as vice-chancellor of the University of Leicester. But Sir Bob likes a challenge, and 15 years of building up Leicester into a leading research university has left him with a lot of valuable skills: skills he is now putting to use as chair of the board at GSM London, a private, for-profit institution run by the private equity company Sovereign Capital.
GSM (which stands for Greenwich School of Management) specialises in vocational subjects such as accountancy, finance, business, management and law. It is hoping to acquire degree-awarding powers and become a university. And Sir Bob has been appointed to help it achieve those goals.
But why would he move from a university with a good reputation to a retirement job with an institution that has no reputation at all? "I wanted to do something that would draw on the skills I have acquired throughout my career," he says. "I thought this was a very exciting prospect and I could see ways in which I could assist them."
Indeed, GSM is expanding at a phenomenal rate and now has 7,000 students, up from 1,200 in 2009-10. (In 2012 it opened a £30m campus in Greenford, west London, on the site of the former offices of GlaxoSmithKline to complement its Greenwich campus.) However, its development has not been without hiccups. In 2012, it was found wanting in an initial review by the Quality Assurance Agency, who said that the quality of student "learning opportunities" required improvement, and that the "enhancement of student learning opportunities" did not meet UK expectations.
Following those findings, the institution was restructured, new staff were hired, the problems identified were put right – and QAA gave its seal of approval. Now, Sir Bob's presence on the board is designed to ensure that all the building blocks are in place for gaining degree-awarding powers and university status in two to three years' time – and that nothing goes wrong with its application.
What makes the job attractive to him is that GSM is very keen on seeking out students who are not the normal candidates for university. "The school is fully committed to widening participation, broadening access and promoting social mobility," he says – which may surprise those with a narrow view of private education.
Many people in Britain think that private institutions are exclusive and therefore of no help to the type of disadvantaged families who would normally eschew further education. But according to Sir Bob, there is no contradiction between being private and providing public benefit. By way of illustration, all the students who attend GSM come from a 10-mile radius and are already living in or near London. (For 80 per cent of them, London is their home.) What's more, 90 per cent come from black and ethnic groups. They pay fees of £6,000 a year – less than students in the state system – and only five per cent are from overseas, the reverse of what you might expect.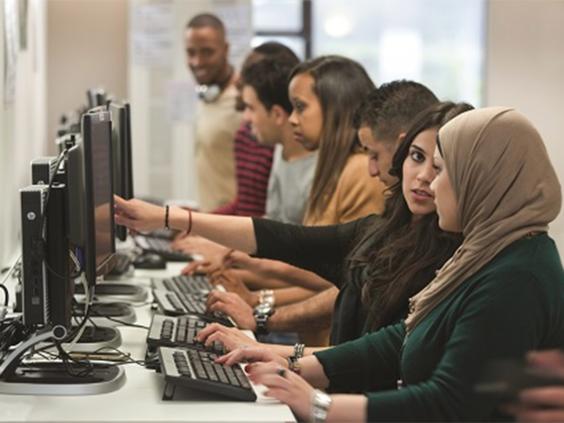 This is not a posh institution. Nonetheless, according to Sir Bob, GSM believes the only route is to develop courses of the highest quality and with the best teaching possible – which means an emphasis on teaching in small groups rather than in big lecture theatres. However, access is not an impossible dream, even for those who have not enjoyed the traditional benefits of a middle-class education. The entry requirements are two A-Level passes at A* to E, but there is a foundation-year entry point on all courses for students who don't meet them.
As Sir Bob explains, these are not scholars who have been academically successful before. (While 15 per cent are conventional 18-year-olds, straight from school, 77 per cent are mature students.) But all this should ensure that GSM appeals to the Labour Party as much as the Conservatives, since both are in favour of widening participation. "Here is an institution that does all these things, ticks all the boxes on widening participation, on social mobility, and on items that universities have yet to fully crack," he claims.
As for its supposed beneficiaries, reports about GSM posted on the Student Room website are mixed. One says that it is not a proper university and that the lecturers "do not no (sic) nothing". Another says the campus has no nightlife. But a third states that the lecturers are great and always readily available.
Sir Bob points out that nightlife is not what you should expect from an institution of this kind. GSM offers accelerated courses, whereby students pack into two years what would take three at other institutions. (That means the students don't have much time for partying and extra-curricular activities and are expected to have their heads down for much of each year.) He'd rather signpost how the owners, Sovereign Capital, are ploughing all the income back into the college and not taking any profit yet.
As for GSM's chequered history, he says: "I think it's important to look forward because there is a new staff, new management board, new people recruited to the academic team, so from that point of view it's a new organisation…I am not taking on an organisation that is flawed. I am taking on an organisation that is putting in place a number of exciting developments and bringing forward a new curriculum."
Nevertheless, securing degree-awarding powers is a drawn-out and rigorous process, requiring an institution to show that it has sufficient scholarly endeavour and is careful about ensuring academic standards. Retired or not, Sir Bob has his work cut out.
Reuse content