It could be argued that Queen Elizabeth's Boys' School in London's Barnet was the first free school in the country, way before Education Secretary Michael Gove's flagship policies.
It was founded in 1573 by Elizabeth I's suitor Robert Dudley (among others), with a queen's charter that clearly states that this should be a free school operating in a meritocratic way, to offer places to young boys from all walks of life.
"The school is very much still pursuing the tenets of its Tudor charter," says headteacher Neil Enright. It is also celebrating being one of just two schools in the country where 100 per cent of the pupils qualified for Gove's new English Baccalaureate measure. To do so, they had to obtain five A* to C grade passes in English, maths, science, a language and a humanities subject – history or geography.
"We didn't set out to do that as a target," says Enright. "We just offer a very academic education to all our pupils."
Queen Elizabeth's is a grammar school situated in the heart of what would, by any standards, be described as a very leafy, suburban, white, British-dominated territory. However, 90 per cent of its pupils are from ethnic minority groups, as it recruits from a wide area across London and the Home Counties.
"People come here with fixed conceptions that the school is a product of being in a very middle-class enclave," Mr Enright says. "But many of the boys who graduate from this school will be the first in their family to go to university."
In fact, in terms of the national deprivation index, its intake broadly reflects the average for the country. "We're not just drawing from the immediate, affluent area – we very much reflect the whole economic spectrum," he adds.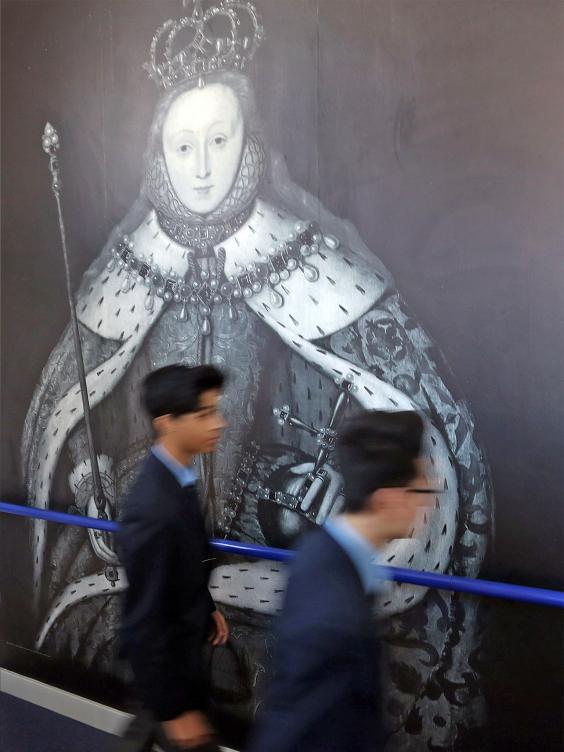 The school has no catchment area. Those who wish to can enter for its 11-plus test and it has around 2,000 applications for the 180 places it has on offer each year.
"We take people from all over London – Greenford, Ealing, Hayes and towards Heathrow," continues Mr Enright. "Some travel the length of the Northern line or come from Essex or Hertfordshire."
He adds that he believes the school's ethnic mix – which includes many boys from Asian, Chinese or Afro-Caribbean origins – is "a reflection of the make-up of the north-west London community".
"You can't be sure that they all (the 2,000 applicants) want to come here," he says. "They could have put down for seven, eight, nine selective schools and be taking the test at all of them."
Queen Elizabeth's is, in fact, a unique school.In the 1970s it expanded from a 300-pupil school to its present size of 1,200 after converting to a comprehensive, but results plummeted and, by the mid 1980s, there were rumours that it might even be closed.
That never happened, as a result of the school using successive pieces of legislation to make sure it ran its own affairs, including taking advantage of the 1990s Conservative government's legislation to revert back to a selective intake in 1994.
It was one of the first schools to seek grant maintained status and opt out of local authority control in the Thatcher era, and when Gove offered all schools that were ranked as outstanding by Ofsted the chance to convert to academy status, it made sure it was ready to do so on the first day of the new framework.
Neil Enright has been headmaster for three years (although he first started teaching in the school 12 years ago) and has seen many innovations come to fruition during his time.
Two years ago, the school began insisting that all its first-year pupils should study Latin, and the subject is now compulsory for the first three years of secondary schooling, in the hope that more boys will take it as a subject for GCSE.
It also offers Mandarin as an enrichment option (ie, outside the main school timetable), thanks to a Mandarin-speaking parent who had been teaching maths at a nearby school.
"Our original Mandarin teacher now lives in China, but the scheme has been self-sustaining," says Mr Enright. "It's like the way we introduced Latin – we have used the same model."
French and German are the main languages on offer, with German surprisingly popular amongst students, bucking the national trend.
"Spanish is another option offered in the enrichment model," he adds. "It would be possible in future for a boy to take GCSEs in French, German, Spanish, Mandarin and Latin. We expect some will do so.
"We really think there is a lot of merit in the study of languages, full stop. Every pupil has always had to study at least one language up until GCSE – even when it became no longer compulsory for 14 to 16-year-olds."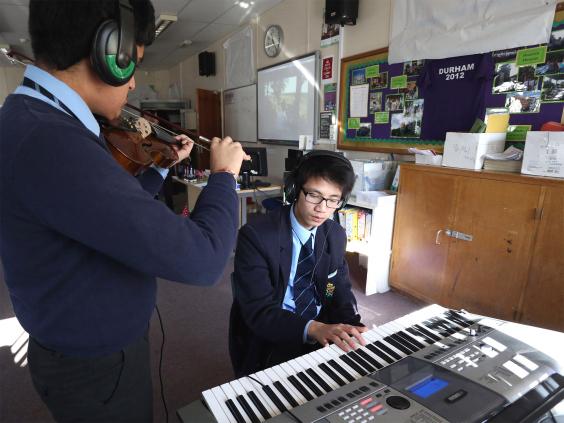 The school has switched from offering GCSEs to the IGCSE, which is modelled on traditional O-level lines with more accent on end-of-course testing in several key subject areas including science, maths, geography and languages. "It is better preparation for A-levels," he says.
However, the school is happy with the content of A-levels and has not sought to switch to alternatives such as the International Baccalaureate. Critics of Mr Gove's EBacc – as it has been dubbed – have argued that it is too limiting, insisting on a narrower range of subjects than the International Baccalaureate, for instance, which includes music and technology.
That is as maybe, but Mr Enright believes it is up to individual schools to determine their own policy on that. Queen Elizabeth's has specialised in music, too, and is proud of the fact that 350 of its pupils are in the school choir. "Music is a huge part of the school experience here," he says.
Staff at the school believe the fact that it is a boys' school could be playing a significant part in boosting take-up of the subject. "In mixed schools, music can be seen as a girls' activity," says one music teacher.
With its emphasis on enrichment activities, Queen Elizabeth's is already ahead of the Government's exhortation for schools to remain open for up to 10 hours a day to provide a whole range of extra-curricular activities for pupils. "There are boys here from seven o'clock in the morning," says Mr Enright.
"They are doing things like swimming and water polo training." It is one of the few state schools to offer water polo to its pupils – four or five of them are in the Great Britain national squad for the sport.
"Saturday is major games day – there are fixtures against other schools," he says. On the day I visit, the school is preparing for a weekend seven-a-side rugby tournament, with 64 schools from all over the country taking part. Most of them will be from the independent sector, Mr Enright conceded, but Queen Elizabeth's is able to hold its head high in such competitions. The school recognises achievement by allowing its pupils to wear different kinds of ties – pupils can get one for achievements in music and sport (one is reserved for those who achieve international sporting honours).
Perhaps not surprisingly with such a record behind it, the school has featured as the "school of the year" in a national newspaper competition and has been chosen by London Mayor Boris Johnson to become one of his "Gold Club" schools, which will be passing on their tips for success and good practice to other schools in the capital.
With its record of securing places at Russell Group universities (which represents 24 of the most selective higher education institutions in the UK) – and 37 offers of places at Oxbridge this year, it is easy to see why. Its Tudor founding fathers would be proud.
Reuse content