David Cameron's campaign to keep Britain in the EU receives a boost today from the Independent on Sunday Poll, which finds that the central demand of his renegotiation is supported by a huge majority. 
The poll, carried out by ComRes, finds that 84 per cent of voters support the Prime Minister's plan to require people who come to the UK from the EU to pay taxes for four years before they can claim tax credits and other benefits. It also finds substantial backing for EU citizens being free to work in other EU countries, supported by 49 per cent and opposed by 29 per cent. 
This marks a change from three years ago, when free movement was opposed by 57 per cent, and suggests that, if the Prime Minister can secure his four-year qualifying period, voters would regard his renegotiation as a success. 
Jean-Claude Juncker, the president of the European Commission, said last week he was "pretty sure" a deal would be reached at next month's summit of EU leaders. Central European leaders are expected to accept the four-year period, provided it also applies to British citizens, who could be compensated separately. This would clear the way for Mr Cameron to hold the referendum in June.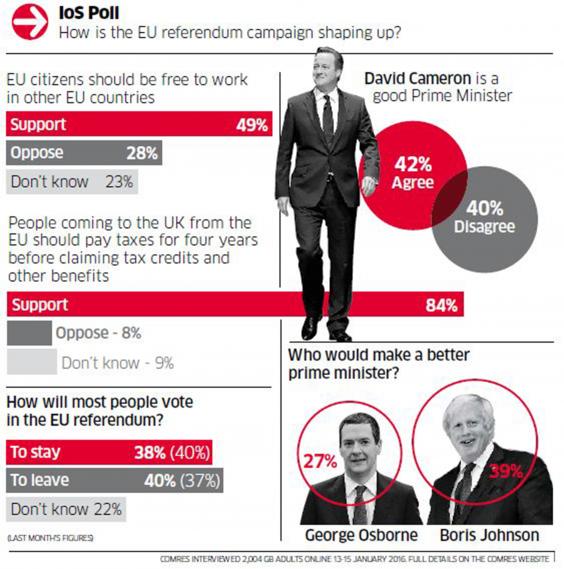 Opinion is evenly divided about the outcome of the referendum, however, with 40 per cent expecting the UK to vote to leave, and 38 per cent expecting a vote to remain. This is a small shift away from a three-point margin in favour of remain (40 to 37 per cent) in October.  
In other findings, the poll records that a majority, 51 per cent, supported last week's junior doctors' strike, which was opposed by 31 per cent. Nearly one third of Conservative voters supported the strike. 
The poll also boosts Boris Johnson's chances of succeeding Mr Cameron. The Mayor of London has widened his lead over George Osborne when voters were asked which would "make a better prime minister", being favoured by 39 per cent to 27 per cent. Mr Johnson's support is unchanged, but the Chancellor has lost 6 points since October. But Mr Osborne is still ahead among Conservative voters, 40 to 36 per cent.
Two proposals in Mr Cameron's "life chances" speech last week have a mixed reception. "Sending parents to parenting classes" is supported by 46 per cent and opposed by 30 per cent, while increased rehabilitation, "rather than sending criminals to prison", is opposed by 41 per cent and supported by 35 per cent. 
Attitudes towards the European refugee crisis remain unsympathetic: 61 per cent want Mr Cameron to stop accepting Syrian refugees altogether, while only 23 per cent say he should continue to accept them. The Prime Minister has promised to resettle 20,000 refugees from Syria in the UK by 2020.
Labour divided
Nearly three quarters of voters think that Jeremy Corbyn's Labour Party is divided (73 per cent), while only 8 per cent think it is united. Those saying the party is divided have increased from 64 per cent in October.
This compares with 42 per cent who say David Cameron's Conservatives are divided and 36 per cent who say they are united. 
Only 22 per cent say Mr Corbyn would make a good prime minister, against 42 per cent who say Mr Cameron is a good PM: 56 per cent say Mr Corbyn would make a bad PM, while 40 per cent say Mr Cameron is a bad one. 
The poll is also discouraging for Mr Corbyn's attempt to change Labour policy on Trident nuclear weapons. The poll tested four different statements and found that Trident is supported in each case, by margins ranging from 4 points to 32: 
Britain leading the way in nuclear disarmament by not renewing its Trident nuclear weapons programme: support 31%, oppose 35%, pro-Trident majority 4
The UK having a nuclear weapon: support 49%, oppose 28%, pro-Trident majority 21
The UK getting rid of its nuclear weapons: support 25%, oppose 48%, pro-Trident majority 23
Britain renewing its Trident programme as long as other countries have nuclear weapons: support 54%, oppose 22%, pro-Trident majority 32
(The Trident statements were asked of half of the sample each.)
The Government's plan to require trade unionists to "opt in" to paying part of their membership fee to Labour, rather than having to "opt out", is supported by 54 per cent and opposed by just 11 per cent (although 35 per cent don't know). The measure in the Trade Union Bill will reduce Labour's funding, and was described by Mr Corbyn yesterday as a "serious attack on democratic rights and freedoms".
Unusually, voting intentions in the poll were all unchanged since last month, the Tories on 40 per cent, 11 points ahead of Labour on 29 per cent, followed by Ukip 16 per cent, Lib Dems 7 per cent and Greens 3 per cent. 
ComRes interviewed 2,004 GB adults online 13-15 January 2016. Full details on the ComRes website.