It was only a matter of time before someone seized the opportunity to ridicule McDonald's new emoji-themed adverts.
The billboards started popping up across the UK last month, presenting a trip to the fast-food chain as the perfect solution to crises including dropping your phone down the toilet and, more controversially, your girlfriend spending too much on shoes.
But one of the adverts recommending McDonald's after a lengthy struggle through roadworks has appeared with a difference in Bristol.
This was the original billboard design.
Emoji billboard alert pic.twitter.com/SEUDLCnmYV

— Jennifer Hassan (@GuinnessKebab) June 29, 2015
And this is the updated version - with an extra emoji tagged on the end.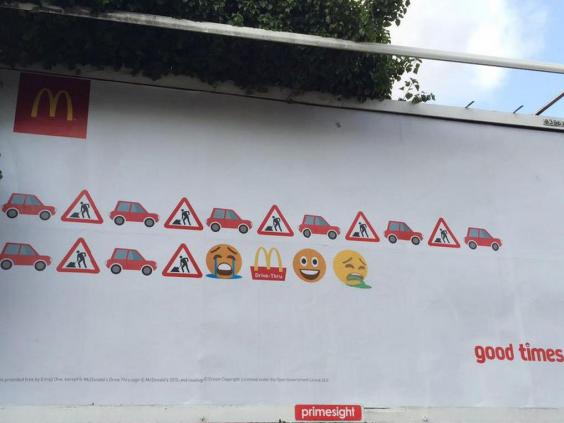 Good times, indeed.
An emoji dictionary: What do they mean?
An emoji dictionary: What do they mean?
1/8 Emoji

Slang translation: lol; lmao / Old-fashioned words: laughing out loud; laughing my ass off; I say, that's rather funny

2/8 Emoji

Slang translation: beautifull; gawgeous; hotttt / Old-fashioned words:beautiful; gorgeous; jolly attractive

3/8 Emoji

Slang translation: xoxo; xoxoxox / Old-fashioned words: hugs and kisses; hugs and kisses (in slightly greater quantity)

4/8 Emoji

Slang translation: GJ; job; haha / Old-fashioned words: good job; good job; well done, that was rather funny

5/8 Emoji

Slang translation: oml; ughh; ughhh / Old-fashioned words: Oh my Lord; oh damn; oh damn and blast

6/8 Emoji

Slang translation: ffs; grr / Old-fashioned words: for fuck's sake; I'm furious (in fact I'm so furious, I'm growling)

7/8 Emoji

Slang translation: cmeo; crbt; waa / Old-fashioned words: crying my eyes out; crying real big tears; I'm so very unhappy that I'm wailing

8/8 Emoji

Slang translation: zzz; btd; gnstdltbbb / Old-fashioned words: I am sleepy; I'm bored to death; good night, sleep tight, don't let the bed bugs bite