I am standing on the exact spot where Lulu the elephant evacuated her bowels live on Blue Peter in 1969 and I can't resist the temptation to point it out. "Look!" I say. "There's a mark on the floor – it looks like bleach. Is that what you use to clean up elephant poo? Bleach?"
The man from the BBC is staring at me with something approaching pity, but I don't care. As one of the BBC's longest-serving employees, rising from envelope stuffer to studio manager over 38 years, Mike Eaton has seen much weirder behaviour than this. You could tell Mike about the strangest thing you've ever done – something that might involve a toilet roll and some sticky-back plastic – and he'd probably just shrug it off.
"That's nothing," he would say. "Lady Gaga asked for a fridge for her wigs when she performed here." Or, "Madonna insisted on a life-size picture of the Pope, so we got her a model from Madame Tussauds". Or, "George Michael would only use black-and-white towels from John Lewis."
Mike is giving me a tour of BBC Television Centre in White City, west London, prior to its handover to developers on October 1. After being sold to Stanhope Plc for £200m last year, the building – with its eight massive television studios, 121 dressing rooms, set-making factory, two bars, three restaurants, Blue Peter garden and hundreds and hundreds of offices – stopped making programmes and was mothballed.
Another £400m will be spent turning the site into 950 homes and a 47-room Soho House hotel over the next couple of years. BBC Worldwide will be headquartered here and Studios 1, 2 and 3 will be saved, but the others lie empty, awaiting demolition. They are scary in their enormity, haunted by the ghosts of shows past, of moments and performers inextricably hard-wired into the collective consciousness of the nation. Who isn't happily endowed with memories of Morecambe and Wise, Les Dawson or Tony Hancock? Of Gary Lineker, Graham Norton or Victoria Wood? Of Larry and Johnny, Dickie and Alec, Judi and Glenda?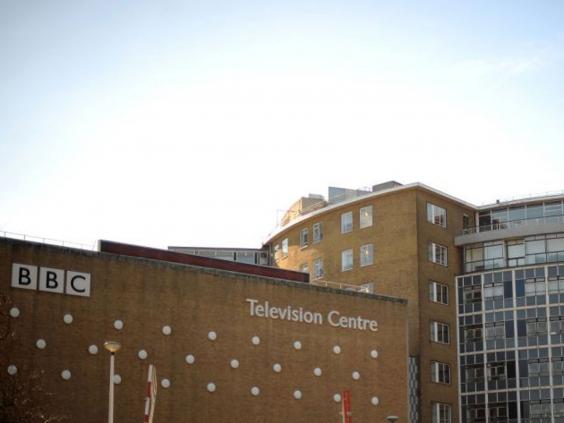 Within the walls of these studios, these pokey dressing rooms, the blood and sweat from the cast of Only Fools and Horses are mixed with those of Steptoe and Son, Absolutely Fabulous and Fawlty Towers. Bruce Forsyth's will be there with Julie Walters'. Jonathan Ross's with Piers Morgan's. Margaret Thatcher's with Tony Blair's. And Jimmy Savile's.
Mike, who is a splendid guide, an urbane 56- year-old in blue blazer and grey jeans, says that people who visited Television Centre in the old days often felt that they had been there before when, actually, they hadn't. They saw the white BBC lettering and the 26 "atomic dots" on the façade of Studio 1, the circular courtyard at the centre of the building that staff called "The Doughnut" and the fountain with the statue of the all-seeing Greek sun god Helios, and they experienced déjà vu. Of course, they'd just seen it all so many times on the telly.
The site was bought by the BBC in 1949 and was officially opened by the Queen in 1960. Its architect, Graham Dawbarn, is said to have doodled a question mark while considering its design. He looked at it and thought to himself, "Hang on, that looks rather good." And that is why, from the air, the building looks like a question mark without a dot.
In its heyday, more than 6,000 people worked here, producing half of the Corporation's entire output, the remainder coming from the regions. And it wasn't just television; much of BBC radio's best-loved staples – the Today programme, The World at One and all Five Live programmes – were broadcast from here. They are now products of MediaCity in Salford or the expanded Broadcasting House in central London.
"It was a wonderfully vibrant place to work, but it could also be tough," says Mike. "There were celebrities at the height of their fame, and they could be awkward. There were tradesmen and technicians who built sets, hung lights and worked cameras – if you got in their way you'd be in trouble. And there were hard-nosed journalists who didn't suffer fools gladly. You had your Paxos, your Rantzens and your luvvies all in one place; you had to be on your toes all the time."
This was the world's first custom-built studio complex for television, described at the time as the Taj Mahal of TV. It was supposed to do for television what Hollywood had done for movies. The doughnut block was 500ft in diameter with walls 2.5ft thick. The basement covered 3.5 acres. At any one time, there were hairdressing and make-up facilities for 615 artists, and they were almost always busy.
On any given day, more than 350 people would come along for the BBC tour, while another 1,500 might turn up with tickets to watch shows being recorded. The presence of so many lights and people meant the site had to have the largest non-industrial ventilation system in Europe.
We walk along deserted corridors with peeling walls and carpets smelling of damp. Wires hang from ceilings and plasterboard lies in sad heaps next to old coffee cups and plastic cutlery. Green rooms have been stripped of furniture, dressing rooms emptied of everything but their redundant mirrors. Above doors are sections of clean paint from which signs have been removed as mementos.
The studios have the prefix "TC", standing for Television Centre. We go into TC8 first because it is being used to house hundreds of thousands of pieces of old equipment that will be auctioned off over the internet in the next few months. There are mountains of video recorders, computer servers, lights and audio mixing decks, hundreds of miles of cable and boxes of outdated DVCam tapes labelled "Sports Relief Amazon Adventure" or "Barbara Taylor Bradford, Asia Today" or "Organ Transplants 1+2".
The studio covers 8,000sq ft and is black and silent. A rostrum that could seat 285 people is folded into the wall. This is one of the studios where Morecambe and Wise made their Christmas specials, programmes that attracted more than 20 million viewers. This was the first studio from which colour was broadcast.
Flickering fluorescent tubes cast an intermittent glow on hundreds of lights bagged up in plastic, suspended from the roof like the captured crew in Alien. "There was a lot of drama here – Doctor Who was sometimes shot here," says Mike. "And it was one of the studios that housed Top of the Pops."
In all probability, this was the place where the Sex Pistols played "Pretty Vacant" to a horrified Middle England. The kids loved it. My mum wouldn't let me be a punk, I tell Mike, but the day after the Pistols' TotP appearance I wore a fake nose-ring in the street with my friends Gaz Bad and Andy Rotten. We were singing loudly, pogo-ing and spitting. It all came to a sudden stop when I spat at the feet of a passing old lady. I apologised and carried her shopping home.
In TC5 remains the curved backdrop to Match of the Day and I run at it, imaginary ball at my feet, the name "Hurst" emblazoned across my back, and whack one in the top corner. A door at the back of the studio is hanging off its hinges and we duck underneath it. This was the spot where Gary Lineker, Alan Hansen and Mark Lawrenson used to watch Premiership games live, but all that's left now are television set-shaped marks on the walls.
TCs 1, 6 and 4 housed big productions such as I, Claudius, The Forsyte Saga, The Six Wives of Henry VIII and The House of Eliott. If you were Lord Reith, Michael Checkland or Mark Thompson – just three of the 18 Directors-General of the BBC to date – and you wanted to sign off on a Play for Today or a season of Shakespeare, you would probably choose one of these studios.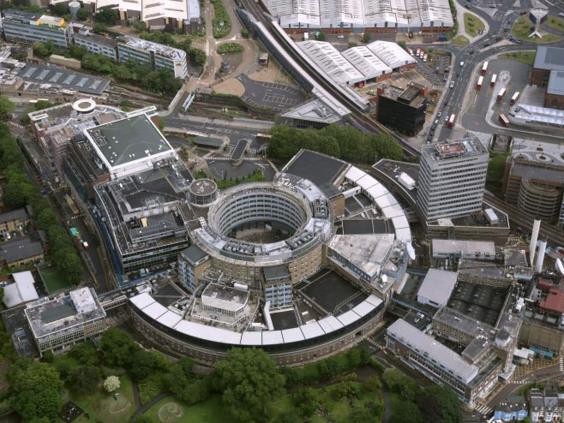 Mike takes me to TC7 which used to specialise in programmes with a current affairs bent – BBC Breakfast, Newsround and Newsnight, among others – during the week, and David Frost and Andrew Marr at the weekends. It was here in 1997, in an interview about the possible dismissal of a prison governor, that Jeremy Paxman asked Michael Howard the same question 12 times in succession.
We visit the drama building which really should have been called the "set building" because that was its purpose. Here, entire sets were built from an average of 500,000sq ft of timber a year. In its roof are circular skylights with dimples – and these are said to have influenced the design of the Daleks. Next door is a paint room with hoists that can raise canvases dozens of feet in height from voids set deep into the ground. At its centre is the hoist control, a contraption that inspired the control panel in the Tardis.
On we go – up to the sixth-floor news studio where, during a Six O'Clock News broadcast in 1988, two gay-rights protesters broke in and chained themselves noisily to the desks. With grunts and muffles off-screen (and Nicholas Witchell defending the studio manfully), Sue Lawley carried on reading the bulletin. "We have rather been invaded by some people who we hope to be removing very shortly," she said, utterly unperturbed.
It all makes me feel rather nostalgic. Lots of BBC types will tell you that moving away from here was a costly mistake and that the good times will never roll as good again. But Mike is more positive. "The BBC had to modernise and there was a chance that all of this could have been lost," he says. "Now the iconic parts of the building will survive, the BBC will retain a presence here and will still be making programmes in three studios. I think we have to celebrate that."
While some of the duller sections of Television Centre will be demolished, it is true that the Grade II-listed parts of the site will remain – the ones that make people feel they have been here before.
"We know that Television Centre has a special place in the nation's heart, which is why we're proud to be preserving it as a centre for creativity and opening up the site to the public for the first time," says Alistair Shaw, the managing director of Television Centre for Stanhope Plc. "The BBC will be back here soon, while we will be providing 950 homes and much-needed offices in the creative sector."
It is nearly time to go but I ask Mike if we can take a look at the Blue Peter garden. We walk around The Doughnut and duck down the side of the restaurant building and there it is, smaller than I remember. The pond has been filled in and the flowerbeds are overgrown.
I suddenly recall a sense of outrage at the memory of John Noakes, Valerie Singleton and Peter Purves looking upset after thugs had vandalised their garden in 1978. Then come waves of emotion at the loss of various pets, Petra and Patch and some of my own. Every year, I would follow their instructions for hibernating a tortoise, and every year theirs would live and mine would die. The blood of Frisby Dyke, Speedy Gonzales and Harold the Ninja is on their hands. I'd like to say the memory of these deaths was what filled me with sadness as I left, but I think it was something else entirely.
Reuse content