The first Instant Articles have begun to appear on Facebook — letting users view a version of the story inside their news feeds.
Instant Articles are a new initiative by Facebook that allows publishers to host their content directly on the social network. The feature is designed to make the experience of reading more simple for users, and will give money back to publishers by allowing them to place their own ads or sharing revenues with Facebook.
The first New York Times article was called "A Life in Motion, Stopped Cold", and features a range of moving images and videos that take advantage of the tools that Facebook has brought in to help with the feature.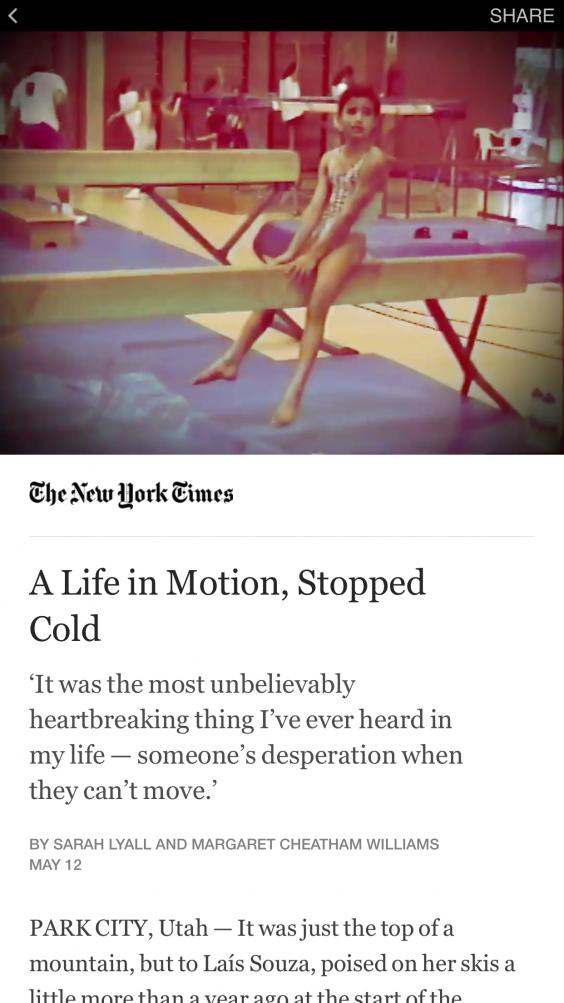 Visiting the Facebook post on a compatible iPhone brings up the instant article, complete with all of that multimedia. But the story can also be viewed on the paper's website, where it has much of the same multimedia content.
The "instant" of the name appears to refer to the speed of loading, rather than the story — the New York Times piece is a long, deeply-researched feature with little news spin, but its video and images load within the iPhone app quickly and smoothly.
While the optimisation meant that the pieces appeared much faster than the eight seconds that Facebook says an average post takes to appear — some users complained that the content of the pieces hadn't been properly considered for its appearance on the small screens of mobile phones.
Aside from loading faster, these Facebook "instant articles" aren't optimized for reading on mobile. This NYT article is far too long.

— Anthony De Rosa (@AntDeRosa) May 13, 2015
The pieces went online at 1pm UK time and can be viewed as normal on the publishers' Facebook pages. They will also be pushed into the news feeds of users that follow  those pages, and look mostly similar to stories that link back to the publishers' sites.
The stories can only be viewed on Facebook using the company's iPhone app. Choosing the "share" option from the top-right hand corner links to the original page — nytimes.com, for instance — even if users are sharing the story with their Facebook friends.
Reuse content