Working from his bedroom in his parents' house in Hampshire, 23-year-old Joseph Garrett may appear, on the face of it, not that different from any other computer-mad wannabe animator.
But then not everyone creates a children's character like "Stampy Cat", whose videos on YouTube are watched by more people than Justin Bieber's or One Direction's.
Now, Garrett is set to take his character into classrooms worldwide with the help of a Disney-owned production network.
By his own admission, Garrett is known to many parents as "the annoying British man in the corner" because of their children's insatiable appetite for his chirpily narrated videos featuring an amiable cat-like creature in Minecraft, a video game sometimes described as virtual Lego.
So popular has Stampy become that Garrett is now arguably Britain's most successful creator of online children's entertainment. He posts daily videos on his "Stampylonghead" YouTube channel, for which he has 4.5 million subscribers, nearly double the following of the main BBC channel on the platform.
In an interview with The Independent, Garrett said his new "educational" venture, Wonder Quest, would launch "early" this year in a format suitable for television. "We have a whole team behind it and that is a show that wouldn't be unnatural on TV: it's scripted, and each episode has been fully worked out," he said. "The idea is that we can send it to schools. The [episodes] can be used in classrooms alongside children hopefully watching it in their own time online."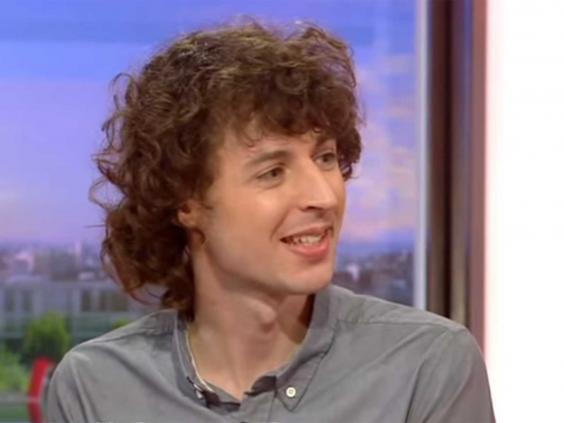 Garrett's, or Stampy Cat's, popularity with young children is a modern phenomenon. One bemused-sounding American commentator said of his voice that it is "shrill, British and very, very square".
But children don't mind that in the least, as they immerse themselves in Stampy's Lovely World, where the square-headed feline (who eats cake for breakfast, "just like a normal cat") plays with Minecraft friends. Although Garrett has no schedule, he receives complaints from his young audience if he is a few minutes late in uploading Stampy's daily adventure.
Garrett, from Havant in Hampshire, works 11 hours a day on Stampy. "I spend almost all my time making videos," he said. "[Stampy] happens to look like a cat but apart from that he's me, a bigger, brighter, better version of Joseph Garrett."
He admits he would never have been able to get the idea commissioned on television and that YouTube has allowed him to grow. "If there was a TV show which averaged 20 viewers a week people would cancel it immediately – you wouldn't get a second episode," he said of his first videos. The introduction of Minecraft to the games consoles Xbox and PlayStation transformed his reach and he soon realised that most of his fans were young children.
"I would say the majority are between the age of four and 12," he said. "As soon as I knew that, I knew I wouldn't be able to swear and I wouldn't use too-long sentences. I made sure I put a little more energy into my voice, and that I was keeping the child's attention."
Unlike many children's television shows which "are saying, 'Come on, join in, kids, sing along,' which I think is patronising", Stampy talks directly to the audience. "It's like speaking to a person, I guess."
He has resisted using ad breaks in his 20-minute videos and relies on the money that YouTube pays for the views (he averages 1.87 million per video) he generates. He still has a LinkedIn profile as a "freelance video producer" that features "bar staff, Railway Inn" as the only work entry, but is said to be on his way to millionaire status.
Subjects in Wonder Quest range from a video about "how to estimate the size of things" to another "on plants and how they need the right amount of sunlight". Garrett realises that, despite the attractions of television, most of his viewers want Stampy on YouTube, where they can "watch it right now by pressing play".
He has been linked to a Warner Bros film being made about the Minecraft phenomenon, prompting speculation that he will leave Hampshire for Los Angeles, the home of the Disney-owned Maker Studios, his partner in Wonder Quest. But so far, he has produced most of the episodes from his bedroom desk.
Reuse content