Never in its colourful history has The Sun been so coy about naked breasts. As campaigners declared victory over the scrapping of Page 3 topless models, the newspaper itself remained tight-lipped over the quiet demise of a signature tradition lasting 44 years.
Last Friday's edition of The Sun is understood to be the last to carry an image of a glamour model with bare breasts. Subsequent editions have featured women posing in lingerie.
Although the newspaper would not confirm the move, The Times, The Sun's sister paper, reported that daily topless models will no longer appear in the paper and will now only be seen on its website.
Introduced by Sun editor Larry Lamb on 17 November 1970, less than a year after Rupert Murdoch bought the newspaper, Page 3 is thought to have helped increase The Sun's circulation and make the title one of Britain's biggest-selling newspapers.
For the No More Page Three campaign group, founded in 2012 and which gained support from a number of MPs and anti-sexism charities, the end of topless models was a "huge step for challenging media sexism." The campaign will continue until The Sun abandons the pictures of scantily-clad women it has published in their place.
Although critics have long considered Page 3 to be outdated, focus groups commissioned by David Dinsmore, The Sun's editor, showed that readers continued to be supportive. "Feminist" critics didn't read the paper and Page 3 would be here "as long as the readers want it," Mr Dinsmore argued.
No More Page Three campaign
No More Page Three campaign
1/5 No More Page Three

Demonstrators from the No More Page Three campaign on Westminster Bridge in London

2/5 No More Page Three

Katie Price puts her hand over Laura Bates' t-shirt which says 'No More Page Three' ahead of the panel debate 'Does Page 3 make the world a better place?' at the Women of the World event at the Queen Elizabeth Hall in London

3/5 No More Page Three

Demonstrators from the No More Page Three campaign

4/5 No More Page Three

Demonstrators write protest messages in chalk on the pavement outside the News UK head office

5/5 No More Page Three

'No More Page Three' protest at News International offices, Wapping, London
However Murdoch, the News Corp executive chairman, signalled a shift last year when he described Page 3 as "old fashioned". He asked on Twitter: "Aren't beautiful young women more attractive in at least some fashionable clothes? Your opinions please." The readers, or one particularly influential one, had spoken.
The Irish edition of The Sun had dropped topless Page 3 pictures in August 2013, citing "cultural differences" with little adverse sales effect.
Caving in to "feminists" sticks in the craw of publisher News UK's (largely male) executives. But the print Page 3 was becoming an irrelevance to a brand focused on building a digital future, through a subscription website offering Premier League goals, news and celebrity stories.
Advertisers would not miss the troublesome nipples and a change would help present The Sun as a more female-friendly proposition in the paper's bitter battle for eyeballs with the Daily Mail.
Print sales of The Sun dipped below two million a day for the first time in its modern history last year. But despite its web paywall, The Sun has more younger readers across digital and print than the Mail titles - with more than four million people aged 15-34 reading it each week, versus 3.8m for the Mail titles.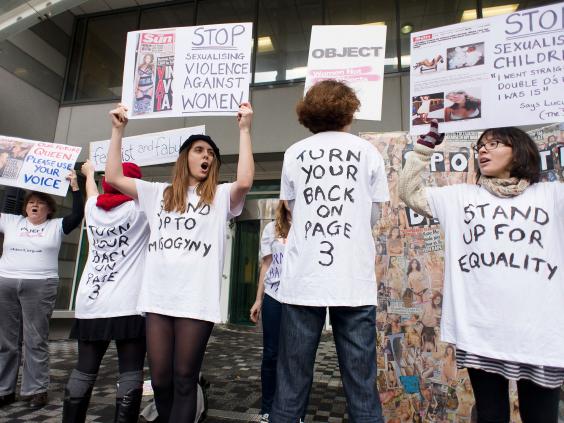 A spokesman for The Sun called reports that Page 3 had been axed "idle speculation". The paper had occasionally dropped topless models and liked to "mix it up".
There is no ban on topless photos – of celebrities for example – if they are deemed newsworthy and The Sun has left open the option of a "reverse ferret", newspaper lingo for an abrupt reversal of a previous position.
Any return for Page 3 risks incurring the wrath of politicians. Nicky Morgan, Education Secretary, called the cover-up, "a long overdue decision and marks a small but significant step towards improving media portrayal of women and girls. I very much hope it remains permanent."
Anne Louise Kershaw of the No More Page Three group, said: "The Sun hasn't suddenly decided that women say, think and do interesting and incredible things, it's still basically saying women are here for decoration."
Former glamour model Jodie Marsh led a backlash, insisting on Twitter that "telling girls they shouldn't do page 3 is not being a feminist".  Marsh said: "I never felt exploited - in fact the opposite. I thought 'Blimey, people are willing to pay to see my boobs'."
Page 3 girl Rhian Sugden, 28, said: "It's only a matter of time before everything we do will be dictated by comfy shoe-wearing, no bra-wearing, man-haters."
Downing Street declined to offer a view. An official spokesman said: "the Prime Minister always thinks that what newspapers publish is a matter for newspapers."
Reuse content