In the classic sitcom Terry and June she portrayed one half of television's quintessential middle class couple. Now June Whitfield has hit out at the BBC managers who declared that too much of the corporation's comedy is "middle class".
The comedy actress, 88, returns to the screen in Boomers, a new BBC1 sitcom about three retired couples, who live inescapably middle class lives in a Norfolk resort, and are rediscovering the joys of free time.
The series, which stars Alison Steadman and Russ Abbot, may incur the wrath of the BBC Trust, the corporation's governing body, which recently warned that the BBC screened too many comedies which could feel "middle class in focus and target audience", with Miranda cited as an example.
Asked if middle class families hadn't had their day on a BBC seeking to widen its appeal with lower income viewers, Ms Whitfield said: "No, I do not. Nobody ever says 'it's too working class' or too 'upper class', they only say 'it's too middle class'. What is working class anyway? We all work."
The actress, who found a new audience with her role in Absolutely Fabulous, added: "There are so many middle class folk about the place but it's almost become a dirty word. What do they mean? They are people."
Danny Cohen, BBC Director of Television, had previously indicated that too many BBC comedies relied on middle class stereotypes and asked for more "blue collar" comedy heroes to avoid losing touch with viewers outside that group.
Yet the BBC's most recent comedy hits, including Rev and Outnumbered, are rooted in middle class scenarios.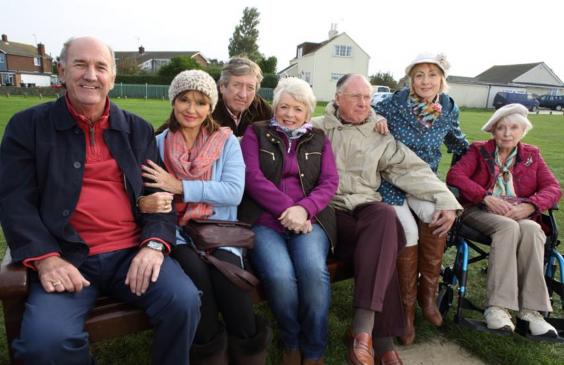 Jimmy Mulville, executive producer of Outnumbered and Boomers, through his Hat Trick production company, said the BBC Trust had a history of making "unhelpful comments to justify their existence".
Mulville said: "To legislate for comedy or drama by saying it's 'too blue collar' or 'too middle class' or 'too posh' – on that basis you'd be doing comedy with a slide rule. You wouldn't have Downton Abbey or Outnumbered. Actually doing quality stuff is what's important. I think the BBC Trust is too middle class."
He added: "You can't do that famous John Cleese, Ronnie Corbett and Ronnie Barker sketch about class now because class doesn't work like that anymore."
Ms Whitfield, who plays Stephanie Beacham's wheelchair-bound mother in Boomers, also called on television commissioners to end an obsession with attracting younger viewers. "I think with the success of Last Tango in Halifax, directors and producers are beginning to realise that there is life after 35," she said.
The veteran star also criticised the use of incidental music to dictate viewers' responses in dramas. "It's quite extraordinary that everything has to be in your face. You're not allowed to work things out for yourself. Everything has to have punctuation music. Somebody's talking and it goes 'deh, deh, der…DEH, DEH, DER!' Come on."
A BBC Trust spokesperson said: "Our recent review of BBC Television did not say that BBC drama or comedy are 'too middle class'; some participants in our audience research expressed this view. We found that BBC TV as a whole is performing very strongly. Since the BBC aims to offer something for everyone, we also said that BBC television should seek to improve its appeal to younger, minority ethnic and lower income viewers."