Earlier this week two monumental events happened: the first was man landing a space probe on a comet millions of miles away and the second was a celebrity exposing her bottom for a magazine cover.
Kim Kardashian's Paper Magazine cover attempted to "break the internet" – but did it?
During the afternoon and evening of the magazine's launch and the probe's landing social media analytics site Topsy tracked the number of tweets issued about each and there may be some hope for humanity.
According to the interaction on Twitter, users of the social media site were actually more interested in the Rosetta space probe than Mrs West's bare bottom – even if the clothed version did manage to balance a champagne glass.
But before you all pop your own glasses of champagne, there's one small caveat.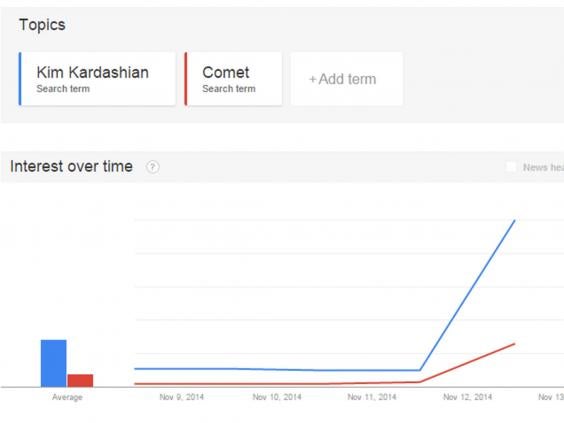 Even though it appears that more people care about the Rosetta probe, examining Google trends gives you a far more depressing depiction of the same period of time.
Although many were tweeting about the probe, thousands more were searching through Google for anything related to 'Kim Kardashian'.
People tweeted more about the comet - but they searched far more for Mrs West's behind.