Alastair Campbell has been captured on camera in an altercation with a 61-year-old man in Hampstead.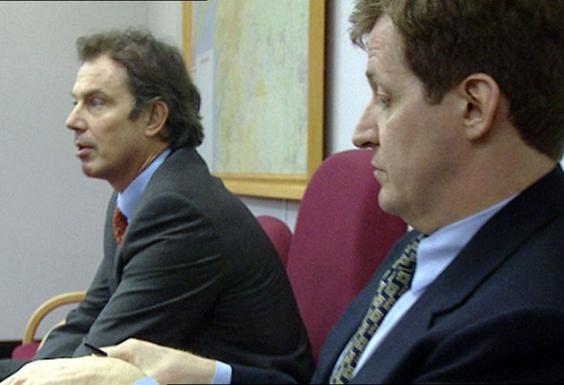 CCTV footage of the incident was obtained by the Ham&High after the man, who claims he was involved in the spat last Monday, contacted Bradford West MP George Galloway.
UK Respect party leader then tweeted to his 230,000 followers that he would be investigating his claims, and "exclusively revealing" his findings on Twitter:
Blair's pugnacious former attack dog Alastair Campbell heading for deep doodoo. All will be exclusively revealed here. Watch this space...!

George Galloway (@georgegalloway) January 14, 2015
Check out @TimLamden or @HamandHigh NOW for exclusive footage of Ali Campbell striking elderly man in a Hampstead street! #thug @TheBlairDoc

George Galloway (@georgegalloway) January 15, 2015
The video, shot in Perrin's Lane shortly after 1.15pm, shows Tony Blair's former spin doctor walking towards Hampstead High Street clad in running gear.
Campbell is confronted by the man, and appears to hit the man on his shoulder. The 61-year-old then goes after Campbell and the altercation continues out of shot.
Campbell told the Ham&High that he had been insulted by the man, and had merely placed his "arm out to his shoulder to stop him coming any closer" as he was confronted.
He claims the man then spat at him, with "most of the spit landing on my shirt, some on my face". Campbell also alleges he was kicked in the leg.
"Though I am used to robust debate, this is the first time I have been attacked in a public place and the first time I have been spat at.
"We have lived in Gospel Oak, happily and as active members of the local community, for decades and it has always felt safe and friendly."
Tony Blair: A career of controversies
Tony Blair: A career of controversies
1/11 The Tony Blair 'selfie'.. A journalist takes a picture of Kennard Phillips 'Photo Op', depicting Prime Minister Tony Blair taking a 'selfie' in front of an explosion in Iraq, during a press viewing of the exhibition Catalyst: Contemporary Art and War

2/11 Protesters pictured outside the QEII Conference centre in London in 2011 as former British PM Tony Blair give his evidence in the Chilcot Iraq Inquiry

3/11 David Lawley-Wakelin, who disrupted Tony Blair's testimony at the Leveson Inquiry by bursting into the court

4/11 Blair giving evidence

5/11 Tony Blair visiting troops in Iraq in 2007

6/11 Blair meeting with troops in Basra, Iraq in 2003

7/11 Britain's Prime Minister Tony Blair speaks to British soldiers at Divisional Headquaters in Basra, May 2007

8/11 British Prime Minister Tony Blair eats dinner with British troops in Basra, Iraq, 21 December, 2004

9/11 Syrian president Bashar El Assad during his official visit to the United Kingdom in 2002. Mr Blair tried to engage Mr Garcia in a conversation about Syria. The former Prime Minister made clear he was very much in favour of military intervention last summer.

10/11 Syrian president Bashar El Assad and wife Asma during their official visit to the United Kingdom in 2002. Mr Blair tried to engage Mr Garcia in a conversation about Syria

11/11 Former Prime Minister Tony Blair's signature adorns a program he signed for an Iraq veteran during a reception at the Guildhall in London following the service of commemoration at St Paul's Cathedral honouring UK military and civilian personnel who served in Iraq
"I was walking up Perrin's Lane and I saw Campbell coming towards me and I made a remark," the man, who wished to remain anonymous, told the local paper. "As he came past me, I said, 'The biggest piece of **** I've ever seen in this street.'
"He then struck out and hit me on my left shoulder. I turned to confront him and said, 'That is assault, you should be in prison, not running around the streets of London.'
"At which point spitting ensued and then I aimed a blow with my foot that did not connect. Nothing that I did was illegal and he had no right to punch me."
Campbell denies spitting at the man. Both men reportedly agree that the CCTV footage verified their individual accounts of the incident.
The former director of communications has since responded to the report with a detailed blog post on his website which includes his full statement about the incident.
He added that "nothing surprises" him about Galloway's involvement, and he decried the Ham&High's decision to allow the 61-year-old man to remain unidentified.

"I am now going out and about my NW3 business," he concludes. "Will be running on the Heath later."