Alfred Wertheimer was a photographer whose portraits of Elvis Presley documented the birth of a music legend.
He was 26 when he was assigned to photograph the unknown 21-year-old singer; he travelled with Elvis from New York to Memphis by train and produced a series of now famous black-and-white portraits that were the subject of exhibits at the Smithsonian Institution in Washington and the Grammy Museum in Los Angeles.
"There has been no other photographer who Elvis ever allowed to get as up close and personal," said Priscilla Presley, who was married to the singer from 1967 until 1973. "I'm deeply saddened by the death of Alfred Wertheimer. He was a dear friend and special soul. I feel he was a gift for all who knew him."
Among his most famous shots was The Kiss, a photo of Elvis nuzzling a woman fan backstage. There were also photographs of him recording "Hound Dog" and "Don't Be Cruel", reading fan mail, eating alone, staring out of a train window, playing a piano in an empty studio and walking by himself on a deserted New York street – these latter depicting a solitude that was later surrendered to fame and mobs of fans.
Wertheimer had humble beginnings. His family fled Hitler's Germany when he was  six and settled in Brooklyn, where his father was a butcher. As a boy he received his first camera from his brother and became fascinated with photography.
He studied drawing at Cooper Union in New York City, graduating with a degree in advertising design. But photography was his passion, and when he was conscripted into the Army he compiled a photo essay on his company and was assigned as a photographer for the Army newspaper in Heidelberg.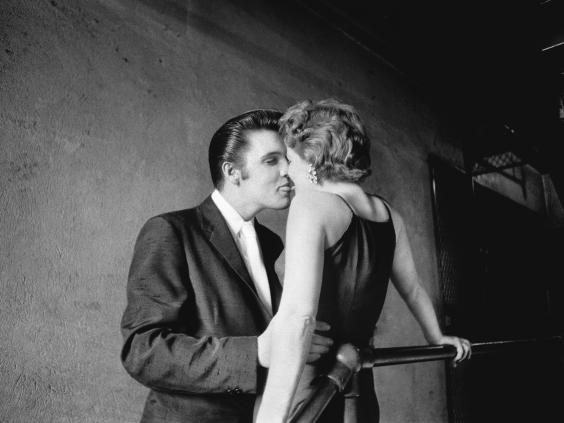 After leaving the Army he began a freelance photography business and was hired by RCA to take pictures of singers. His fateful assignment in 1956 left all the other pictures in the dust; he would say later that he received a two-week assignment and it lasted nearly 60 years.
"Alfred's photos were about America in 1956: the lunch counters, the trains, the stores where Elvis looked in the windows and wondered if he could ever buy those things," said Chris Murray, owner of the Govinda Gallery. "Apart from his recordings, the photos are the most important vintage documents of Elvis's life." He added that Wertheimer had told him, "I was a reporter whose pen was a camera."
His pictures appeared on calendars, in books, on memorabilia and clothing, and last year came the book Elvis and the Birth of Rock and Roll, a limited edition published by Taschen. "Alfred Wertheimer always used to say, 'If your pictures are boring, get closer'. And he lived up to that rule, getting inside Elvis's world like no other photographer ever could," said Nina Wiener, co-editor of the book.
Murray, who first exhibited the photos at the Govinda Gallery in Washington, where the photos are still shown, curated an exhibit of his photos for the Smithsonian and edited several books of the photographs. His work has been shown in museums and galleries throughout the world and is about to be exhibited at The Lumiere Brothers Center for Photography in Moscow, his first Russian exhibit.
At a book signing last year, Wertheimer recalled that he shot in black and white because RCA, Elvis's label, refused to pay for high-priced colour film and processing, uncertain if Elvis was going to be worth it. The photographer shot one colour roll, which he paid for himself.
Jack Soden, CEO of Elvis Presley Enterprises at Graceland in Memphis, called Wertheimer a great part of the Elvis legacy. "The young Al Wertheimer collided with the young Elvis Presley at just the most unique time in 1956," Soden said. "Al's photographs captured the beginning of a new era in popular culture and have continued to define the young Elvis over all the decades since."
Alfred Wertheimer, photographer:  born Germany 1929; died New York 19 October 2014.
Reuse content