Amal Clooney happens to be married to an extremely famous man.
She also happens to be a woman.
As such, after being thrust in front of the media spotlight for said relationship with said man, she now has her looks routinely scrutinised while she casually carries on being one of the world's top human rights lawyers.
Her witty and withering response to one reporter's question about her fashion choices as she appeared in the European Court of Human Rights (ECHR) in Strasbourg earlier this week was priceless.
"I'm wearing Ede & Ravenscroft," she said.
Feminist quotes from the icons to inspire you
Feminist quotes from the icons to inspire you
1/35 Katharine Hepburn

"I have not lived as a woman. I have lived as a man. I've just done what I damn well wanted to, and I've made enough money to support myself, and ain't afraid of being alone"

Getty Images

2/35 Madonna

"Girls can wear jeans and cut their hair short, wear shirts and boots cause it's okay to be a boy. But for a boy to look like a girl is degrading cause you think being a girl is degrading"

Getty Images

3/35 Kurt Cobain

"Rape is one of the most terrible crimes on earth and it happens every few minutes. The problem with groups who deal with rape is that they try to educate women about how to defend themselves. What really needs to be done is teaching men not to rape. Go to the source and start there"

Getty Images

4/35 Betty Friedan

"No woman gets an orgasm from shining the kitchen floor"

Getty Images

5/35 Maya Angelou

"I want to be representative of my race - the human race. I have a chance to show how kind we can be, how intelligent and generous we can be…"

Getty Images

6/35 Emma Watson

"I am from Britain and think it is right that as a woman I am paid the same as my male counterparts. I think it is right that I should be able to make decisions about my own body. I think it is right that women be involved on my behalf in the policies and decision-making of my country. I think it is right that socially I am afforded the same respect as men."

Getty Images

7/35 Emmeline Pankhurst

"I want to say to you who think women cannot succeed, we have brought the government of England to this position, that it has to face this alternative: either women are to be killed or women are to have the vote"

Creative Commons

8/35 Patricia Arquette

"To every woman who gave birth, to every taxpayer and citizen of this nation, we have fought for everybody else's equal rights, it's our time to have wage equality once and for all, and equal rights for women in the United States of America."

AFP PHOTO / Robyn BECKROBYN BECK/AFP/Getty Images

9/35 Nawal El Saadawi

"They said, "You are a savage and dangerous woman. I am speaking the truth. And the truth is savage and dangerous"

Getty Images

10/35 Margaret Fuller

"It is a vulgar error that love, a love, to woman is her whole existence; she is born for Truth and Love in their universal energy"

Creative Commons

11/35 Germaine Greer

"All societies on the verge of death are masculine. A society can survive with only one man; no society will survive a shortage of women"

Getty Images

12/35 Naomi Wolf

"A cultural fixation on female thinness is not an obsession about female beauty but an obsession about female obedience"

Getty Images

13/35 Rebecca West

"I myself have never able to find out precisely what a feminist is. I only know that people call me a feminist whenever I express sentiments that differentiate me from a doormat"

Creative Commons

14/35 Aung San Suu Kyi

"In societies where men are truly confident of their own worth, women are not merely tolerated but valued"

Getty Images

15/35 Margaret Atwood

"Does feminist mean large unpleasant person who'll shout at you or someone who believes women are human beings. To me it's the latter, so I sign up"

Getty Images

16/35 Julie Burchill

"A good part - and definitely the most fun part - of being a feminist is about frightening men"

Getty Images

17/35 Scarlett Johansson

"Why do [male co-stars] get the really interesting, existential questions and I get the, like, rabbit food question?"

Getty Images

18/35 Susan B. Anthony

"I declare to you that woman must not depend upon the protection of man, but must be taught to protect herself, and there I take my stand"

Creative Commons

19/35 Margaret Sanger

"No woman can call herself free who does not own and control her body. No woman can call herself free until she can choose consciously whether she will or will not be a mother"

Getty Images

20/35 Sylvia Plath

"Apparently, the most difficult feat for a Cambridge male is to accept a woman not merely as feeling, not merely as thinking, but as managing a complex, vital interweaving of both"

Creative Commons

21/35 Hillary Clinton

"I suppose I could have stayed home and baked cookies and had teas, but what I decided to do was to fulfill my profession, which I entered before my husband was in public life"

Getty Images

22/35 Lena Dunham

"The idea of being a feminist—so many women have come to this idea of it being anti-male and not able to connect with the opposite sex—but what feminism is about is equality and human rights. For me that is just an essential part of my identity. I hope [Girls] contributes to a continuance of feminist dialogue"

Getty Images

23/35 Bette Davis

"When a man gives his opinion, he's a man. When a woman gives her opinion, she's a bitch"

Creative Commons

24/35 John Legend

"All men should be feminists. If men cared about women's rights, the world would be a better place"

Getty Images

25/35 Mae West

"Every man I meet wants to protect me. I can't figure out what from"

Creative Commons

26/35 Jane Austen

"I hate to hear you talk about all women as if they were fine ladies instead of rational creatures. None of us want to be in calm waters all our lives"

Creative Commons

27/35 Gloria Steinem

"A woman without a man is like a fish without a bicycle"

Getty Images

28/35 Sheng Wang

"Why do people say "grow some balls"? Balls are weak and sensitive. If you wanna be tough, grow a vagina. Those things can take a pounding"

Getty Images

29/35 Anais Nin

"I hate men who are afraid of women's strength"

Creative Commons

30/35 Barack Obama

"We stand with women by fighting for economic security, protecting access to health care and supporting women's leadership across the country"

Getty Images

31/35 Elizabeth Warren

"I have a daughter and I have granddaughters and I will never vote to let a group of backward-looking ideologues cut women's access to birth control. We have lived in that world, and we are not going back, not ever"

Getty Images

32/35 Malala Yousafzai

"In Pakistan, when we were stopped from going to school, at that time I realized that education … Is the power for women, and that's why the terrorists are afraid of education"

Getty Images

33/35 Janis Joplin

"Don't compromise yourself. You are all you've got"

Getty Images

34/35 Lupita Nyong'o

"I hope that my presence on your screens and in magazines may lead you, young girl, on a similar journey. That you will feel the validation of your external beauty but also get to the deeper business of being beautiful inside. There is no shade in that beauty."

Getty Images

35/35 Virginia Woolf

"As a woman I have no country. As a woman my country is the whole world"

Getty Images
She was there to represent Armenia in their case against Doğu Perinçek, the leader of the Turkish Workers' Party. For a little background, Perinçek was convicted of denying the 1915 Armenian genocide in 2007 and Clooney is arguing on an appeal before the ECHR, which ruled in favour of the man, Dogu Perincek, in December 2013.
Here are some more great responses from women, at events to promote their jobs, to those endless, sexist questions about their aesthetics.
Cate Blanchett: 'I'm sorry, do you do this to the guys?'
Where was Leonardo DiCaprio's full-length, outfit-spanning shot at the Screen Actor's Guild awards?
The Blue Jasmine star, who won multiple Best Actress honours last season, found herself the victim of one particularly objectifying sweeping camera shot at the Screen Actors Guild Awards, that aimed to capture her outfit from the hem of her Givenchy gown to the tip of her side-swept hairstyle.
It didn't sit well with her, evidently. Watch her response below.
Elisabeth Moss flips E! 'mani-cam' the bird. Twice.
Come to think of it, where was Bradley Cooper's turn in the E! News 'mani-cam'?
The Top of the Lake award-winner was less than impressed by her turn on the 'nail red carpet', set aside for female guests  at the Screen Actors Guild last year.
So she did this live on air. Much to host Giuliana Rancic's panic.
Biracial African-American and Jewish actress Rashida Jones is asked about her 'tropical tan'
Turns out, the red carpet presenters at the Screen Actors Guild Awards this year really hadn't learned much from last year's gender discriminatory gaffes.
"You look amazing — gorgeous!" Danielle Demski told Rashida Jones on TNT. "You look like you've just come off an island or something. You're very tan, very tropical."
"I mean, you know, I'm ethnic," Rashida responds.
Cue an awkward pause and an equally awkward rebuttal in the video below:
Renee Zellweger had this to say on the seemingly endless subject of her face
Has she had surgery? Hasn't she had surgery? Did she simply dare to age?
The actress' appearance became a tabloid talking point after she attended the Elle Women in Hollywood Awards in Beverly Hills on Monday.
And her response to the lunacy was brilliant.
"I'm glad folks think I look different!" she told People.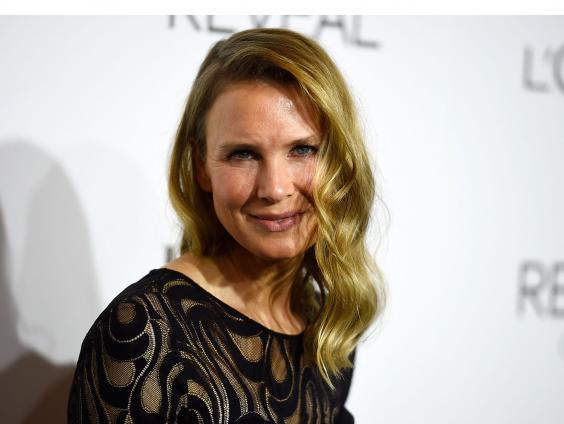 "I'm living a different, happy, more fulfilling life, and I'm thrilled that perhaps it shows.
"My friends say that I look peaceful. I am healthy.
"For a long time I wasn't doing such a good job with that. I took on a schedule that is not realistically sustainable and didn't allow for taking care of myself. Rather than stopping to recalibrate, I kept running until I was depleted and made bad choices about how to conceal the exhaustion."
"People don't know me [as] healthy for a while," she concluded. "Perhaps I look different. Who doesn't as they get older?! Ha. But I am different. I'm happy."
And then of course, there's Scarlett Johansson, Jennifer Aniston, Anne Hathaway…
The ridiculous questions and subsequent put-downs just keep coming in this video montage, uploaded to YouTube by Upworthy recently.
"Why do you get the really interesting, existential questions and I get the, like, rabbit food question?" Scarlett Johansson, sitting next to Robert Downey Jr at an Avengers press conference, snaps back at one reporter.
"In what world is that ever an OK question to ask anybody?" a furious Zooey Deschanel similarly retorts.
Watch it below.
Reuse content