It was an unscheduled and uncomfortable interval for the most famous face in British musical theatre. Just as Andrew Lloyd Webber recovered from prostate cancer three years ago, treatment for a mysterious pain in his leg spiralled into a series of operations and excruciating agony.
At times, the world-renowned composer behind such hits as Cats, Sunset Boulevard, Evita and Starlight Express came close to playing his own funeral dirge as depression took over. It was a spell that was doubly tough for the 67-year old. The cancer had left him powerless to rescue Love Never Dies, the much-anticipated follow-up to The Phantom of the Opera, from a critical mauling. Only when he discovered a chiropractor to ease his pain could he consider a full creative comeback after some uncharacteristically fallow years.
Lloyd Webber – or Lord Lloyd-Webber, who gained a hyphen at the same time as being made a Conservative life peer in 1997 – is looking forward once again. This week he proclaimed in a lengthy interview with The Stage that: "One of the reasons I want to keep myself in good health is that I'd love one more hit."
It is a drive to succeed every bit as familiar as the pouchy face, pleading eyes and warm, quavering voice. Beyond his hopes for School of Rock – a musical based on the Jack Black movie of the same name, which debuts on Broadway this winter – Lloyd Webber is talking about the prospect of bringing further shows from his back catalogue, including a revival of Joseph and the Amazing Technicolor Dreamcoat to mark its 50th anniversary in 2018.
Joseph, whose title role has been taken by Phillip Schofield and Jason Donovan over the years, is a franchise that keeps on giving. Last year, Sir Elton John's Rocket Pictures acquired the film rights for an animated feature film of the show. It was one of the most famous and successful collaborations with his original writing partner, Sir Tim Rice – before they went their separate ways after a disagreement over whether their next work should focus on chess or cats.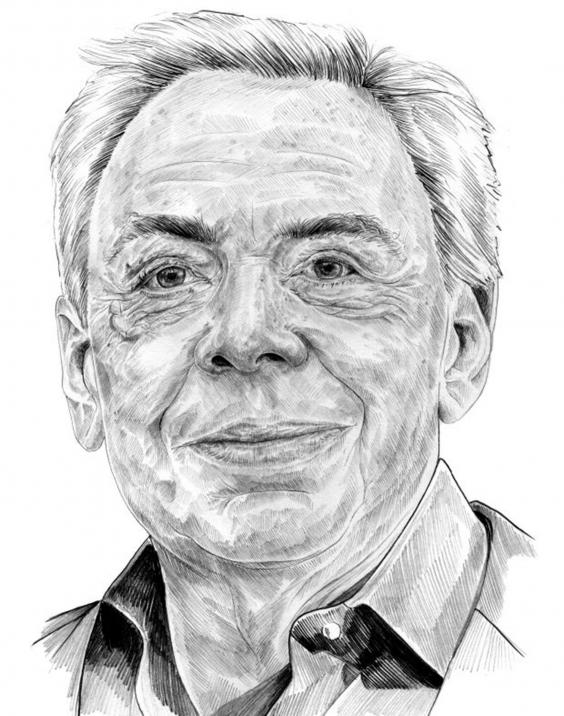 Yet Joseph was not their first joint work. The pair began ticking off half-centuries last month with The Likes of Us, a little-known 1965 musical based on the story of Dr Barnardo, the children's homes philanthropist. Forgotten for decades, it was given its first staging in 2005 to mark its 40th anniversary. Put on at Lloyd Webber's annual summer arts festival, held in the chapel on the grounds of Sydmonton where many works have received a first outing, it was narrated by Stephen Fry.
Lloyd Webber was born into a musical household in Kensington, London. His father William was a composer, his mother Jean, a piano teacher. Julian, his younger brother by three years, successfully took up the cello but the family's older sibling was more eclectic. On one occasion, he threw down his violin so he could devote more time to the piano. Lloyd Webber makes light of his limited ability with the French horn.
He began writing music at a young age, putting on toy-theatre productions with Julian to entertain his family. It was his Aunt Viola who fostered his love of the West End, taking him to the theatre on a regular basis. After Westminster School, where he was a Queen's Scholar, Lloyd Webber briefly studied history at Magdalen College, Oxford before realising his calling and switching to the Royal College of Music.
He has been married three times, first in 1971 to Sarah Hugill. At their wedding, guests were treated to snippets from an upcoming musical called Jesus Christ Superstar.
The pair had two children – Imogen, now 38, and Nicholas, 36 – and were still together when Lloyd Webber met the woman who would become his second wife, Sarah Brightman, a former Hot Gossip dancer, "I Lost My Heart to a Starship Trooper" singer and potential astronaut, who made her West End debut in Cats. They married in 1984 in a union that lasted 16 years. The split was bad-tempered but they have since reunited professionally for the 25th anniversary of Phantom in 2011.
His third wife is Madeleine Gurdon, a former three-day eventer. They married in 1991 and have three children: Alastair, 23, William, 21, and Isabella, 19. It was Madeleine who suggested his newest project, School of Rock.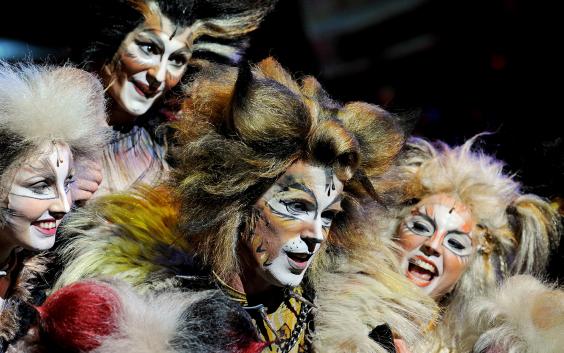 It is not as though the impresario needs further acclaim, having been garlanded with Tonys, Grammys, a Golden Globe and an Oscar during his long career. Nor does he need to work to pay the bills. All those soaring high notes have barely drowned out the ringing box-office tills that have given Lloyd Webber an estimated £650m fortune. He has amassed the accoutrements of the wealthy too. There is an impressive townhouse in Belgravia, a Victorian art collection, gallons of vintage Burgundy, and Sydmonton Court, his Hampshire estate.
Through his Really Useful Group, Lloyd Webber owns six West End theatres including the London Palladium and the Theatre Royal Drury Lane, and often grumbles about the complexity of their upkeep. His money, however, is earned not from bricks and mortar but from his unparalleled catalogue of musicals and recordings. Really Useful's ticketing arm was valued at a cool £90m when it was sold in 2008, three years after Lloyd Webber came close to disposing of the lot so he could spend more time composing at his piano.
Meanwhile, Lloyd Webber's biggest shows have proved to be as remarkably evergreen as the man that penned them. Observers say there are a couple of reasons for such longevity. On the one hand, he is counterintuitive, remortgaging his home so he could press ahead with a musical based on Old Possum's Book of Practical Cats by T S Eliot when most people told him not to bother.
He has also been adept at delving back into his catalogue to reintroduce old hits to a new crowd. When Cats was revived this year with Nicole Scherzinger, the former Pussycat Doll, in the lead role once filled by Elaine Paige, Lloyd Webber turned one of the main felines, Rum Tum Tugger, into a rapper as a nod to the younger generation.
Nor does he suffer from a fear of failure. His 2013 work Stephen Ward – on which he was working during his medical trauma – centred on the osteopath and portrait painter who had a pivotal role in the Profumo affair. There were enough salacious ingredients to suggest a hit, but audiences did not agree. No matter; even when the musical theatre genre has shown signs of age, Lloyd Webber has had no qualms about experimenting with different routes to reinvention. He forged an unlikely double act with Graham Norton on BBC1 in a series of musical theatre talent shows searching for new stars for Oliver!, Jesus Christ Superstar and The Wizard of Oz. Such prime-time exposure can't have hurt ticket sales.
Lloyd Webber has already written 14 new songs for his latest show, which opens in November on Broadway – where the record-breaking Phantom, now not far short of its 30th birthday, has never closed. As his greatest hits rub shoulders with his newest creations, Lloyd Webber appears re-invigorated. The lord of the West End has no appetite to bring down the curtain on his career just yet.
A life in brief
Born: 22 March 1948, in Kensington, London.
Family: Elder son of musicians William and Jean Lloyd Webber. Married to Madeleine Gurdon, his third wife. He has five children.
Education: A Queen's Scholar at Westminster School; Royal College of Music.
Career: Wrote first show with lyricist Tim Rice in 1965; the pair collaborating on five of his 18 performed musicals. Knighted in 1992.
Reuse content