Anne Meara's long marriage to Jerry Stiller in some ways seemed an unlikely one, funny even. She was born to parents of Irish Catholic descent in Brooklyn while he came from a Jewish family on Manhattan's Lower East Side. He was 4in shorter than she was.
In the Fifties and Sixties they forged a comedy double act that precisely made fun of their respective ethnic backgrounds. The theatre world is mourning the death of Meara, an actress known not just for her work spanning more than six decades on stage, television and film but also as the matriarch behind one of Americas best-known comedy clans.
Wife to Seinfeld star Jerry and mother of Ben Stiller, a family statement said Meara had died in Manhattan on Saturday with her family around her. She was 85. "Anne's memory lives on in the hearts of daughter Amy, son Ben, her grandchildren, her extended family and friends, and the millions she entertained as an actress, writer and comedienne," it said.
It will be her work as one half of the comedy team Stiller and Meara that fans of a certain generation in America will remember her for with the most fondness. They were an instant hit on The Ed Sullivan Show on CBS where they would be guests 36 times.
"Our marriage has lasted because we have the same feelings of insecurity about being an actor. We needed stability," Jerry Stiller, who played George Constanza's father in Seinfeld, told The Daily News three years ago. Stability mattered more than sex, he added. "I don't miss sex, if you want to know the truth. The sex in my life was always being on stage and performing. Anne couldn't care less. We've been lucky enough to find that kind of joy being in front of an audience." The partnership with Ms Meara may also have endured because of the decision they took in the early 1970s to retire they comedy routine and take separate paths professionally.
"I didn't know where the act ended and our marriage began," Meara told People magazine in 1977. Her husband added: "I love Anne, but if I had depended on her in my professional life... I would have lost her as a wife."
The two had met for the first time at a casting agent's cattle call. Mr Stiller has often told the story of how his future wife had burst into the waiting room in tears after being chased around the office by the agent. He invited her out for coffee. 
After the end of Stiller and Meara, the family's professional triumphs slowly accumulated. Jerry Stiller earned a new generation of fans as Frank Costanza on Seinfeld and the successful spin-off, The King of Queens.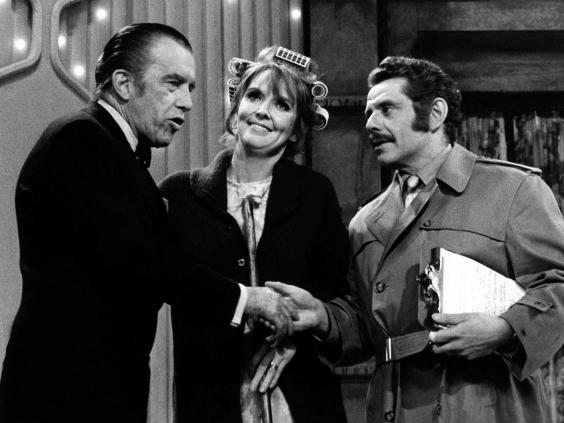 Meara would eventually convert to Judaism. Again, life appeared to imitate art in an episode of Seinfield. In "The Conversion", Frank Costanza and his hectoring wife, Estelle, question their son George's conversion to the Latvian Orthodox Church to secure a date with a woman. "Why are you doing this?" George is asked. "For a woman..." he replies. "A woman? What are you out of your mind?" Frank Costanza asks.
Meara and Stiller's children, Amy and Ben, also joined the industry with Ben quickly becoming one of the top draws in Hollywood with leads in films like Meet the Parents and Zoolander.
His mother never stopped performing, appearing in popular TV soaps but also on film and on Broadway, where, in 1993, she was nominated for a Tony Award for her role in the Eugene O'Neill play Anna Christie. Her films included The Out-of-Towners, Fame, and Awakenings. Television also gave her roles on Sex and the City and Murphy Brown.
In time, of course, work would bring the family back together. Thus, Meara worked with Ben and Amy in Zoolander, the big 2001 hit, and in Reality Bites, which Ben directed. She also had a small role in the 2006 film Night at the Museum, which also starred her son. In 2010, the couple resurrected their old selves in Stiller and Meara: A Show About Everything". Produced by Ben, it was shot in their Upper West Side apartment and shown over the internet in partnership with Yahoo. The patter between them had lost none of its comic edge.
"You know there's a new movie coming out about the guy who invented Facebook?" Meara asks. "Somebody INVENTED Facebook? What kind of a person would that be?" Stiller asks. She replies: "A person who is very bright, and figured a lot of people want to share the mundane, miserable moments of their lives with other people: 'I'm your friend, and I just came back from going to the john. I thought you'd want to know'."
Facebook, however, was filled tributes for Meara and condolences for the family.
Reuse content