Supreme Court Justice Antonin Scalia, one of America's most famous and controversial judges, has died in Texas.
Reports said the 79-year-old conservative judge apparently died of natural causes while staying at a luxury resort. His death sets up what will all but certainlybe a huge political battle over the nomination and confirmation of a successor.
The San Antonio-Express News said Mr Scalia had been a guest at the Cibolo Creek Ranch, a resort in the Big Bend region south of Marfa.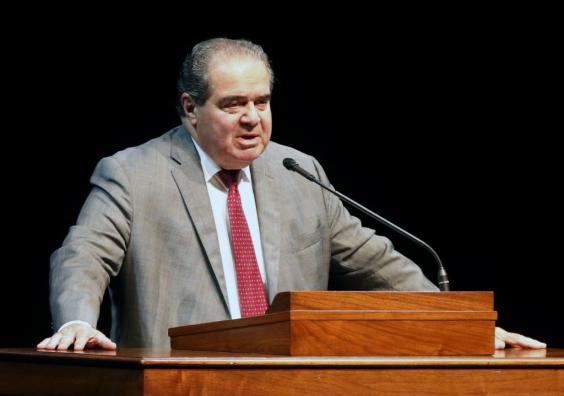 According to a report, Scalia, an associate justice, arrived at the ranch on Friday and attended a private party with about 40 people. When he did not appear for breakfast on Saturday, a person associated with the ranch went to his room and found a body.
Texas Governor Greg Abbott extended his "deepest condolences" to the family of Mr Scalia.
"Justice Antonin Scalia was a man of God, a patriot, and an unwavering defender of the written Constitution and the rule of law," Mr Abbott said.
Mr Scalia, a lively outspoken conservative, was among those judges who ruled 5-4 against another recount in the 2000 election, a decision that effectively gave the presidency to George W Bush, rather than Al Gore, who won the popular vote.
The judge appeared to relish in his controversy. He frequently told people who asked about his decision in Bush versus Gore to "get over it".
The death of the judge presents an opportunity for President Barack Obama to appoint a liberal justice to the bench in his remaining eleven months, a move that would reshape the court long after he has left the White House.
Given the Republican control of Congress, that presages a huge battle for Mr Obama in his last year in office. 
In the meantime, Mr Scalia's death will create a liberal advantage among the eight remaining justices who will continue to sit until a replacement is found.
Among a number of potentially significant cases it will hear will be a challenge to Mr Obama's overhaul of the nation's immigration rules.
Chief Justice John Roberts paid tribute to his conservative colleague.
"He was an extraordinary individual and jurist, admired and treasured by his colleagues," Justice Roberts said. "His passing is a great loss to the Court and the country he so loyally served."
Judge Richard Posner said in 2011 that Mr Scalia was the "the most influential justice of the last quarter century." 
The first Italian-American Supreme Court Justice, Mr Scalia was considered a hero of originalism, the theory of constitutional interpretation that seeks to apply the understanding of those who drafted US Constitution.
Reuse content