The woman who Donald Trump was recorded making lewd and sexist comments about in a leaked 2005 recording has said she "chooses to stand tall" and blasted those in power who "abuse their position".
On Friday, a tape surfaced of Mr Trump in conversation with Access Hollywood host Billy Bush in 2005. In the recording, Mr Trump brags about attempting to seduce a married woman before spotting the soap opera actress Arianne Zucker who he then proceeds to objectify using sexist rhetoric.
"I better use some Tic Tacs just in case I start kissing her. You know I'm automatically attracted to beautiful – I just start kissing them. It's like a magnet. Just kiss. I don't even wait. And when you're a star they let you do it. You can do anything […] Grab them by the p****. You can do anything."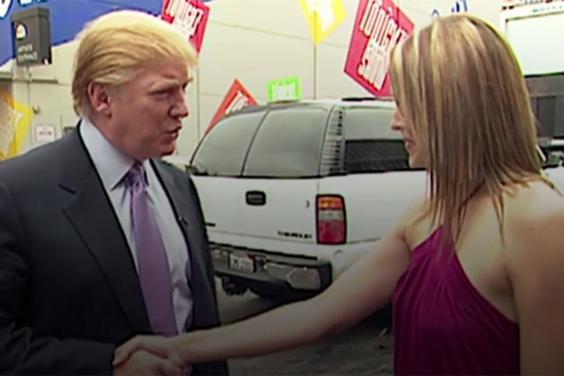 On Sunday, Ms Zucker, best known in the US for her role as Nicole Walker on the long-running soap opera Days of Our Lives, responded to the furore with a tweet saying she will not let the remarks "define the content of [her] character".
Republican leaders backing away from Donald Trump after lewd remarks
Republican leaders backing away from Donald Trump after lewd remarks
1/12 Former governor of California Arnold Schwarzenegger

Schwarzenegger said he will not vote for Trump

Getty

2/12 Senate Majority Leader Mitch McConnell

Mr McConnell condemned the remarks, but has not unendorsed him

Getty

3/12 House Speaker Paul Ryan

Mr Ryan disinvited Mr Trump from a Wisconsin campaign event following the remarks

Getty

4/12 Former Sec of State Condoleezza Rice

Ms Rice called for Trump to withdraw his candidacy

Getty

5/12 Nebraska Sen Deb Fischer

Ms Fischer called on Trump to step aside and give nomination to Mike Pence

Getty

6/12 Texas Sen Ted Cruz

Mr Cruz denounced the remarks, but still endorses Trump

Getty

7/12 Former Republican candidate Carly Fiorina

Ms Fiorina wants Mike Pence to take the nomination

Getty

8/12 Conservative radio host Hugh Hewitt

Hewitt called for Trump to step down

Getty

9/12 Utah Representative Mia Love

Ms Love said she cannot vote for Trump after hearing his remarks

Getty

10/12 Former New York Gov George Pataki

Mr Pataki said Mr Trump should step down

Getty

11/12 New Hampshire Sen Kelly Ayotte

Ms Ayotte will write in Mike Pence when she votes

Getty

12/12 Arizona Sen John McCain

Mr McCain will choose Mike Pence on Election Day

Getty
"My name is Arianne ZUCKER and I am a strong, independent, hard-working mother, business woman and partner to a great man. I have grown to learn that the words of others cannot effect [sic] the value of my self-worth or define the content of my character.
"How we treat one another, whether behind closed doors, locker rooms or face to face, should be done with kindness, dignity and respect. Unfortunately, there are too many people in power who abuse their position and disregard these simple principles and are rewarded for it. 
"In understanding the magnitude of this situation, I choose to stand tall with self-respect and use my voice to enrich, inspire and elevate the best of who we are as people."
The leaked recording is the latest sexism scandal to land at Mr Trump's door but the release of the tapes has delivered one of the biggest blows to his campaign with several high-profile Republicans withdrawing support for the real estate mogul.
Since its release, Mr Trump, 70 issued an apology over the recording: "I've said and done things I regret and the words released today on this more-than-a-decade-old video are one of them. Anyone who knows me knows these words don't reflect who I am. I said it, I was wrong and I apologise" he said before deflecting the statement back to Hillary Clinton.
During Sunday night's debate against Ms Clinton he referred to the recording as "locker room talk" several times. 
Reuse content