Aung San Suu Kyi lost her cool following a tense interview with BBC presenter Mishal Husain and was heard muttering "no one told me I was going to be interviewed by a Muslim", it has been claimed.
The leader of Burma's National League for Democracy was challenged on anti-Islamic attitudes and violence towards Muslims in Burma, a majority Buddhist nation where Muslims make up just four per cent of the population. 
When Husain asked about the plight of Muslims during the 2013 interview, Ms Suu Kyi, who is expected to undertake a formal position in power next month, insisted it did not represent "ethnic cleansing".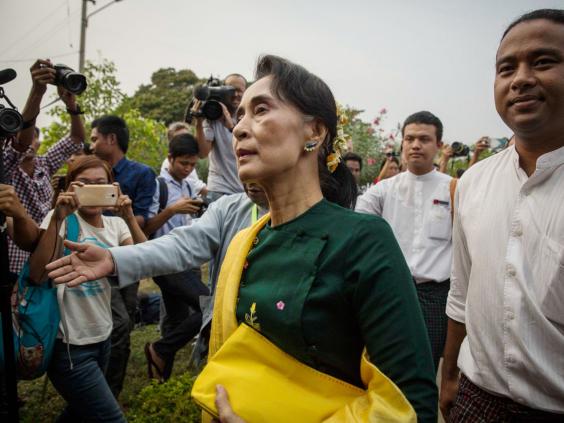 "It's a new problem and yet it's linked to old problems as well," she said.
"I would like to make the point that there are many moderate Muslims in Burma who have been well integrated into our society, but these problems arose last year and I think this is due to fear on both sides.
"This is what the world needs to understand; that the fear is not just to the side of the Muslims but on the side of the Buddhists as well."
People news in pictures
People news in pictures
1/9

US President-elect Donald Trump and musician Kanye West pose for media at Trump Tower in Manhattan, New York City

Reuters

2/9

Anna Wintour apologises for criticising Donald Trump on a train. Fashionista was reportedly heard saying the President-elect would use the Presidency 'to sell himself and his brand'

Getty

3/9

Ivanka Trump and her husband might be joining the next administration. The couple is plotting a move to the nation's capital

Getty

4/9

Samuel L Jackson calls Muslims 'the new black kids in America' 'People perceive them as a threat before even saying hello,' actor says of Muslims in the US

Getty

5/9

Former JLS star Oritse Williams denies rape allegation The singer has not been charged

Getty

6/9

Bill Gates announces $1bn investment fund for clean energy technology Team-up with Richard Branson, Jeff Bezos and others aims to fight climate change - and reap 'super' rewards

Getty

7/9

Donald Trump's aide worked for anti-immigation extremists Poll was used by President-elect during campaign to justify banning Muslims from the US

Reuters

8/9

Henry Kissinger tells Nobel Peace Prize forum to give Donald Trump a chance More than 7,000 people called for the 'mastermind of war' to be arrested while visiting Norway

EPA

9/9

John Travolta dismisses new Scientology documentary by former member Leah Remini The actor defends the church and says it was a source of support for him when he lost his girlfriend, mother and son

Getty
Husain pressed her to accept that the "vast majority" of  victims of violence had been Muslim. 
And according to an excerpt in the book by Peter Popham, The Lady And The Generals: Aung San Suu Kyi And Burma's Struggle For Freedom, Suu Kyi was so incensed about being challenged that she reportedly said off-air: "No one told me I was going to be interviewed by a Muslim."
The Independent has contacted representatives for Husain for comment. 
Reuse content